What is Glenn Robinson III's Role Going Forward?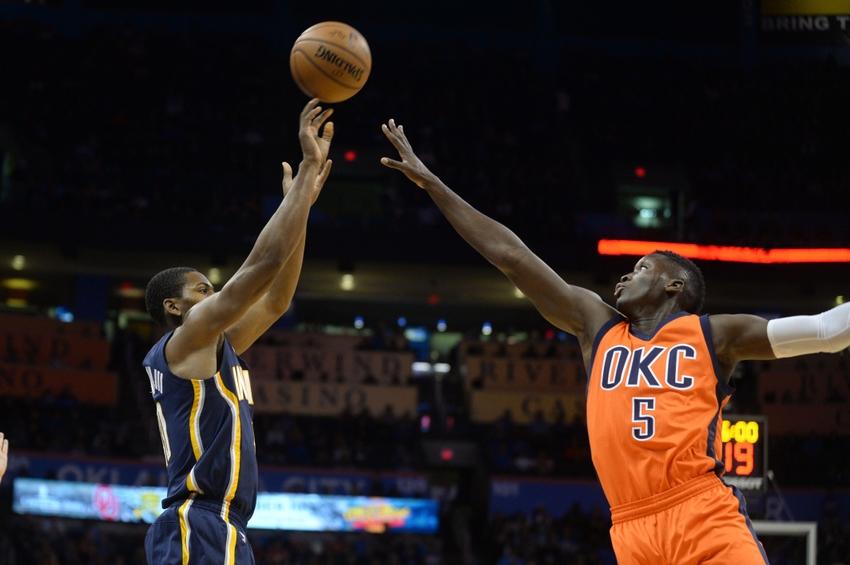 Glenn Robinson III is grabbing the spotlight with the Indiana Pacers while Paul George is out of the lineup, but what's his role when the franchise player comes back?
Glenn Robinson III is making Indiana Pacers coach Nate McMillan's job a little tougher.
With 20 points on Friday night, Glenn Robinson III scored his career high and led the Indiana Pacers to a win over the Brooklyn Nets. He led the charge again with 17 points on Sunday night in a surprising win over the Los Angeles Clippers.
Suddenly, the Pacers have more depth on the wings that they expected coming into the season.
With Paul George and C.J. Miles out of the lineup, Robinson III is taking advantage of his extended minutes and averaging 12.2 points and 6.2 rebounds over the last five games. Along with setting a new career high for himself, he picked up his first career double-double against the Oklahoma City Thunder last week.
As the Indiana Pacers fight to get back above .500 and wait for PG to return, an important question emerges for the Indiana Pacers.
What is Glenn Robinson III's role with the team once Paul George is back?
It isn't as easy as just benching someone else to get a few buckets from GR3, it is a matter of finding the right fit.
Finding A Place for Glenn Robinson III
As primarily a reserve in Indiana's first 13 games, Robinson produced only 3.9 points and 1.7 rebounds in 11.9 minutes a game. Not exactly confidence inspiring. Shooting 42.9% from the field was a good sign, but there were problems if the Pacers expected GR3 to be their 3-and-D guy.
Robinson was only shooting 15.4% from 3-point range and the team's worst defensive rating by a large margin. In the last five games, however, that's become less of an issue.
Part of those issues came from the Pacers' team-wide cornucopia of issues, including playing some of the NBA's worst defense.  But the bigger issue was GR3's role.
Robinson III didn't look comfortable taking shots when he came off the bench earlier in the season, sometimes passing up shots. Whether the limited minutes or game situations were to blame, he never had a rhythm, nor could create one for himself or his teammates.
But since he's been a starter in four of the Pacers' last five games, he's produced like one.
As mentioned before, Robinson is averaging 12.2 points and 6.2 rebounds a game while playing a part in an improving Pacers' defense. Since the Oklahoma City game, he has posted a positive net rating while the team picks up a few unexpected wins.
Right now, Glenn Robinson III is a force to be reckoned with on both sides of the ball.
All of that is well and good, but the question remains what will McMillan do with Robinson once Paul George and C.J. Miles return.
Robinson has thrived partially because when he shares the floor with Jeff Teague, Monta Ellis, Thaddeus Young, and Myles Turner, he's clearly the low man in the hierarchy. He isn't expected to lead the charge or be the main ball-stopper. Robinson thrives as the compliment to everyone else.
That pressure — don't forget that Robinson is only 22 years old — isn't something some lazy blogger is making up. McMillan mentioned it when talking to the Indianapolis Star's Nate Taylor recently.
"I didn't want him to worry about trying to replace Paul's points," McMillan said. "You can't do that. I wanted him to relax and offensively not put any pressure on himself. I did want to see him pick up his pace on the defensive end of the floor and that's where I really wanted him to focus and work hard."
PG is quoted later in the piece saying that Robinson is still figuring out when to defer and when to push against his veteran teammates.
"He's getting it," George said. "Glenn is a guy that's very talented, but he defers. It's natural. I've been in his position, being a young player and having guys ahead of me and not wanting to step on toes. Just kind of want to feel my way in. I've had those talks with him as well and he gets it. I think he's going to come around for us."
Robinson is looking for the balance of being assertive without stepping out of line. In the last few games — without PG and Miles — he found that balance.
While one can hope he's broken past that barrier, there are reasons to be wary.
It was only one game, but once Robinson returned to his role off the bench when the Pacers played the Atlanta Hawks, he was scoreless. He is better than that usually, but it is a cause for concern as far as counting on his production off the bench.
Let's not forget, this is just four games out of five out of 18 on the season that Robinson looks like an NBA rotation player. He just might be the player we've seen recently, but he has to prove that going forward.
Shaking Up the Lineups
Once George and Miles are healthy, it becomes decision time for McMillan and the Pacers.
Do you find starting minutes for Robinson (at the expense of Monta Ellis) and go small, or do you hope he finds a way to carry his current momentum into a role with the reserves?
Robinson deserves minutes until proven otherwise, but sorting it out won't be easy.
If you return Monta to a Sixth Man role to make room for Glenn, then the second unit now needs some more tinkering. Aaron Brooks, Rodney Stuckey, and Ellis all deserve minutes as guards, but there are only so many to spread between all of them. Ellis obviously would get the lion's share, but after that, you have to decide on how you manage Stuckey's and Brooks.
On top of that, C.J. Miles minutes could be affected if you want to play Rodney at the small forward spot, though that doesn't seem like a real solution to this emerging issue.
One way or another, Brooks and Stuckey are looking at having their minutes cut to make room for either Robinson or Ellis.
There isn't an obvious solution to the situation, but it up to McMillan to find out who fits best where for the Pacers. All of the veterans have shown a willingness to have their roles altered for the team's benefit, so now is as good of time as ever to experiment with the lineups.
Having too many players deserving of minutes is a good problem for a team to have, but Robinson has to keep playing as he is now to make McMillan figure out how to make all of this work.
This article originally appeared on