What if the New Orleans Pelicans had kept Nerlens Noel?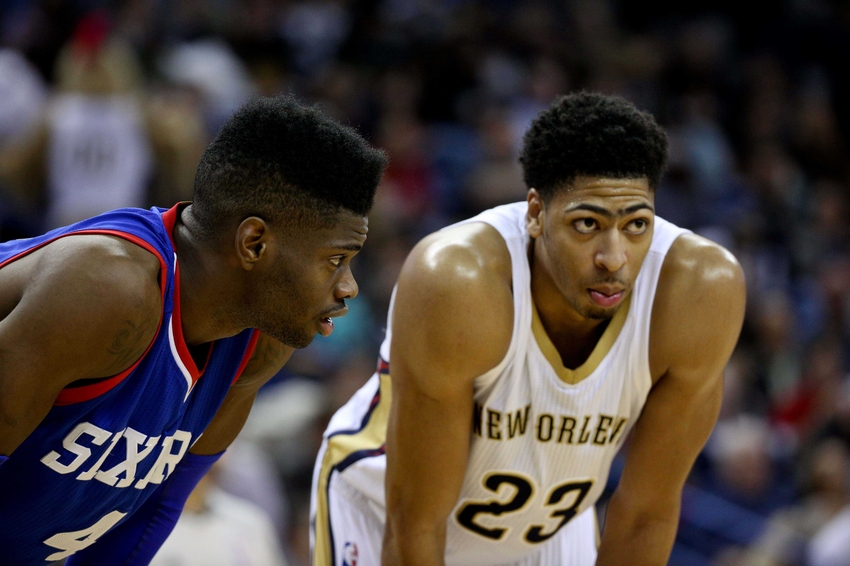 Revisiting the defining move of the New Orleans Pelicans' last several seasons. What if Nerlens Noel had been on the court in place of Jrue Holiday all these years?
Are we still mad about the Jrue Holiday-Nerlens Noel trade? I sure hope the answer is no, what with the incredible stretch of play we've seen from Holiday (and the New Orleans Pelicans as a whole) since his return in mid-November. 
It's interesting to consider the paths of the two franchises involved since the trade and going forward. These are two organizations inextricably linked by this surprising deal, and two teams whose futures will largely be decided by how they handle the two players involved. Nerlens Noel is on the brink of a return to the 76ers lineup, while Holiday has lifted the Pelicans to new heights since his wife's health permitted his own return.
What might have happened if Sam Hinkie had never reached for the phone to swindle Dell Demps that evening in June 2013? Do we see Demps differently as a team-builder? Is Anthony Davis happier? Do the Pelicans win more games? As the team prepares to back the money truck up for the sure-handed Holiday this summer and the Sixers prepare, in all likelihood, to trade Noel, it's an even worth revisiting.
Who misses more games?
After losing his entire rookie season to rehabilitating a knee he injured during his Freshman season at Kentucky, Noel actually managed to stay on the court for most of his first two seasons in Philadelphia. By failing to appear in a single game so far this season, Noel has racked up 122 missed games over the course of four professional seasons. His Basketball-Reference page reads like a classified piece of government evidence, the parts we're not privy to scribbled through in black ink.
Knowing how difficult a time the Pelicans' training staff has had keeping its players on the court throughout Anthony Davis's career, it's safe to say Noel would at least be in a similar position through four seasons. And considering the increased pressure of a rebuild in its late stages by the time the team drafted Noel (having added Tyreke Evans to a core of Davis and Ryan Anderson just a week before), he almost definitely would have seen the court ahead of schedule. Tally a few more missed contests in there for good measure.
Holiday, on the other hand, suffered through a tibial stress fracture dating back to his time with the Sixers that the Pelicans are still weary of today. He hasn't missed a full season, but he might as well have: Holiday's missed games total is just shy of Noel's, at 29.5. Yowza.
Zoom out a little, and you realize just how devastating the injuries to Noel would have been for the development of Davis and the team as a whole. Setting our individual feelings on guys like Anderson, Robin Lopez, and Omer Asik aside, the Pelicans have done a good job giving Davis a solid veteran frontcourt partner every year he's played. That helps for a scrawny power forward learning his place in the league with a wonky skillset and a reserved personality.
Without Holiday, the Pelicans obviously survived; Evans and Eric Gordon built their own chemistry with Davis, two players who together resemble a rough outline of Holiday. The backup point guard turnstile has wrung league-average seasons from unlikely sources, Rivers to Cole to Frazier. Now, Holiday has worked his way to health and established consistency with a training staff that looks a whole lot better now that he, the poster child for their poor performance, is on the mend.
The pick mattered for an unfinished roster
As no one on Pelicans Twitter will let you forget, this was not a simple Holiday for Noel swap. As part of the package to acquire Jrue Holiday, the Pelicans also gave up rights to their 2014 first-round pick, which would eventually land at number ten overall.
The movement of that pick gets complex after that: It eventually became University of Louisiana-Lafeyette point guard Elfrid Payton, who Sam Hinkie then also flipped to deepen his barrel of assets. Basically, payton became an Orlando Magic first-round pick that Hinkie then used to obtain the draft rights to crafty international wing Dario Saric. This season, Saric is making his NBA debut, and Payton remains with the Magic.
But while the Processors in Philadelphia can count Saric, Noel, and two extra draft picks as the eventual haul for Holiday, we don't know what the Pelicans would have done with their 2014 pick had they just kept it and ignored Hinkie's bait. They certainly would have been tempted by the high-scoring point guard from a local college, but that same draft included guards like Gary Harris and Zach LaVine, who have had success in the NBA.
In the end, Holiday probably fit the best out next to Evans and Gordon of any option available on the draft board or in the trade market, and the Pelicans weren't properly informed of the injury that would go on to plague the first four years of Holiday's New Orleans stint. Can we call this Fracturegate from now on?
I wasn't even a real Pelicans follower yet, sitting at the dining room table of the only other NBA fanatic I had ever met, praying that Noel was available for our Phoenix Suns, when the craziness began. Someone named Anthony Bennett who went to school in Las Vegas and grew up in Great Britain West was going to the Cavaliers. The University of Indiana duo who hadn't even made noise in the NCAA Tournament were off the board, and a former gymnast from Ukraine was headed to the Valley of the Sun. 
Noel was still on the board, and people were flummoxed. They compared a possible Davis-Noel frontline to duos like Cartwright and Sampson or Robinson and Duncan, calling them the Twin Towers. What would these two rim-protecting maestros have looked like together on the court?
Unless the Pelicans do something crazy like trade a new pick right back to Philly to acquire Noel after all, no one will be able to prove me wrong when I say a shot would never have gotten to the rim. For all of his lack of flexibility and offensive skill, Noel still averaged two blocks per game over his first two seasons. The Pelicans would almost get to the league lead in that category just by adding the two extra blocks Davis would chip in per night.
On offense, Noel's ability to catch the ball and shove it into the hoop would be an upgrade over guys like Asik and Alexis Ajinca. He would never have to do too much, insulated from the start by Anderson and Davis. Instead of wandering around searching for the right spot, Noel would have had Tyreke Evans directing traffic for him. Finishing would never be easier.
Chemistry, that fleeting orchestration of skill and timing that the Pelicans have never quite had with Davis in tow, would have been easier if a skilled big man could have developed alongside the rest of the team. When youth is sacrificed, it's not just the promise of team control during a player's prime that disappears. It's the promise of harmony and understanding between teammates. Consistency manifest.
And damn would it have been so much more fun to watch than injury-filled season after injury-filled season. Forget who plays point guard, I'll take consistent play out of the bigs any day and twice on Tuesdays.
The complication of analyzing trades after every pick has been made is dicey and based on hypotheticals. Doing so for a Sam Hinkie deal is nearly impossible. We've never seen a player like Noel next to Davis, and Holiday has such a firm importance to this team now that it's hard to imagine him not being around. What the Pelicans would have done with the pick if they had kept it is just pure guesswork. They've made the playoffs once since the trade, and Noel has been an obvious negative throughout his entire career. Dario Saric is still an unknown, though he looks great so far.
The Pelicans did what they felt they had to do, and the result worked out for the most part, even if Holiday hasn't been around for the highest highs or the lowest lows.
As the end of the season nears, both players are set to be free agents. The trade defined the path of both franchises for the next several years. But with the awe-inspiring talent and versatility of Anthony Davis, it will always be tantalizing to imagine how different types of players might fit next to him. Nerlens Noel is the other Tower we never got to know.
More from Pelican Debrief
This article originally appeared on