What if the Memphis Grizzlies kept Hassan Whiteside?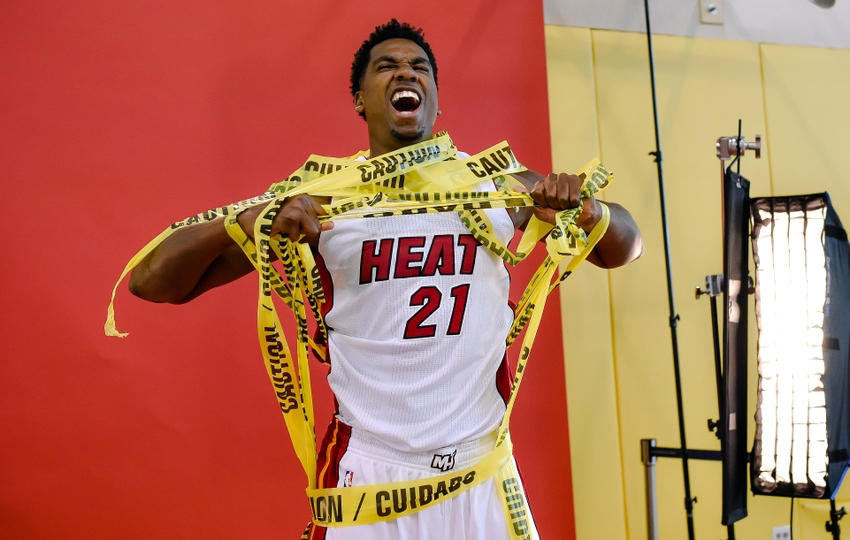 The Memphis Grizzlies actually had shot-blocking machine Hassan Whiteside but let him go…twice. What if they had actually kept him?
At one time, the Memphis Grizzlies had a young player that they let go, and he went off and become a solid NBA player. Wait … That has happened a few times, actually. Notably, the Memphis Grizzlies have ditched players like DeMarre Carroll, Ish Smith, Grievis Vasquez and Kyle Lowry. The player that the Grizzlies should be kicking themselves over the most, though, is Hassan Whiteside.
Over the span of the last two seasons, Hassan Whiteside has burst on the scene, after being out of the league. In 121 games with the Miami Heat, Whiteside averaged 13.3 points, 11.1 rebounds and 3.2 blocks.
How Hassan Whiteside became a Memphis Grizzly
Prior to the 2014-2015 season, the Memphis Grizzlies signed Hassan Whiteside to a non-guaranteed training camp deal. Unfortunately, he didn't make the opening night roster.
One night in the same season, the Grizzlies were short on players. To compensate their lack of depth, they signed Hassan Whiteside, only to release him the next day.
Later, the Miami Heat signed him to a two-year non-guaranteed contract, where he only received $769,881 and $981,348. After proving his worth, he signed a hefty max-deal to stay in Miami.
Looking back, the Memphis Grizzlies should be kicking themselves for not offering that two-year non-guaranteed deal with Hassan Whiteside. He would have benefitted the Grizzlies as their backup big man and Marc Gasol's injury replacement.
Offseason 2015
In the 2015 offseason, the Grizzlies made a savvy signing with the addition of veteran big man Brandan Wright. They used their mid-level exception on him on a  3-year, $18 million deal.
If the Memphis Grizzlies would've kept Whiteside, they would have not signed Wright. Instead, they could have used their mid-level exception on a shooter. For fun's sake, we'll go with Marco Belinelli, who signed a similar deal ($19 million over three years).
Going into the season, the Memphis Grizzlies depth chart would look like:
Conley/Udrih
Lee/Belinelli/Adams
Allen/Jeff Green/Barnes/VC
Randolph/JaMychal Green/Martin
Gasol/Whiteside/Stokes
That team would have consisted of a strong 10-man unit. Its starting five would contain the key ingredients to Grit 'n' Grind, while adding a different dynamic off the bench. A frontcourt of Jeff-JaMychal-Hassan would give the Grizzlies a rare blend of athleticism with shooters like Beno Udrih and Marco Belinelli to fill in the spacing deficiencies.
If the Grizzlies still traded Udrih and Stokes for Mario Chalmers and James Ennis, their bench would be even more deadly. Chalmers gives the Grizzlies playmaker to compliment their athletic frontcourt and a dynamic pick-and-roll player to pair with Whiteside.
Because of the addition of Whiteside, the Grizzlies could have played Gasol 28-30 minutes a night, instead of 32-34. This minute reduction might have helped Gasol stay healthy last season. Furthermore, it would inject some youth into this veteran-loaded team.
Hassan Whiteside: new starter
No, I am not saying that the Grizzlies would have legitimately started Hassan Whiteside over Marc Gasol. However, once Gasol went down, Whiteside would have been the perfect replacement.
Because of Gasol and Wright's injuries, Whiteside would have been a better option than Chris "Birdman" Anderson.
Since he wouldn't have immediately been given the same minutes as he did on the Heat, Whiteside's breakout campaign would be a year delayed. Adding a double-double machine who also swatted north of three blocks a game would have kept the Grizzlies afloat in the midst of a injury-riddled season.
Since Conley and Chalmers went down, they could have used Jeff Green and Courtney Lee as trade bait for a point guard. Hypothetically, let's say the Grizzlies traded Jeff Green to the Pistons for Brandon Jennings and Ersan Ilyasova.
Now, the Grizzlies still have a dynamic playmaker at the point guard position and a stretch four to space the court for Randolph or Whiteside.
The Memphis Grizzlies may not have kept the fifth seed, before slipping to the seventh seed; however, they could've been a respectable, tough out in the playoffs.
Would Whiteside still be a Grizzly?
Unfortunately, after a breakout campaign with the Grizzlies, Hassan Whiteside would be a free agent on the verge of a payday.
Granted, he would not have garnered max contact talk. After seeing guys like Ian Mahinimi, Timofey Mozgov and Bismack Biyombo earn between $64-72 million, it'd be easy to see Hassan Whiteside to receive the same contract.
It'd be sad to let him go; however, at least he would have, at least, contributed as a Memphis Grizzly.
The Memphis Grizzlies have plenty of young talent right now. They must not give up on them too early, or else they could make a Hassan Whiteside-like impact somewhere else.
More from Beale Street Bears
This article originally appeared on