What I'm Thankful for this Utah Jazz Season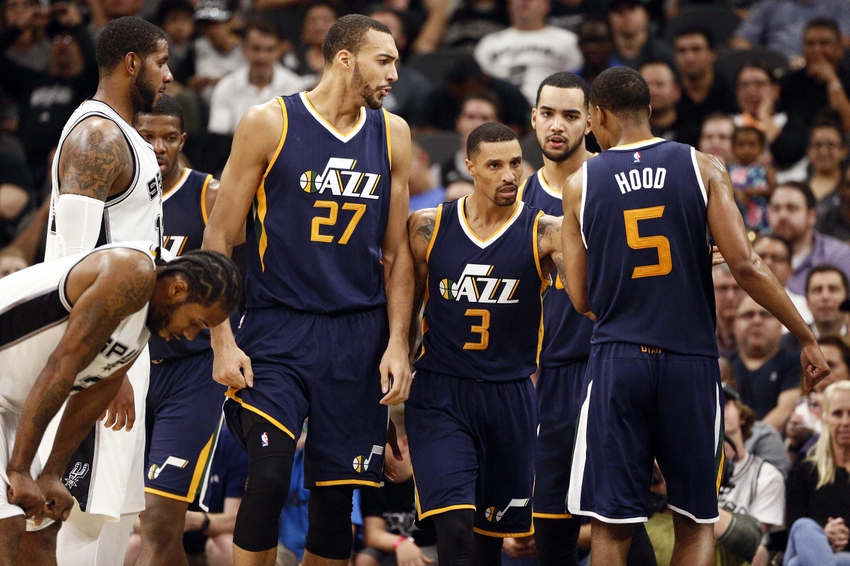 It's that time of year to think about what you are thankful for, and there's a lot to be thankful for this season for the Utah Jazz.
On November 17, I sat in my living room watching the Utah Jazz take on the Chicago Bulls on national television. As the game progressed, I began to grow increasingly frustrated and shocked at the Jazz's inability to hit an open jumper. The Jazz would go on to lose 85-77.
The Bulls game turned out to be game two of a four-game losing streak. You knew things would be alright, but it still felt like everything was falling apart. The Jazz couldn't score against the Bulls and then were unable to defend the paint against the Rockets and Nuggets.
Gordon Hayward couldn't hit a three and was averaging just under 14 points per game. And the biggest concern of all, the team couldn't stay healthy. George Hill, Rodney Hood, Derrick Favors, Boris Diaw and Alec Burks all missed time with injury/illness during the slump.
Then Hill came back from his thumb injury and everything appeared to be fixed. The Jazz defeated the Nuggets 108-83 on November 23 behind Hill's 22 points, five rebounds, three assists and two steals. In one night, the cloud that was hanging over Jazz fans had cleared. All the stress and anxiety caused by the skid was due to the high expectations we have for this should-be-playoff-bound team. A competitive team that gets my hopes up is definitely something I am thankful for.
This is not all I am thankful for this holiday season though. It just wouldn't be Thanksgiving without a cliche list of what you're grateful for. Here are 20 things I am thankful for this season:
1. I'm thankful for Hill's hot start to the season. Hill is averaging 20.6 points and 4.6 assists per game while shooting 55 percent from the field and 44 percent from three point range. He has also been getting some national love.
2. I'm thankful that the Cavaliers, Bucks, 76ers (twice), Magic (twice), Celtics (twice), Lakers, Kings, Hornets, Bulls, Timberwolves, Suns (twice), Hawks, Nuggets (twice), Raptors, Thunder and the Grizzlies all passed on Rodney Hood in the 2014 draft. As great as Bruno Caboclo has been for Toronto, I think the Jazz got more value at the 23rd pick.
3. I'm thankful the Jazz went 4-1 on their five-game Eastern Conference road trip. Wins at the Knicks, 76ers, Magic and Heat are games you need to win if you want to contend for home court advantage.
4. I'm thankful Dante Exum has been aggressive in attacking the rim. During his rookie season, Exum took 64 percent of his shots from three-point range and only 13 percent in the paint. This year he's taking 41 percent of his shots within three feet of the rim and 40 percent from downtown.
5. I'm thankful for Derrick Favors' work ethic at extending his range. Favors 15 to 18-foot jumpshot has looked good this season and he even knocked in a three-pointer.
6. I'm thankful for Joe Johnson's experience and leadership. We've only had one vintage Iso Joe performance so far this season (season opener at Portland), but I have a hunch he has a few more in store. We can also expect to see his role expand when we get to April and May.
7. I'm thankful for the depth this team has. You usually don't want the bottom of the bench guys logging minutes, but it's nice to know that they can and will provide meaningful minutes when their number is called.
8. I'm thankful for Matt Harpring's over-excitement when it comes to the Chick-fil-A Fowl Shot. This one was suggested by Purple and Blues contributor Hayden Van de Maat (@HaydosVandez) and I agree. I mostly just like the free Chick-fil-A though.
9. I'm thankful that nine of the next 11 games will be at home. It's time for the Jazz (who have played ten of their sixteen games on the road) to start picking up some wins at Vivint Arena.
10. I'm thankful for the great role models that George Hill and Boris Diaw are. It would be hard to find someone as generous and genuinely kindhearted as these two.
11. I'm thankful for this play. The chemistry is there and I now expect this play once a game.
12. I'm thankful the Jazz didn't sign Dwight Howard to a 5-year, $150 million contract. I don't think Howard's mom would be the only one crying if he came to Utah for that much money.
13. I'm thankful for Dennis Lindsey and his ability to swap lottery picks for proven veterans. Both Shelvin Mack last year and Hill this year have really helped solidify the point guard position. In Dennis we Trust.
14. I'm thankful for this slow motion GIF.
15. I'm thankful for the different pre and post-game articles. Some of my favorite reads are Andy Larsen's (@andyblarsen) "The Triple Team", David Locke's "Emptying the Noggin", and of course Purple and Blues post game coverage.
16. I'm thankful to be able to root for a team that are all good friends. It makes following them on Twitter a lot more fun.
17. I'm thankful for all the Jazz fans/media members on Twitter. I won't drop names here because there are too many to name. But if you're not following along on Twitter during the games, you're missing out and need to get on that.
18. I'm thankful for Jerry Sloan and everything that he means to this organization. I was fortunate to be at the last game of his coaching career and will always remember that game. Sloan set an unreal standard for success and he made sure that his teams always exceeded the expectations.
19. I'm thankful for all of our readers here at Purple and Blues. I've been able to interact with fans that I would have never met if it weren't for this site. Your discussions and support makes this so much fun for us.
20. And most importantly of all, I'm thankful for the late Larry H. Miller. He had an incredible vision for the Utah Jazz organization and for Salt Lake City. I'm thankful that he was able to bring the team here and then to do everything in his power to make sure they stayed.
What are you guys thankful for this holiday season?
This article originally appeared on