What Do We Know About the Suns So Far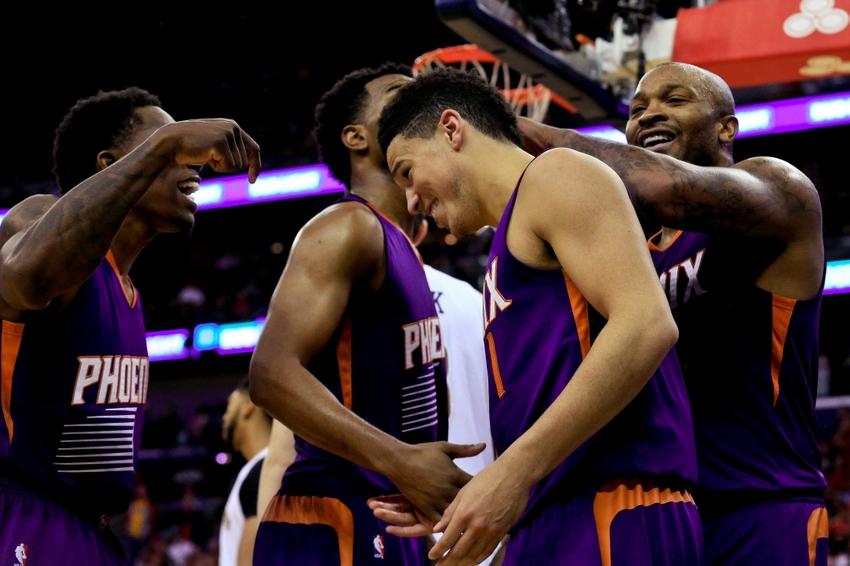 With only about 1/8 of the season complete, the Suns have shown fans a lot that we weren't sure about with the team heading into the regular season.
Tyson Chandler has plenty left in the tank and is currently on pace to shatter the Suns record for average rebounds per game. Eric Bledsoe's knee looks to be healthy and does to see to be holding him back. Brandon Knight is still adjusting to the bench, but at least he has accepted the role. Head Coach Earl Watson tinkers with lineups and rotations nearly game-to-game, yet the players do not appear to resent the inconsistency instead have totally bought into the program.
This is a team with a lot of young talent and some very steady veteran leaders. This is a team that hasn't been to the playoffs in six seasons, and isn't expected to do so this season either. But this is a team that, by all accounts, is on the rise.
Last season when the Suns finally went all-in on the tank for lottery approach – generic catchphrase pending – fans were both disappointed and excited. The franchise had previously been trying to build to the level of playoff contender for five years, but was doing so with a mish-mash of role players never capable of breaking the playoff plain on their own.
So as ownership and fan frustration finally reached a head last season when General Manager Ryan McDonough didn't land LaMarcus Aldridge, it became apparent that the only way the franchise could become regular playoff contenders again was through the draft.
Thus the tank for the lottery approach was born.
And now today, we are living amongst the results of this decision. While it is not all good, it isn't all bad either.
THREE THINGS WE HAVE LEARNED SO FAR THIS SEASON
Follow Valley of the Suns on Twitter at @ValleyOfTheSuns and on Facebook at Facebook.com/PhoenixSunsBlog
3. T.J. Warren must be included in the core moving forward.
All good teams have a core of at least two good players who can score at will. But the best teams have at least three. T.J. Warren is proving that after glimpses over the past two seasons, he is proving that he is more than capable of putting up 20+ points a night, and at times, dominate the game offensively.
At only 23 years old, Warren is playing the small forward position exactly how one would hope: strong scoring and solid defense.
Currently averaging 20 points per game, Warren is able to catch a shoot, score directly off of picks, and drive to the hole on smaller defenders. His 6'8″ 225lbs frame is ideal for shooting over most anyone, yet he is agile and strong enough to muscle in for closer, more hI've percentage shots.
Check out Warren's shot chart:
It's spectacular. Bucking the trend of "3 and D" small forwards, Warren uses his body to drive to the lane and score almost at will within 15 feet. Not a three-point shooter, you often see him catch a pass for a wide-open three, take a few steps in, and drain the closer-in, more efficient shot. I have regularly compared him to Cedric Ceballos as I grew up watching Ced score in much the same manner.
But the elder generation has often mentioned a simile to Walter Davis, a comparison that should make all fans become giddy at the thought.
Follow Valley of the Suns on Twitter at @ValleyOfTheSuns and on Facebook at Facebook.com/PhoenixSunsBlog
2. The Rookies are Getting There
Most fans hoped that Marquese Chriss, Tyler Ulis, and Dragan Bender (the CUBs) would get regular playing time all season.
However, Earl Watson and the Suns coaching staff believe that they owe it to the veterans to do everything they can to remain competitive and win as much as possible, given the circumstances.
It's hard to pass any blame there. Win at all costs.
Because of that, Tyler Ulis has been receiving playing time very sparingly, missing five out of the first eleven games. Dragan Bender has not played in three games, and has otherwise seen time fairly sparingly. And while Chriss is now a starter, his playing time is often sparse and not always effective.
Bender has shown how we will be of value to the franchise until his game rounds into form. Coming into the season it was generally known that Dragan would not receive significant playing time. So he made it clear that his goal was to be a high energy player off the bench, never taking plays off and running hard at all times.
In his limited playing time, can anyone deny that that is exactly what he has been doing?
With that energy and intensity, something very auspicious has taken shape: He is the team leader in +/- at +20. Granted, that number is tied to lineups on both teams at any given time, but that number remains relevant. Tyson Chandler is second on the team with only a +5, and stars Devin Booker (-78) and Eric Bledsoe (-52) aren't even close to a positive number, so at the very least the statistics does shine a little light onto the positive presence he has on the court and that he is not hurting the team by playing.
(I do find it interesting to note that for a kid who couldn't shoot his way out of a paper bag in the preseason, he is currently 44.4% for the field and 42.9% for beyond the arc. Yes. Please.)
Of course, anyone would be remiss to not mention Marquese Chriss and the role he has played on the team thus far.
Far from a star yet, Chriss happened to find himself in a starting role early thanks to Head Coach Earl Watson shuffling the lineup to try and add a solid veteran presence in the second unit – Jared Dudley.
As has been noted plenty of times, Chriss' game is predicated on his incredible athleticism and leaping ability (akin to Shawn Marion), something that would allow him to develop in the league quicker than a player of Dragan Bender's skill-set which will be much more cerebral and predicated on his ability to stretch the floor as a shooter, rather than Chriss' specialized ability to cut through the lane and score on quick passes and put-back dunks.
While Chriss still plays a bit out of control (he is averaging 6.7 personal fouls per 36 minutes) he has shown flashes that his athletic superiority. Someday when he develops a midrange to outside shot that will force defenders to d-up close on him, he will become nearly unguardable, opening up the opportunity for more effective pump fakes and drives.
Currently 65% of Chriss' shots are from within about ten feet,
and 34 of those are on either an Alley Oop, Bank Shot, Dunk, Finger Roll, Hook Shot, Layup, or Tip Shots.
Follow Valley of the Suns on Twitter at @ValleyOfTheSuns and on Facebook at Facebook.com/PhoenixSunsBlog
1. Devin Booker is Not Consistent Enough Yet
Allow me to lead off with this chart:
Outside of a three game stretch that included the two very impressive 38 and 39 point scoring games which set an NBA record for youngest player to ever to achieve such a feat, Devin Booker has been an inconsistent scorer with several very poor shooting games.
Shooters are not necessarily expected to convert on 50%+ field goal attempts, especially for players who take a significant percentage of their shots for the outside.
But Booker, who is counted on to be a high scorer and capable of retaining the position atop the team's scorers, has yet to maintain his scoring consistently, and most striking, has yet to make 50% or more of his three-point attempts in any given game when he attempted more than two.
With such a great second half to last season in the absence of Eric Bledsoe and Brandon Knight, Booker flashed a scoring ability that was unforeseen of the 19-year old rookie. But that small sample of games gave fans heightened expectations for this season. Further take into account his domination of the Las Vegas Summer League, and Suns fans were salivating for games to count.
It is hard to not love Devin Booker as a Suns fan. But through the early part of the season, it is unfortunately obvious that Booker is not the dominating player many were hoping to see. Sure, he very well may end up averaging about 20pts per game, and there is a good chance that he will be in the running for Most Improved Player of the Year if he truly breaks out (although I believe that that honor will go to another Sun) but his inconsistency is steady and his inability to take over a games with regularity is apparent.
At the moment, Suns fans must keep in mind that he is still only 20 years old. (Even Kobe Bryant didn't average above twenty points per game until his fourth season). He is only in his second season. And he is not on a very good team.
So for now, Booker is not ready to lead the team. And while no one should expect All-Star honors quite yet, watching him, T.J. Warren, and the CUBs, is still plenty fun and exceptionally pexciting, especially when considering the near unlimited future potential.
Follow Valley of the Suns on Twitter at @ValleyOfTheSuns and on Facebook at Facebook.com/PhoenixSunsBlog
More from Valley of the Suns
This article originally appeared on