What Do the Dallas Mavericks Do With Deron Williams?
Isaac Harris/FanSided via The Smoking Cuban

Fansided
The Dallas Mavericks have a situation on their hands with their back court; what do they do with Deron Williams?
Yogi (Ferrell) mania has officially arrived in Dallas and it looks like it is here to stay.
The undrafted guard signed a 10-day contract just over a week ago and took over the starting point guard spot a little under 48 hours since he signed the dotted line. Since then, he has led the Mavericks to four straight wins after beating San Antonio, Cleveland, Philadelphia, and now Portland.
If the hype hadn't been bought yet, it is sold out now after Ferrell posted 32 points on 9 of 11 from behind the arc against Portland on Friday night.
So what do the Mavericks do with their veteran, starting point guard in Deron Williams?
The 32-year-old Williams has missed the past five games due to a toe injury and is on an expiring contract. His name has surfaced in trade rumors over the past week and the Ferrell explosion should only ramp up those rumors.
When Rick Carlisle was asked after the Philadelphia game on Wednesday (Ferrell's third game) about Ferrell's play, Carlisle casually said "until Deron gets back, Yogi is really helping us."
So what do the Mavericks do with Deron Williams when he comes back healthy? Some of our staff share their opinions…
Trade Him Despite the Low Package in Return
"I believe the Mavericks should trade Deron Williams immediately. As an injury prone player, every day Dallas keeps him is just more risk that he gets seriously injured and loses trade value. Therefore, the sooner we ship him the better.
As far as value he has been decent at times, but not nearly good enough to keep us out of the Western Conference basement. He also is on the wrong side of 30 and doesn't have much future potential. Then, if you add in the fact that he is on an expiring contract and will likely walk this offseason, there is simply no reason not to cash in. Even if all we can get is one second round pick, that's more value than letting him sit on our sidelines and then leave this summer." -Sam Casey
Offers Will Increase, Make the Trade
"I am in the group that wants to move Deron Williams before the trade deadline. I really don't think we will need that much of a deal to get him somewhere and as the deadline approaches, offers will get a little bit better. If we can go into it with the mentality that we don't want anything less than a pick, I am sure we can find someone interested.
Teams are starting to get desperate. The Cavaliers are in a big slump and want a veteran to pick up the slack. The rest of the East sees that Cleveland is faltering and is ready to make a move to get them over that hump and past the Cavs. In the West, teams like the Trail Blazers are under-performing but capable of a late run. A little bit of veteran leadership wouldn't hurt. The Nuggets are trying to get over the hump as well as they currently lead the back half of the West and are sitting in the 9th spot, just outside the playoffs. Even teams like the Thunder may consider grabbing a capable backup for their star. Point is, interest could come from just about anywhere for a player like D-Will.
That being said, I think the Mavericks will have to start Williams when he comes back from injury. He is a great player still and we need to show that to the league to peak their interest. If he can stay healthy and playing well for a few weeks, there will be calls to the Mavs front office. And you can bet both Mark Cuban and Donnie Nelson will be answering those calls." -Kohl Rast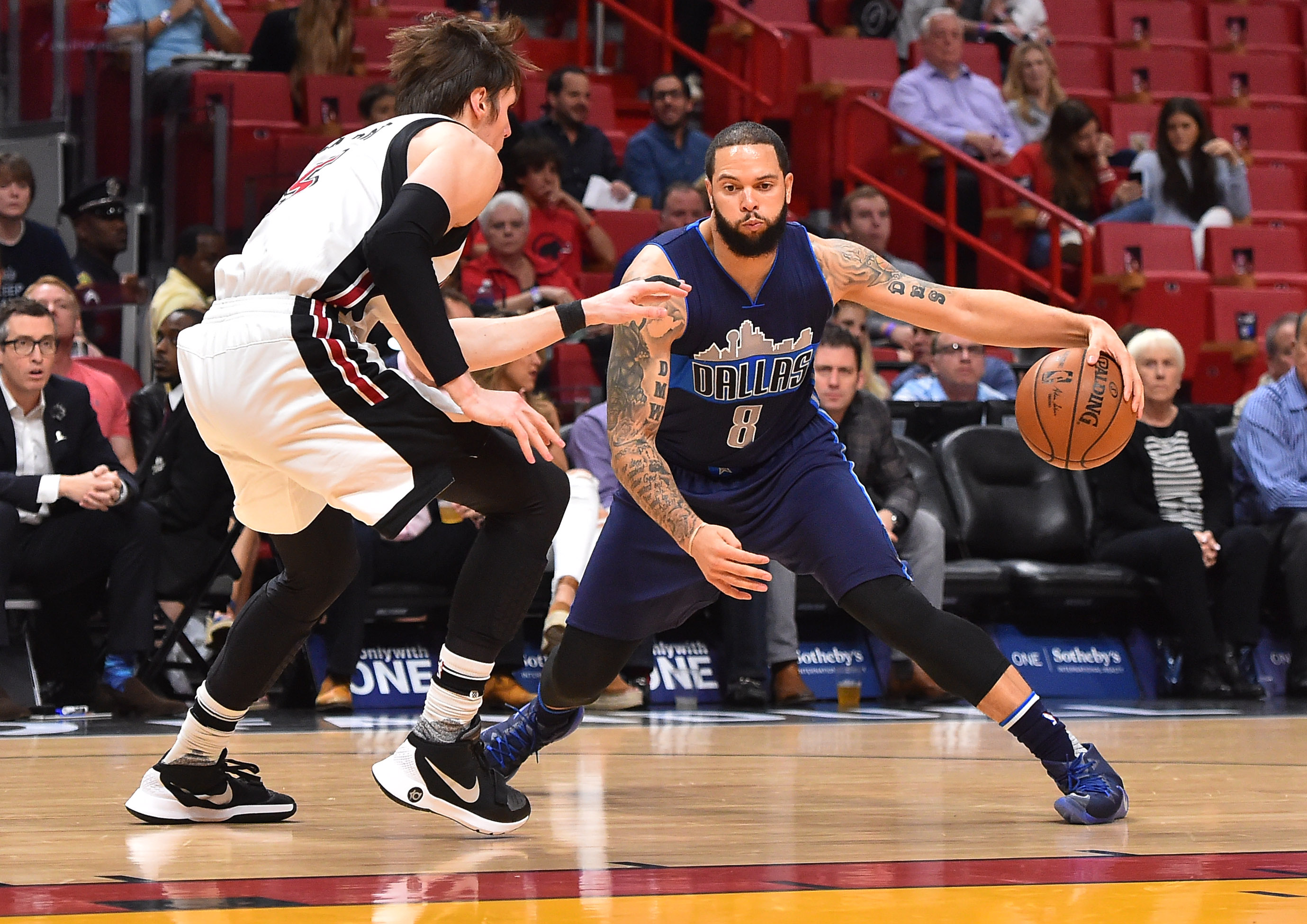 Anything But a Buyout
I think the majority of the fan base, and hopefully the organization, realizes that Deron Williams' days are likely numbered in Dallas as the trade deadline is nearing. But it's the waiver period that scares me the most.
With Williams down once again to injury, it is unclear of the package (if anything) that Dallas could get back for the expiring veteran making around $9 million this year. If they can't find a taker for Williams before the deadline and Williams wants the chance to compete at a title (or Dallas wants to just roll with youngsters), then a buyout could be the option.
More from The Smoking Cuban
How bad would it suck to see Dallas not get anything for Williams and then pay him money to basically join a team like the Cavaliers where we watch him in the playoffs all May and June?
This is why I want anything but a buyout and yes, that means I would rather keep him all year over buying him out.
There is still a small (very small) scenario in which I could see Deron back next year, but not as the starter. If Dallas rolls into next year with a new starting point guard (Yogi or not) and they cut ties with Devin Harris this offseason, bringing back Williams to be a backup off the bench at a cheap contract wouldn't be the worst thing in the world. Williams is from Dallas and has planted down some roots since he has been back over the last couple of years, he might be willing to take a pay cut and come off the bench to stay at home.
With that being said, I would rather Dallas simply trade the veteran before the deadline. I believe a team will offer a second round pick or younger player that Dallas should take back as they build for the future.
We could see the answer to this question on Monday as the Mavericks travel to Denver and Deron Williams could be active.
This article originally appeared on