What are the Chances the Phoenix Suns do Not make a trade?
Adam Maynes/FanSided via Valley of the Suns

Fansided
We all love a good trade. We all love to fantasize about ripping off another team's goods for our leftovers. And we all know that this Suns team as currently built still needs some tweaking before it is a regular playoff participant.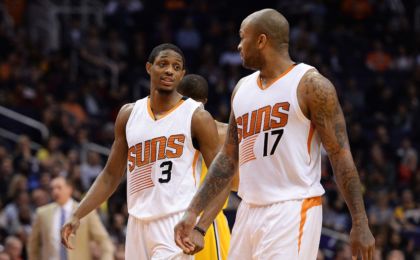 The whole of the Valley of the Suns has speculated, dreamed, and wished about the possibility that the General Manager Ryan McDonough might make at least one blockbuster trade for the Phoenix Suns this season: Brandon Knight has unfortunately become the odd man out and the center of Suns fans trade-attention; P.J. Tucker seems like an ideal candidate to trade to a playoff contender for a draft pick since his contract is up at the end of this season; Jared Dudley was brought in to be a veteran leader, and while his leadership is certainly felt in the locker room, his contract now seems entirely too bloated for his evolution into a coach on the bench; Tyson Chandler's name has recently come up, and as a defensive and rebounding savant most certainly will draw legitimate attention from contenders as well.
But do other teams want our leftovers for the price the Suns would demand? And do the Suns actually want to move some of the players that have shown up in trade rumors? Do a few play a bigger role in the growth of the team than even fans might give them credit for?
Brandon Knight
Yesterday John Gambadoro of Arizona Sports 98.7 discussed the trade possibility of Brandon Knight. Unfortunately for Suns fans, he spoke of a truth that we all know, yet wish to ignore: that Knight is analytically one of the worst players in the entire league, a as such is a player that is currently not drawing any attention from potential trade partners. If this is the case, then not only might the Suns be forced to hold onto Knight beyond the trade deadline, but the type of talent that Suns fans have been wishing for in return may only be a pipe dream with no real foothold in reality.
In addition to Knight's terrible lack of production, his contract is extremely bloated for the numbers he puts up. While the NBA's salary cap continues to skyrocket, if the Suns do not want a player with his contract and poor production on their team, why would anybody else?
Jared Dudley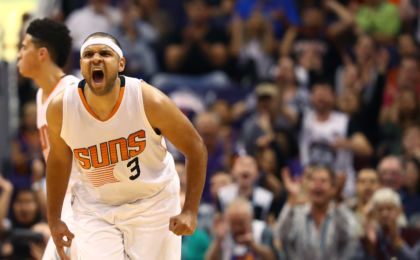 Speaking of lack of production, Jared Dudley has been relegated to the last player on the bench and may not see the court again the rest of the season save for blowout appearances and the untimely event of long-term injuries to multiple players in front of him.
A fan favorite and veteran leader, Dudley too has a bloated contract for his lack of playing time. While he is still an elite three-point shooter (Duds was top-8 in the league in three-point percentage before the updated rotation relegated him to the back of the bench) he could add depth to a contending team needing a dead-shot veteran presence.
But since possible suitors would probably only offer the Suns the equivalent of Dudley in return (back of the bench veteran with a large contract) and not a draft pick or young prospect who Suns fans wish for, any chance of trading him may be extremely slim. Therefore the Suns would likely prefer – or at least be locked into – keeping him for the time being banking on his example of leadership and work-ethic as reason for making his contract worth paying.
P.J. Tucker
P.J. Tucker partially fits the same description as Dudley from a leadership perspective, but he at least is in the regular rotation and usually defends the best player on the other team. It has also been recently reported that Tucker guards Devin Booker in practice and Earl Watson calls no fouls. Tucker plays Booker very tough, tougher than Book might ever face in a live game, and is therefore a benefit to the growth of Booker's offensive game moving forward. Aside from the fact that Tucker too may not garner the kind of return that the Suns might want – a first round draft pick – and his contract is up at the end of the season, he may not be moved either.
John Gambadoro is now also reporting there is 'robust' interesting in the services of Tucker, but it is unlikely that the Suns will be able to find a player of Tucker's defensive doggedness somewhere else, the primary element of his game which both helps the Suns by his practice ethics as well a his ability to guard the best player in a live game. Might the Suns actually want to keep Tucker moving forward and possibly re-sign him long-term? Again, John Gambadoro reported that there actually is a chance that this happens, something that until now had seemed decidedly unrealistic.
Tyson Chandler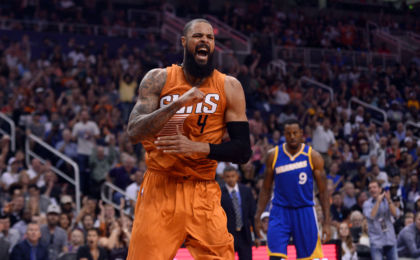 Tyson Chandler was a big name that unexpectedly surfaced in trade speculation recently. Of the players on this list, he is the second most likely to be moved behind Tucker for two reasons: His contract comes at both a reasonable length and cost when compared to his production, and he is far and away the most statistically productive player on this list. Chandler's rebounding average is not only the second highest of his career, but his FG% is as well. He also currently holds the highest rebounding average since a Charles Barkley in 1992-93 and offensive rebound average since Curtis Perry in 1974-75.
Portland is looking for defensive help with a big so interesting they picked up a 1st rounder from Cleveland. Just a team to keep an eye on

— John Gambadoro (@Gambo987) January 6, 2017
Due to this, the Suns actually could get a decent return for him from a contending team. Whether it's a young prospect or a future first round draft pick, selling high on Tyson right now might do them very well for the future. But that truly is a big might. Chandler is so productive that giving up on him could actually be more detrimental than at first blush. Yes, starting and playing Len still needs to be a top priority. Aside from Len's very questionable hands, he is a very productive reserve center. Should the Suns be able to afford both he and Tyson for another two seasons, would it not be worth keeping Chandler around for the very intangibles I mentioned above, while also retaining the exceptional depth at a position that is extremely difficult to fill long-term in this league as it is?
Conclusion
It definitely feels unlikely that the Suns will stand pat and trade no-one. John Gambadoro's tweets certainly imply that there is interest in at least a few players. There are too many veterans that do not fit the long-term vision so jettisoning them earlier rather than later would be a benefit to the team's future growth. What is undeniable, however, is that of Brandon Knight, P.J. Tucker, Jared Dudley, and Tyson
More from Valley of the Suns
Chandler, not one of them is a 'must have' by other teams. As reported, P.J. Tucker is so far the most coveted of the group mainly due to his contract, but unless the Suns get what they want in return, they are likely not going to trade him just for the sake of making a move.
This of course will be the plan for every trade-possible player on the roster, which is why there is no guarantee that Ryan McDonough pulls the trigger on a before the February 20, trade deadline.
This article originally appeared on