Westchester Knicks: What's Next For Chasson Randle?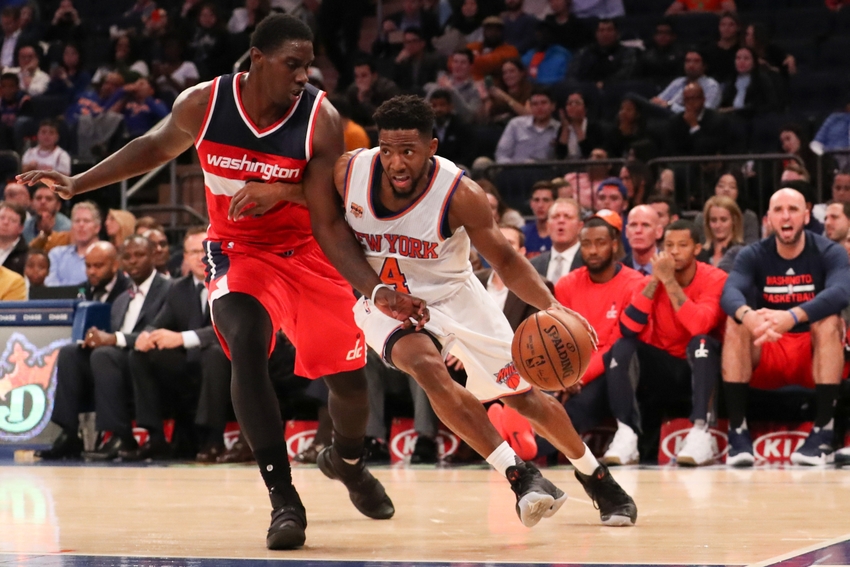 About three weeks ago, Chasson Randle was injured in practice. What is the status of the Westchester Knicks guard heading into the season opener?
---
Chasson Randle was brought to New York to compete at the Orlando Summer League. He looked impressive during Summer League and displayed his effectiveness from 3-point range. That was a part of his game that he excelled in while he was overseas with CEZ Nymburk of the Czech Republic National Basketball League.
Randle knocked down 42.4 percent of his 3-point field goals with CEZ Nymburk, 55.0 percent in Summer League, and 55.6 percent during the preseason. Though he missed three games in the preseason due to a left orbital fracture, 55.6 percent from deep is still an impressive stat.
Another asset the 6'1″ guard possesses is the experience he has working in the Triangle Offense dating back to his time at Stanford under head coach Johnny Dawkins.
The Stanford product looked poised to grab a roster spot as the third point guard on the roster before he suffered a left orbital fracture injury in practice. Not only did he display his talent, along with the potential to be a good defender, but Randle received a pleasing endorsement from Carmelo Anthony.
Before he suffered the injury, there was a chance that he would have made the final roster. Even thought he didn't make the roster, Jeff Hornacek hoped Chasson Randle would remain with the organization, according to Adam Zagoria of ZagsBlog.com.
"Well, we liked those guys we had to waive," Hornacek said Saturday. "It's a tough thing to do. All these guys are capable players. We have to look at our roster and see the different balance that we have. Chasson, he's done a great job for us. We hope all these guys get other jobs and other teams pick them up, but our hope is if he doesn't go to another team he stays with our organization. We really liked what he did for us."
Back on Oct. 21, Shams Charania of The Vertical reported that Randle was two weeks away from a return.
10 days later, the Westchester Knicks selected five players in NBA D-League Draft. Shortly after, the team announced their training camp roster. The most notable names included affiliate players Cleanthony Early, and Damien Inglis—and Randle.
Even though he was waived by the team, his opportunity in Westchester could be a blessing in disguise. He has the opportunity to develop his game while getting more playing time.
That wouldn't have been guaranteed with the big club as he would have been third on the depth chart.
"Right now, I think I'm a pretty good scorer. I'm want to make sure that I'm working on all facets of the game— offensively and defensively," Randle said. "Getting stronger [and] finishing at the rim something that I'm definitely going to work on. Defensively, getting over screens."
Two weeks later, the Westchester guard has been cleared for everything non-contact, according to Westchester Knicks general manager Allan Houston.
"He can do everything non-contact right now, so he's not losing his conditioning and those types of things, so it's just a matter of letting that injury heal up a little bit more.
With the Stanford product able to do everything non-contact, he finally had the chance to get back on the court.
While Randle is currently in Westchester at the moment, it's likely that he will end up in New York sooner rather than later. According to Marc Berman of the New York Post, the Knicks are expected to sign the guard when he is back in shape.
With Chasson Randle back on the court, he feels that he will be ready for the D-League season opener on Nov. 12 against the Delaware 87ers, the Philadelphia 76ers affiliate.
If he continues to excel, it may only be a matter of time before he's back with the main roster.
This article originally appeared on