Westchester Knicks: Reliving The Debut Of Jimmer Fredette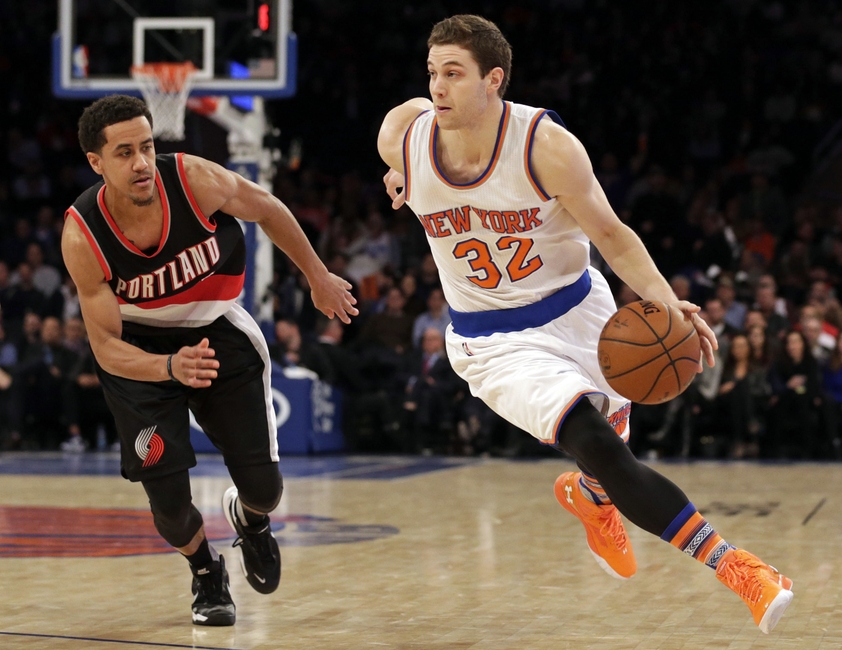 On this day in Westchester Knicks history, Jimmer Fredette made his NBA D-League debut. We revisit Fredette's incredible performance.
---
With the ever-changing nature of the NBA D-League, many players over the course of any given season will make their debut. But when a player can make their debut not far from their home city, that debut can be special.
While the Westchester Knicks selected Jimmer Fredette with the No. 2 overall pick in the D-League Draft, Fredette didn't see his first game action until Nov. 30. Fredette, a native of Glens Falls, NY., had a debut to remember.
The Knicks entered the sixth game of the 2015-16 season with a 5-0 record. In their inaugural season, Westchester won only 10 games, so their 5-0 start was huge. Adding a shooter like Fredette to the team was only bound to make the team better.
Not only were there 974 fans at the Westchester County Center who were impressed by Fredette's debut, but his performance caught the eye of a former boxing champion, Floyd Mayweather, who was in attendance that night to support Jordon Crawford
Per Ian Begley of ESPN, Mayweather was willing Fredette on.
"He just kept telling me to shoot it," Fredette said. "And I was like, 'All right, I'll shoot it.'"
Fredette followed Mayweather's statement and had an efficient shooting night. The 6'2″ guard totaled 37 points, eight assists, and four rebounds in 40 minutes. In addition, Fredette shot 12-of-17 from the field and 2-of-5 from deep.
For those who attended the game or watched via YouTube, they saw Fredette do what he does best: score at an efficient rate. On that night, the Westchester Knicks picked up their sixth win of the season over the Grand Rapids Drive.
During their inaugural season, the Knicks didn't pick up their sixth win until Dec. 23.
After having a productive first half of the season, he represented the Eastern Conference in the NBA D-League All-Star Game. Fredette was MVP of that game, as he finished with 35 points, eight assists, and six rebounds in 25 minutes. Also, he shot 6-of-12 from beyond the arc.
Nine days later, he received a call-up from the New York Knicks.
During the 2016 offseason, Jimmer Fredette signed with the Shanghai Sharks of the Chinese Basketball Association. Through the first 11 games of the season, Fredette has displayed his scoring prowess. He's averaging 39.4 points per game while shooting 50.3 percent from the field and 41.6 percent from downtown.
In addition, the BYU product is averaging 8.2 rebounds, 5.4 assists, and 2.5 steals for the season with the Sharks.
This article originally appeared on