Week 1: Buckeyes in the NBA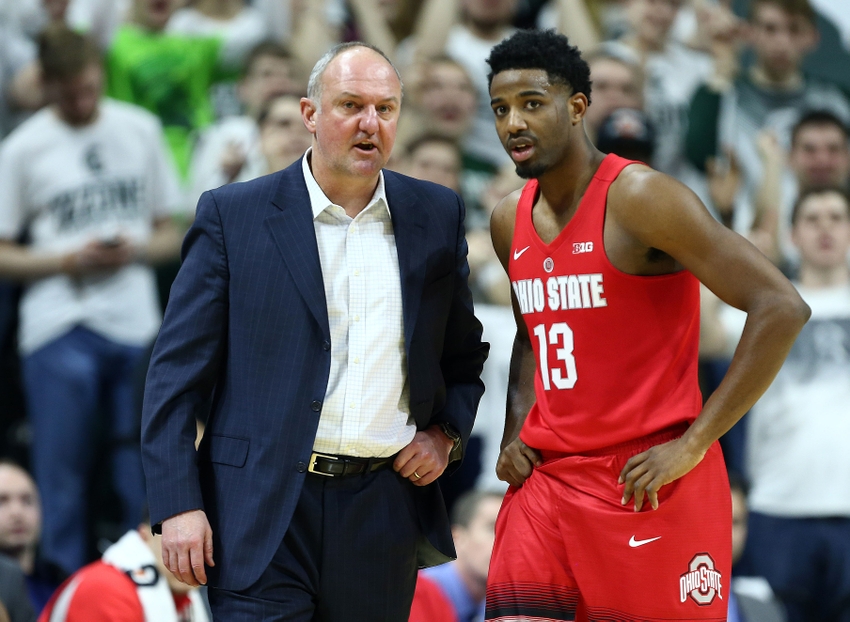 A look at how Buckeyes are performing in the NBA.
The Ohio State basketball program hasn't exactly been known for sending All-Stars to the NBA recently. The Buckeyes claim Lebron James as one of their own, but unfortunately he never actually put on the Scarlet and Gray for a game of basketball. Everybody thinks about what could've been if The King played college ball in Columbus – but I guess we'll never know.
Currently, there are five players in the NBA that played for the Ohio State Buckeyes. The NBA season started approximately a week ago, so let's check up on their progress thus far.
D'Angelo Russell – SG, Los Angeles Lakers
Russell was a one-and-done when he played for the Buckeyes in 2014-2015. The Louisville, Kentucky native set Ohio State freshman records all season and averaged over 19 PPG. He was later named an NCAA First-Team All American.
D-Russ is now in his second year in the NBA, and is becoming the new face of the Lakers. The 6'5 guard got to learn under an all time great in Kobe Bryant last season, so his skills were taken to the next level. This season through 3 games, Russell is averaging over 16 points, 3 rebounds and 4 assists.
Mike Conley – PG, Memphis Grizzlies
Conley signed a monster contract this off-season. He is actually the highest paid player in NBA history. Really.
Mike Conley was a part of the Ohio State team that lost in the National Title to Billy Donavan's Florida Gators. Conley was one of three players to go one-and-done on that Buckeye team – but is the only one that still plays in the NBA.
Conley averaged 11 points, 6 assists and 3 rebounds for the Buckeyes. Mike Conley was selected 4th overall in the 2007 NBA draft by the Memphis Grizzlies and is still a starter for them. The 29 year old Guard has played in 3 games so far this year averaging barely under 20 PPG, 6.75 assists, and 3 rebounds.
Jared Sullinger – C, Toronto Raptors
Jared Sullinger was a big-time player in Columbus. In his freshman season as a Buckeye he was a Naismith Award finalist. As a freshman he led the Buckeyes to a 24-0 start, a #1 overall seed in the NCAA tournament and a 34-3 record.
Sullinger averaged a double double in 2010-2011. Surprisingly, Sullinger returned for his sophomore year and had another big season. Sully again averaged 17 PPG and just under 10 rebounds.
The 2011-2012 Buckeyes earned a final four berth, and blew a 20-point lead to Kansas in the Final Four game so they did not get a chance to play for a championship. It was still a great season for Ohio State as they finished with a final record of 31-8.
Since entering the NBA in 2012, Sully has played for 2 NBA teams. He is currently in his first year as a Toronto Raptor and has not yet played a game.
Evan Turner – G/F, Portland Trail Blazers
ET is an Ohio State legend. He played in Columbus up until his junior year when he declared for the NBA. Evan Turner's best year as a Buckeye was definitely his Junior year. Evan Turner won the NCAA Player of the Year Award averaging 20 points, 9 boards, and 6 assists.
The Chicago, Illinois native was selected 2nd overall in the 2010 draft by the Philadelphia 76ers. Since then, the 28 year old has played for 4 NBA teams. Currently he is on the Blazers, but does not get too much playing time because he is behind one of the NBA's best 1-2 punch in Damian Lilliard & CJ McCollum.
Despite being stuck behind one of the NBA's best backcourts, Turner averages 6 points, 5 rebounds, and 3 assists through 3 games in 2016.
More from Scarlet and Game
Kosta Koufos – C, Sacramento Kings
Kosta Koufos was not a stellar player at Ohio State, but he did go one-and-done. This is mainly because he is a 7-footer.
Koufos had a 50% FG as a Buckeye averaging over 14 PPG. In his 37 games as a Buckeye he also averaged 7 rebounds per game. Koufos is now in the NBA. Since entering the NBA in 2008, Kosta has bounced around from team to team and has played for 5 NBA teams in 8 years.
Currently he is a bench player for the Sacramento Kings. So far in 2016 through 4 games, Koufos is averaging 4 points, 7 boards, and 2 assists.
This article originally appeared on