WATCH: T.J. McConnell Shows Off His Hops During Open Practice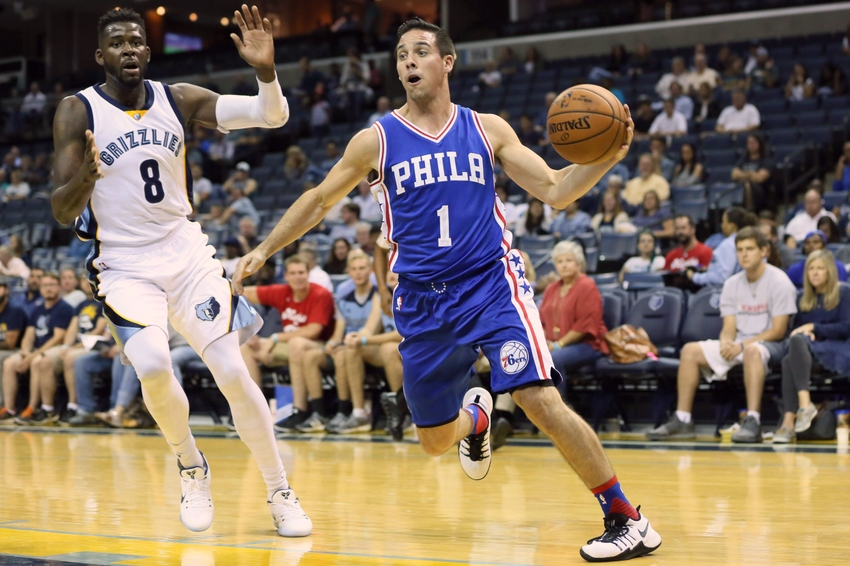 Philadelphia 76ers point guard T.J. McConnell isn't known for being a dunker, but he showed off his hops on Wednesday night at the Sixers open practice.
T.J. McConnell is not a player that's typically known for being a high-flying type of point guard. Over his first season in the NBA with the Philadelphia 76ers, he proved to be solid in really just one major realm — passing the ball.
But on Wednesday night at Temple University, in front of a bunch of excited fans, T.J. McConnell showed that he can get up when he wants to and dunk the ball.
McConnell tossed up the ball from beyond the 3-point arc, let it bounce once, grabbed his own past, and slammed it down with one hand. An impressive feat for the 6-foot-1 McConnell.
Can we just give TJ MVP now? pic.twitter.com/6vYdtYAKTh

— The Sixer Sense (@SixerSense) October 20, 2016
Perhaps the hops are part of what McConnell has been working on this offseason, along with his jump shot. McConnell has shown he's been working on a lot. In the Summer League games, as well as the preseason, McConnell has shown an increased tendency to shoot the ball when he's open, something Sixers fans have wanted to see. If he can become a guard that can not only pass the ball well, but also shoot the ball, then there's reason to believe he can keep his job with the Sixers for at least this season, and possibly more.
McConnell did pass the ball well last year, and offered the Sixers a decent player in the point guard slot as they went through their 10-win season, one of the worst records of all-time in NBA history. Moving forward, the team is obviously trying to be better, and some additions to the roster indicate that they may be able to get a lot better over this season.
The starting job is likely either going to be offered to T.J. McConnell or Sergio Rodriguez on opening night. With master passer Ben Simmons out with injury indefinitely, McConnell's likelihood to make the team increased dramatically.
More from The Sixer Sense
This article originally appeared on