WATCH: Shaquille O'Neal's Hall of Fame Enshrinement speech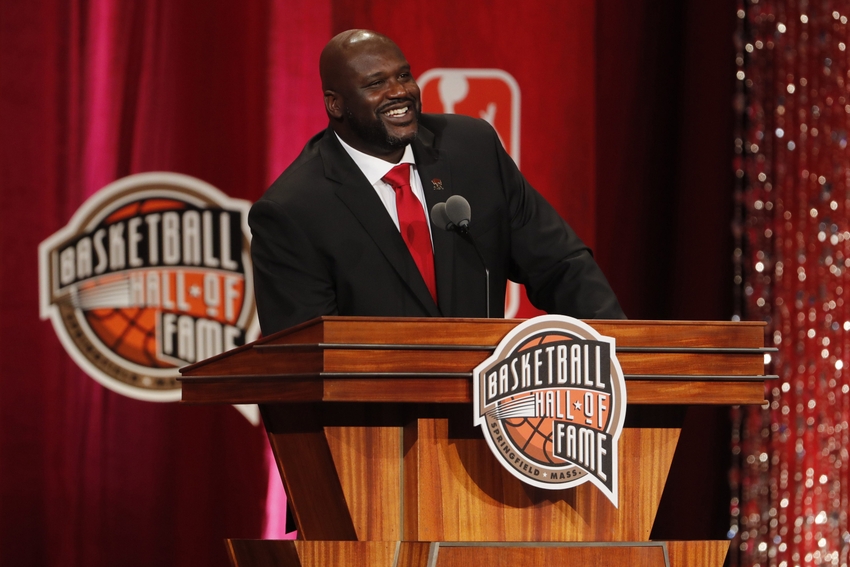 Shaquille O'Neal was at his best as he was enshrined in the Basketball Hall of Fame. The former Orlando Magic center brought the house down in Springfield.
Shaquille O'Neal became the first Orlando Magic player of prominence to be enshrined in the Naismith Memorial Hall of Fame on Friday in Springfield, Mass. — alongside Allen Iverson, Sheryl Swoopes, Tom Izzo and Yao Ming.
O'Neal averaged 27.2 points per game and 12.5 rebounds per game in his four seasons in Orlando. He put the Magic on the map as an organization and as a city in the mid-1990s. He took a young franchise and organization to its first Playoffs.
His run with Anfernee Hardaway is still a legendary story in the NBA. It delivered the Magic to the NBA Finals in 1995. Many fans still consider it the pinnacle of Orlando Magic basketball.
Those teams are seared into the franchise's collective memory — both for good and bad.
O'Neal carries good and bad with him too. He was the organization's first superstar and also its first villain, leaving seemingly in the middle of the night in 1996 and taking with him those championship dreams.
O'Neal now can go by a different title — Hall of Famer.
On Friday, he gave his enshrinement speech, thanking the Orlando Magic, Rich DeVos, Anfernee Hardaway, Dennis Scott and many more of his teammates.
His speech was gregarious and comedic, leaving potshots at friends and adversaries in his career. It was quintessential O'Neal — entertaining to the end.
He jokingly thanked Nick Anderson for missing four free throws in his first Finals, a wry smile growing across his face. Then he noted the irony of a terrible free throw shooter criticizing merely a bad free throw shooter. Again tongue firmly planted in cheek.
That was the nature of O'Neal. And as he thanked all those who influenced him in his life and told stories of how he grew up into one of the most dominant players in NBA history, he mixed it with the seriousness opponents saw between the lines and the smiles and jokes everyone saw off it.
O'Neal was never a perfect player — he would thank Kobe Bryant for pushing him to three titles. . . and then pushing to trade him to the Miami Heat. O'Neal's legacy with the Orlando magic is certainly imperfect with his bitter exit.
O'Neal though was truly one of a kind. There will never be another Magic player like him. Mainly because he was the first one that truly mattered. And he is now the first Magic player enshrined in Springfield.
Four years is certainly a short time. O'Neal did not accomplish everything he could have or should have in Orlando — O'Neal told Jay King of MassLive he still thinks of what could have been for him and Penny.
O'Neal still belongs to Orlando. At least a part of him and his legacy.
So we too can laugh and congratulate O'Neal on his Hall of Fame enshrinement.
More from Orlando Magic Daily
This article originally appeared on