Watch all 13 Stephen Curry 3-pointers vs Pelicans on record-setting night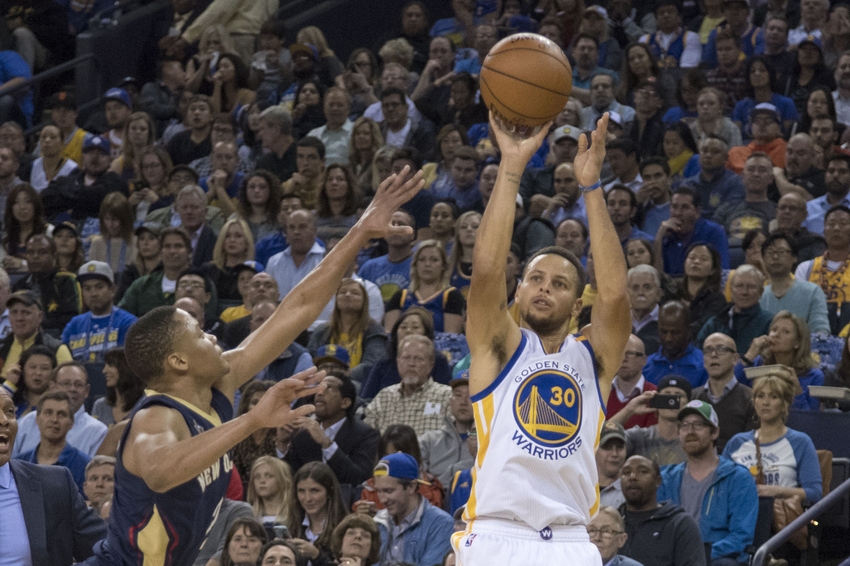 Monday night, Stephen Curry set an NBA single-game record for most three-pointers made with 13. Here's a look at all 13 triples from his historic night for the Golden State Warriors.
Just a game after going 0-for-10 from three-point range against the Los Angeles Lakers, Stephen Curry responded in a way you'd expect from the two-time reigning MVP.
Pour one out for Anthony Davis, whose New Orleans Pelicans are still winless after Monday's record-setting affair. Pour one out for the ongoing narrative that the Golden State Warriors are Kevin Durant's team now. But most of all, pour one out for poor Donyell Marshall, whose name will now be lost to NBA history forever.
In a 46-point performance, Curry set the new NBA record for most three-pointers made in a single game with 13. After tying Marshall and Kobe Bryant's record of 12 made threes last season, Curry was a safe bet to own this record outright at some point in the near future.
Monday's game against New Orleans provided that point, with Chef Curry going an unconscious 13-for-17 from three-point range in a game where the Dubs struggled to put the Pellies away despite building an early 21-point advantage.
Most people can't shoot 13-for-17 from the free throw line in an empty gym, let alone 13-for-17 from NBA three-point range while being guarded by professional basketball players. As if that wasn't enough, Curry also chipped in five assists, five rebounds and two steals.
Before Monday, Curry was only averaging 23.2 points per game on 35.2 percent shooting from three-point range — a far cry from the 30.1 points per game on .504/.454/.908 shooting splits that he posted the year before.
Thanks to his record-setting night against the Pelicans, Curry is on pace for 374 three-pointers this season, and he's now averaging 26.4 points per game on 45.1 percent shooting from downtown.
More on FanSided:
The Warriors' star point guard accumulated his 46 points on only 26 shots, and only made one free throw on the night.
That kind of efficiency is obviously off the charts, but the fact that he finally seized a record that was his to claim all along — and did so on a night where his team needed it to win — made for a remarkable start to the third week of NBA action.
By all rights, Stephen Curry is the greatest shooter in NBA history. After making a single-season record 402 threes last season, Curry is only 1,275 threes behind the league's all-time leader, Ray Allen (2,973).
While Curry probably won't make another 402 threes this season, even if he were to "only" put up 227 threes per season (his career average) from here on out, it'd take him about 5-6 seasons to pass Allen as the NBA's all-time three-point leader.
At age 27, and with a pure stroke that will keep him effective as a spot-up shooter well into his 30s, it's only a matter of time before Curry claims another three-point milestone for his own.
And who knows? Curry's 13 three-pointers record might not even be safe from himself this season.
This article originally appeared on