Washington Wizards: Where Do We Go From Here?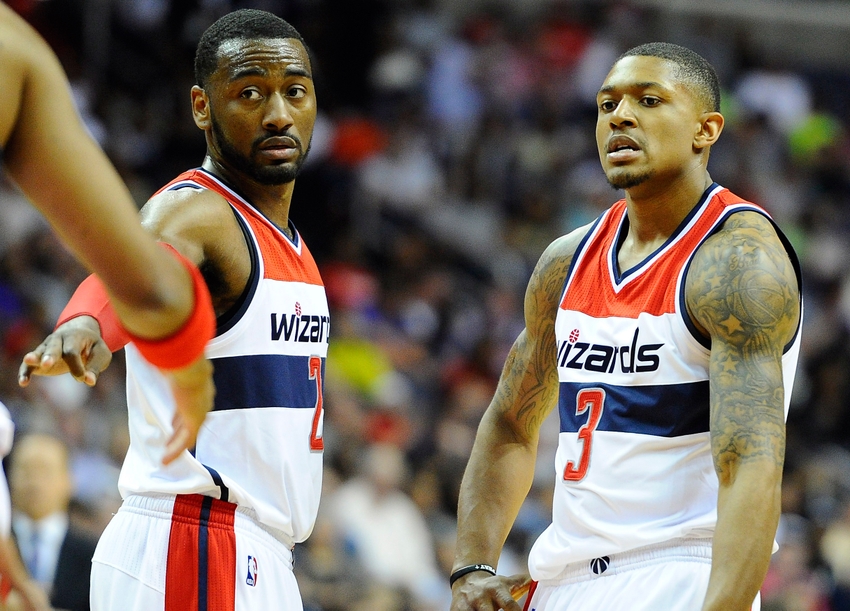 There's still time for the Washington Wizards to figure things out, but what if they don't?
This has not been the start to the 2016-17 NBA season the Washington Wizards envisioned. With Randy Wittman finally gone, Washington hoped to make the leap they should've made last year and finally become a force in the Eastern Conference.
Instead of that happening, the Wizards are now 5-10. Some of those losses were to really good teams, but Washington has also dropped games against the Miami Heat, Orlando Magic, Memphis Grizzlies and Philadelphia 76ers.
The Wizards, aside from not being very good thus far, have had some chemistry problems. Marcin Gortat called out Washington's bench for being one of the league's worst, and John Wall and Bradley Beal have always had a somewhat awkward relationship, to put it mildly.
That could be the reason for some of the Wizards' struggles. The Golden State Warriors and Toronto Raptors have the best backcourts in their respective conferences, and both sets of guards get along really well.
Stephen Curry and Klay Thompson, like all of the Warriors, are focused on spreading the ball to the open man. Curry was more excited about Thompson's 37-point quarter than Klay was!
DeMar DeRozan and Kyle Lowry have a well-documented bromance, and they too tend to ensure whoever has the hot hand gets the ball in Toronto.
Wall seems to understand how the great backcourts work, according to an interview with CSN Mid-Atlantic:
"If we were playing well as a tandem like the other two superstars that play together as a backcourt, play as a tandem, one night it's going to be his night, one night it's going to be mine, some nights it might be both of us. Those are nights it's going to be tough to beat us."
Unfortunately, that quote was preceded with these two from Wall:
"I think a lot of times we have a tendency to dislike each other on the court.…We got to be able to put that to the side. If you miss somebody on one play or don't have something go right….as long as you come to each other and talk. If I starting arguing with somebody I'm cool. I'm just playing basketball.

"Now that you have your money you got to go out there and improve your game. I want you to be an All-Star just as much as I'm an All-Star."
As long as Wall and Beal "dislike each other on the court," the Wizards are doomed. They won't have the necessary chemistry to play well enough together to win games in the Eastern Conference that way.
Washington bet on those two working things out after striking out on Kevin Durant and instead added complementary pieces around their guards. If things don't work out with those two, Washington will need to shake things up. Unfortunately for the Wizards and fortunately for their fans, a tank doesn't make much sense here.
Wall is under contract for three more years, meaning a team would likely give up a fortune to add him and have him at a bargain price for the next few seasons.
The team likely won't trade him. It would kill Wizards fans to deal Wall, who has become a favorite in D.C. With Dwyane Wade playing for the Chicago Bulls this year though, it's clear anything can happen.
Beal is a good young player, but he's not likely to bring as much in a trade since he's getting paid so much. If Washington wanted to rebuild they would have to give up their real asset on the roster. They won't be bad enough to tank with Wall, and the results would take longer than his contract's length to turn up anyway.
There are other pieces Washington can move as well. If Ian Mahinmi can get his legs under him after offseason surgery, the Wizards could see if any contenders want to bite on Marcin Gortat. Gortat is still a good player and a force inside, but it'd likely take an injury to somebody else's center to get anything substantial for him.
The real problem here is what to do with Beal. Even if Washington theoretically got a great haul for John Wall and parted ways with their superstar, what do they do with his sidekick?
The best-case tanking scenario would be scheming some team out of more draft picks and young players for him, but Beal is injury-prone and his contract is ridiculous.
Washington's best bet would be getting the big-man heavy Philadelphia 76ers to give up on Nerlens Noel or Jahlil Okafor for him, but there's a chance the 76ers don't want to trade away so much salary flexibility.
This situation is messy. Washington might end up having to stick things out, even if the results aren't coming. Wall should be worth a veritable fortune, but the Wizards might need to move Beal too if they wanted to truly tank.
That makes the tanking idea tough to implement here. The Wizards could try to deal Wall and see if they suck enough without him to get a top pick. They'd be paying Beal a fortune in the meantime, and still might not get a top pick.
There's always the outside chance Washington figures things out before long and gets back on track, but this roster isn't ready to challenge any powerhouse teams. Something needs to change, but aside from making the mythical DeMarcus Cousins trade finally become a reality there don't seem to be many moves the Wizards can make.
Washington is already essentially over the cap for next season, so even if the front office wanted to make another delusional run at a superstar, they likely can't.
Beal and Mahinmi will combine to make gobs of money over the next four years, and even if they weren't, the Wizards are not a free agency destination.
Washington has bet on their younger guys to develop for years now, and it just hasn't worked out. Otto Porter has started to look better this year, but it hasn't been enough to snap the Wizards out of their funk.
Although it looked like a smart move at the time, trading a first round pick for Markieff Morris may end up hurting the Wizards more than expected. Having another young player to bring up would be nice right now, with Washington struggling to rack up the wins with this core.
The most likely outcome here is patience. Wall, Beal and company are not a talentless group, and chemistry can come with time. Unfortunately it usually takes time and wins, and wins are not a commodity Washington has in its possession right now.
It wouldn't be a shock to see the Wizards deal one of their star guards this year if they cannot resurrect their season. Wall is the better player, but he's also the more valuable trade chip despite being three years older than Beal and Porter.
The Wizards weren't ready to be this bad again after giving out a lot of money this summer. Washington's struggles could lead to a panic move being made sooner rather than later, especially if Wall gets fed up with his franchise.
This article originally appeared on