Washington Wizards' Trey Burke Enters Season Full of Uncertainty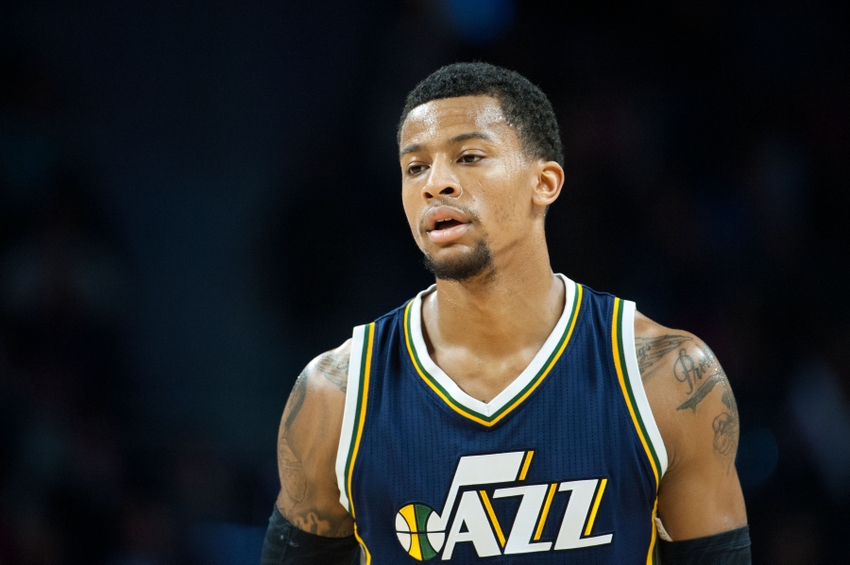 Washington Wizards point guard, Trey Burke, is seeking redemption following the most disappointing season of his career in Utah.
Leading up to the 2013 National Championship Game, Michigan's Trey Burke looked like a star. He had the whole package: confidence, quickness and the clutch gene. At times, Burke looked like the second coming of Allen Iverson, displaying an uncanny ability to finish at the rim despite his stature.
In his sophomore season at Michigan, Burke averaged 18.6 points and 6.7 assists on an impressive 46.3 percent shooting from the field. He was recognized for his effort, earning the Big Ten Player of the Year, the Bob Cousy Award and the National Player of the Year Award.
Burke had all the makings of a franchise point guard and was acquired by the Utah Jazz on draft night, who were still desperately looking for a long-term solution after trading Deron Williams to the New Jersey Nets.
The NBA game, though, is a lot different than what Burke was accustomed to in college.
Speed, the lone true advantage he had against opposing guards in college, was no longer a concern at the next level. He went up against quicker, more explosive guards every night. The one factor that helped Burke overcome his lack of size wasn't a problem for NBA teams.
Derrick Rose, Russell Westbrook, Kyrie Irving, Chris Paul and Burke's future teammate, John Wall, were waiting to take advantage of the smaller, less experienced guard.
Burke showed virtually no improvement in his second season in the league, averaging 12.8 points for two straight years on less than 37 percent shooting.
This past season, the Jazz's faith in Burke declined and his minutes did too.
After playing over 30 minutes per game as the team's starting guard, Burke played just over 21 minutes in his third season and started in none of the 64 games he appeared in.
His minutes steadily declined throughout the course of the year, as Shelvin Mack and Raul Neto took his spot in the rotation.
In December, Burke was playing over 26 minutes per game.
In February and March, he averaged 13.7 minutes.
Neto, who was once the third string point guard, was getting over 19 minutes per game during those months.
Mack, whom the Washington Wizards ironically drafted in 2011, played roughly 33 minutes per game in March and April.
The once highly coveted point guard had completely fallen out of the rotation in Utah and his future with the team became unclear. This summer, Burke was traded to D.C. for virtually nothing.
Utah has moved on with George Hill, who they acquired in a trade with the Indiana Pacers, Dante Exum and Mack rounding out their point guard rotation.
A year of inefficient performances and inconsistent playing time has left many wondering whether or not Burke has done enough to solidify his future in the NBA.
The days when he was considered a franchise leading point guard are long gone. Now, Burke simply needs to find his role as a backup.
Washington is taking a similar chance on Burke that they took on Ramon Sessions two seasons ago.
Ernie Grunfeld acquired Sessions in a trade with the Sacramento Kings for Andre Miller. In that deal, the Washington Wizards also got a trade exception back, which they used in the trade for Jared Dudley.
The Wizards gave up nothing of substance for Sessions and the point guard went on to have a career resurgence in the nation's capital.
Burke, a younger guard with more upside, has a similar opportunity in front of him.
Depth, or lack thereof, has been an issue for Washington and that still might be the case at the point guard spot.
Wall will continue to carry the club, but a primary backup will be determined in training camp.
Both Burke and Tomas Satoransky, a 6-foot-7 guard, will likely compete for minutes under Scott Brooks.
While he's a rookie, Satoransky does have the physical tools to contribute right away.
His experience overseas in the Euroleague also separates him from the traditional first-year players.
For Burke to crack Brooks' rotation and stay there, he needs to become more efficient. Defense is always going to be a setback for a player of his size, but offense is something he needs to excel at.
In his second season, Burke was scoring less than 13 points on over 13 shots per game. That, quite simply, won't get it done.
We've seen plenty of former college standouts wash out of the NBA. Burke is entering the final guaranteed season on his contract. For him, this upcoming season could be the difference between landing a long-term deal with the Wizards and looking for a job next summer.
Uncertainty hasn't been a part of Burke's basketball career, but the NBA has changed that. His third season in the league might have served as a wake up call. Nothing will be given to Burke in Washington, but the chance for redemption will be there.
This article originally appeared on