Washington Wizards Trade Ideas: Why Kenneth Faried Could Be A Solid Option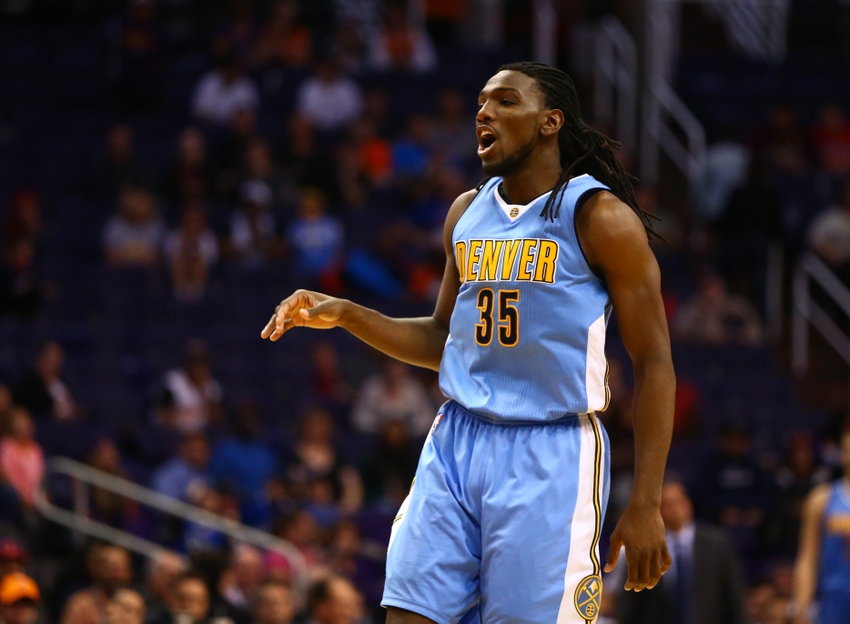 Washington Wizards need to re-energize their bench and Denver Nuggets forward Kenneth Faried could be a great fit on the team.
On Thursday night against the Washington Wizards, Denver Nuggets starting forward Kenneth Faried sat on the bench patiently waiting for his chance to step on the court.
He would remain seated, receiving a DNP-CD in the loss to Washington.
Faried wasn't listed as inactive, yet the coach decided he couldn't help the team that night.
Coach Mike Malone started Darrell Arthur for the Nuggets.
Earlier this season after Faried was benched, he was very open with the local press about the  move:
""That's my spot, that's my spot," Faried said. "I don't like people taking my spot. I didn't take kindly to that – coach knew that; my teammates knew that. I was outspoken about it. I was really upset. But I wanted it and I worked for it. That's what I wanted to get back. When I came out of that starting spot, it was kind of gave me a wake-up call like 'Hey you need to get back to who you are.'
Denver scored just 85 points against Washington and lacked energy on the offensive side of the floor – something that Faried is known to bring to the game.
Why he wasn't in the game is a bit of mystery, especially since he's not injured. To make it even weirder, the Nuggets were on their second night of a back-to-back. He only logged 12 minutes against the Brooklyn Nets the night prior.
Mike Malone, who was ejected during the third quarter, had this to say about Fareid's limited minutes:
"We'll look at starting groups and combinations, who plays better together. But anything we can do to alleviate the big leads that we're giving up early, we have to look at, we owe it to ourselves."
According to Christopher Dempsey of the Denver Post, Malone explained why he gave Faried his first DNP-CD of the season in the game against the Washington Wizards:
"They play so much small ball. They had Morris at the four and they had, Oubre and different guys at the four. Jason Smith played a little bit, he go in foul trouble. But for me it's tough to play four bigs. Right now I'm kind of platooning the center position. I thought Jusuf Nurkic and Nikola Jokic both played well tonight as we split the center position with those two. We started Darrell Atrhur and I'm playing Wilson Chandler almost exclusively at the four. So it's just a numbers thing. By no means is Kenneth Faried out of the rotation or not going to play for us. He's a valuable part of our team. But tonight was one of those games where we went with the guys we went with and if we call upon Kenneth Faried against Orlando, we'll need him to be ready."
"If we call" is a very significant statement and the writing is on the wall.
Faried didn't start at the beginning of this season, whereas last season he started in 64 of 67 games.
Given that the Nuggets have two promising young bigs in Nikola Jokic and Jusuf Nurkic, Faried's time in Denver could be coming to an end.
Washington has been known to scoop up players who fall out of favor with their respective teams.
Last year, the Wizards traded a first round pick to acquire Markieff Morris from the Phoenix Suns.
So, if Faried does become available, the Wizards might be a solid landing spot.
Faried, aka "The Manimal," is a beast on the boards.
He's leading the Nuggets in rebounds per game with 8.5.
Per-36 minutes, Faried is grabbing over 13 rebounds.
Against the Boston Celtics last month, Faried scored 12 points and grabbed 11 rebounds.
That's the sort of production he's capable of when given playing time on a nightly basis.
Denver is currently the best rebounding team in the NBA, snagging close to 50 from the glass per game.
Washington is the 7th worst rebounding team in the league, so adding a player with that ability is imperative.
Faried no longer fits into the Nuggets' rotation and his value as a player cannot be compared to Jokic nor Nurkic, who seem to be two pieces the franchise will move forward with.
Washington cannot trade any of their new acquisitions until December 15th, but once that date passes, they will be able to move the likes of Jason Smith, Andrew Nicholson and Ian Mahinmi.
None of the aforementioned players have been successful in Washington thus far. Since Faried is on an expiring contract, teams won't part ways with real assets. Instead, the Wizards could package Smith, Nicholson and a second round pick, for instance, for Faried.
The deal could be addition by subtraction for both sides. The Nuggets could use a veteran presence and the Washington Wizards desperately need a spark off the bench – something Faried can certainly provide.
This article originally appeared on