Washington Wizards Three Things to Watch: Wizards Start Crucial Stretch In Philadelphia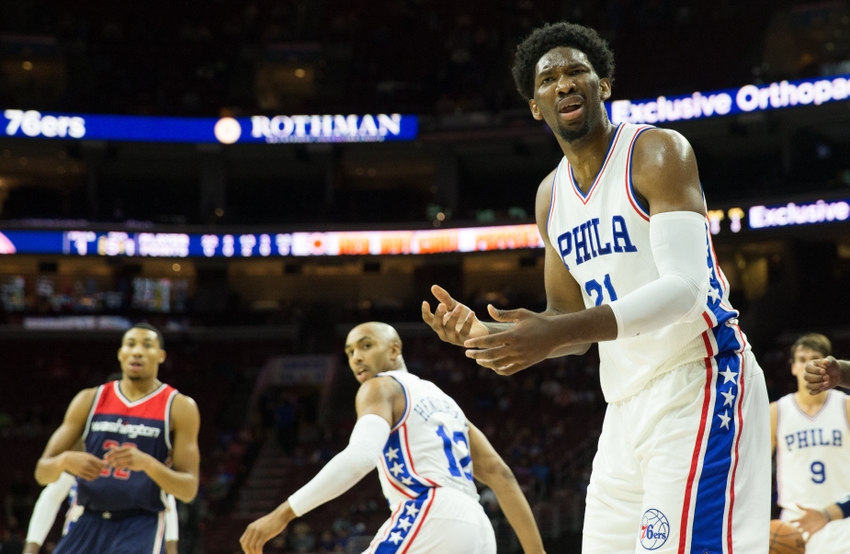 Washington Wizards are entering a critical point in the season and will begin the stretch of games against the Philadelphia 76ers.
It's only mid-November, but the next five games could determine the Washington Wizards' fate for the rest of the season.
At 2-7, the Wizards have put themselves in a hole to start the season. If they don't climb out soon, their playoff hopes could be dead before All-Star break.
Starting with the Philadelphia 76ers on Wednesday night, the Wizards are entering a crucial stretch.
It's make or break time.
Containing the league's best rookie
Joel Embiid was drafted in 2014, but after missing the first two seasons, he's still technically a rookie. He's currently averaging 18 points, 7 rebounds and 2 blocks per game. If he can remain healthy for the rest of the season, he'll have a clear path to the Rookie of the Year honor.
Marcin Gortat is putting up the best numbers since he arrived to the nation's capital in 2013, but his defense has been suspect at best.
The Polish Machine will turn 33-years-old later this season.
The first thing to go is usually defense.
He's shown signs of declining athleticism, often struggling to protect the rim adequately.
Besides Karl-Anthony Towns, Embiid is arguably the best young big man in the game. He's quicker, stronger and more explosive than Gortat.
For the Washington Wizards to come out of Philadelphia with a win, Gortat will have to at least contain Embiid.
Against the Wizards in preseason, Embiid scored 11 points and grabbed 13 rebounds in very limited action.
Stopping the Wizards Killer(s)
Washington has a tendency to allow random players to control the pace of the game. If there was an all-time Wizards Killer list, Gerald Henderson would be in the top-five.
Philadelphia is 1-8 for a reason; they don't have the talent that's necessary to compete at a high level. With that said, guys like Henderson, Ersan Ilyasova and Hollis Thompson are more than capable of swinging games when given the chance.
Closing out on the perimeter and not allowing certain players to find a rhythm will be imperative.
The second unit
Scott Brooks is still trying to figure out what do to with the Washington Wizards' second unit.
Tomas Satoransky has taken Trey Burke's backup point guard spot and Sheldon McClellan seems to have stolen Marcus Thornton's minutes. At some point, the coaching staff is going to have to figure out what bench to roll with.
The constant changing of the lineups hasn't helped. There has to be some sort of continuity if chemistry is ever going to be built. Since the Sixers have struggled, it will give the second unit a chance to gain momentum and potentially help solidify their respective roles on the roster.
This article originally appeared on