Washington Wizards Three Takeaways: Wizards Survive Overtime Against Kings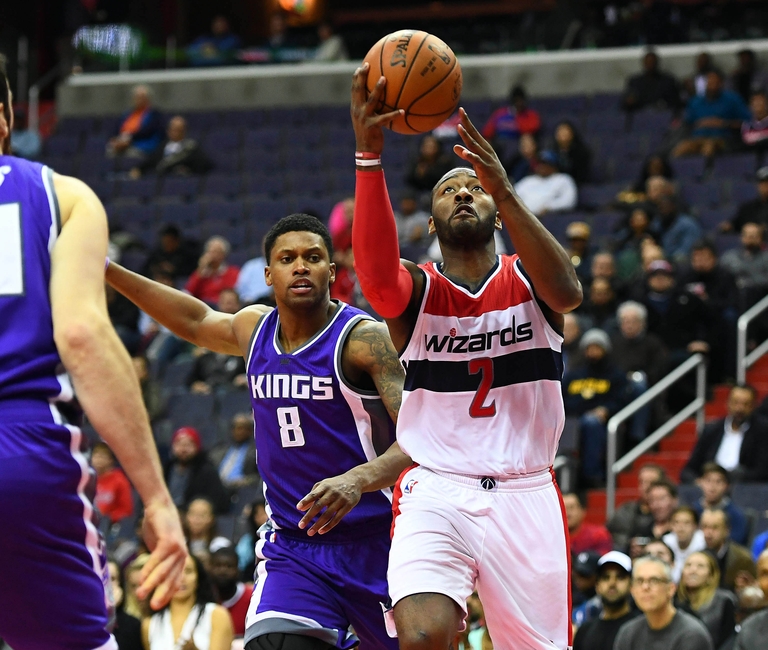 Washington Wizards outlasted the Sacramento Kings in overtime on Monday night and grabbed their sixth win of the season at home.
Neither the Washington Wizards nor the Sacramento Kings are having the seasons they expected thus far.
After making coaching changes, both teams were hoping their teams would respond appropriately. If the current standings hold, neither team would make the postseason, with the Kings missing the playoffs for the 894th consecutive season.
Tickets for Monday's game were available for $1 online, so that says everything you're supposed to know.
Regardless, a "w" against the Kings is just as valuable as a "w" against the Golden State Warriors, at least in the win column.
It wasn't a pretty game, but the Wizards manage to secure a win at the Verizon Center in overtime, 101-95.
Turnovers galore
Every season, John Wall has a few games where he looks completely awful. This was one of those games.
Wall finished the game with 19 points, 8 rebounds, 11 assists and…11 turnovers.
He turned the ball over 8 times in the first half and didn't look comfortable from the start. He forced up some ill advised shots late in the game, too.
With seconds remaining in the fourth quarter, Wall chucked up a fadeaway from mid-range that clanked off the side of the rim.
It was probably a better idea to give the rock to Bradley Beal, who scored 31 points and made half of his shots, including a career-high 7 from deep.
Luckily, these games don't really happen frequently for Wall.
The good part is, the Washington Wizards showed they're capable of winning – albeit against the Kings – even if Wall has an off night.
Beal came to hoop
Slowly, Bradley Beal has come into his own.
After a rough start to the season – he shot less than 40 percent from the field and 30 percent from three early on – Beal is beginning to turn things around.
He scored 34 points against the Miami Heat last week, followed than up with 42 against the Phoenix Suns and dropped 31 against the Kings.
There's one consistent thing in all of those games: his outside shooting.
When he's hitting from the perimeter, the entire game changes for Washington. They don't have many reliable options from three, but Beal is one of the league's best from beyond the arc. He took 13 threes against the Kings.
The secret to his success isn't a secret, really. He needs to continue doing what he's good at – shooting threes.
Oubre has a career night
Washington's second unit has been terrible and that's well documented. But on Saturday, Kelly Oubre showed up to play, scoring 10 points and adding 10 rebounds to his total. It was the first double-double of his career.
For Oubre, it's all about the little things. He has a tendency to try to do too much, but that's what happens when you play less than 700 minutes in your rookie season. He's going to have ups and downs, and Monday was an up, for sure.
Instead of driving recklessly, Oubre made an effort to move without the ball. He also made some key defensive stops, which should be his calling card.
The Wizards' late-game offense was tough to watch and consisted of nothing but taking bad shots and hoping they'll drop. Regardless of how it went down, the team got a win. At this point, they'll take anything they can get.
Washington will take on Scott Brooks' old team, the Oklahoma City Thunder, on Wednesday.
This article originally appeared on