Washington Wizards Three Takeaways: Wizards Get First Moral Victory, Sixth Loss of Season Against Cleveland Cavaliers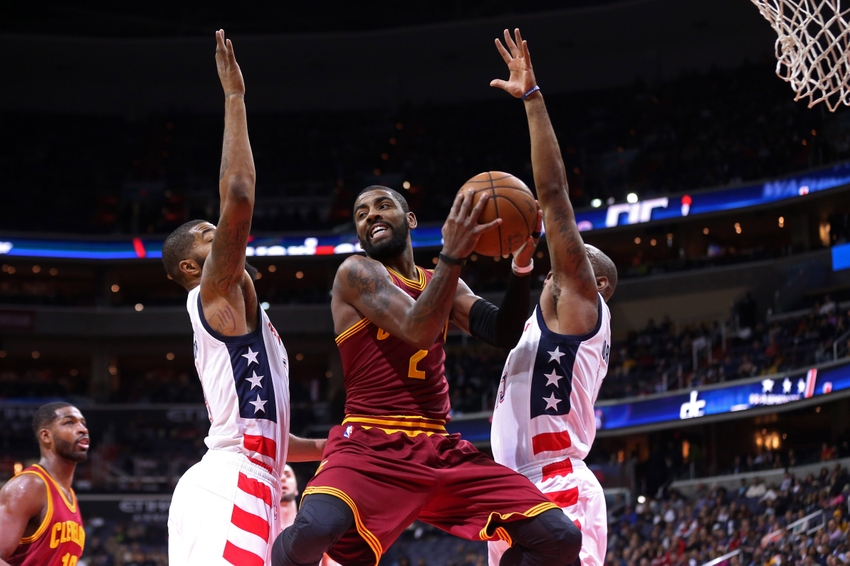 Washington Wizards took on the defending NBA champions, the Cleveland Cavaliers, for the first time in the 2016-17 NBA season on Friday night.
Even if moral victories were counted as actual victories, the Washington Wizards would still have more losses than wins.
But on Friday night against the Cleveland Cavaliers, the Wizards got a moral victory – and their sixth loss of the season.
Without Bradley Beal in the lineup, Scott Brooks was forced to use his creativity and the team responded.
Brooks relied on his team's youth, opting to play John Wall, Otto Porter and Kelly Oubre at the same time in spurts.
Ultimately, though, the Cavaliers' offense was too much to overcome late in the game.
Cleveland knocked down a total of 14 threes and Washington inevitably crumbled down the stretch as they were unable to match the opposition's shooting.
Cleveland closed out their first meeting in Washington, 105-94.
Wall almost did it alone…again
John Wall is often the kid who gets stuck with the lame group and does the entire project by himself. That's what happened tonight.
It's going to be hard to win when Marcus Thornton is your backcourt mate.
I can't imagine what goes through Wall's head when he steps onto the floor with his teammates and then sees LeBron James, Kyrie Irving and Kevin Love on the other side.
Still, Wall almost won the game by himself, scoring 23 points in the first half, almost all of which came exclusively from the perimeter.
He made a couple of shots from mid-range and found a rhythm early, single handedly keeping the team in the game.
Relying on Wall for scoring doesn't always end well.
Although he's improved his jump shot, it's impossible to beat a team like Cleveland if Wall is the only player shooting and hitting.
Nevertheless, Wall almost carried the team to a win by himself. That, at the very least, deserves some love.
The vets have to go
Jason Smith and Thornton have been the worst examples for the rookies on the roster. Somehow, both players have managed to keep their minutes, despite being the worst.
Smith failed to score a single point and committed five fouls in 15 minutes of action. Thornton started in place of the injured Beal and missed all five of his shot attempts. Thornton's two points came from technical free throws.
In the fourth quarter, Brooks yanked Thornton out of the lineup for Sheldon McClellan.
At some point, he'll have to replace Smith in the lineup with Daniel Ochefu. Washington can't afford to wait for Ian Mahinmi to return anymore. Smith and Thornton have both been unplayable and a change has to be made.
Backup wings are stepping up
Slowly, Trey Burke, Tomas Satoransky and Oubre are starting to gain some chemistry. Burke, as a shooting-guard, can actually produce. He scored 18 points in Washington's win over the Boston Celtics and scored 9 points against Cleveland. Satoransky added 8 points and Oubre chipped in with 10.
It's evident that the Washington Wizards lack talent from their second unit, but the three wings have done a decent job of making up for it with energy, defense and timely baskets.
Washington will take on the Chicago Bulls on Saturday night. Since Wall isn't supposed to play back-to-back games, he'll likely miss the game this weekend. Beal's status is still unknown.
This article originally appeared on