Washington Wizards Three Takeaways: Wizards Fall To New York Knicks In John Wall's Return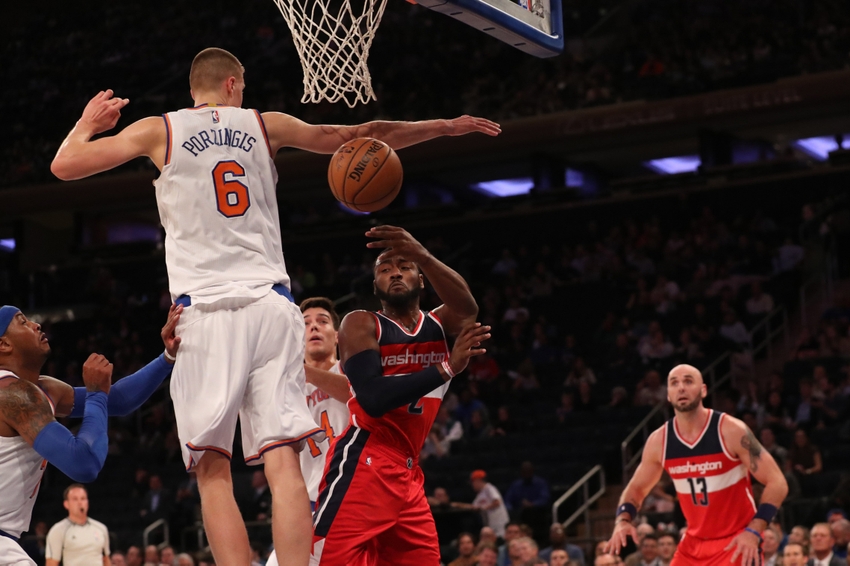 Washington Wizards Three Takeaways: John Wall returned against the New York Knicks, but the Wizards couldn't close out a win in the final moment.
The Washington Wizards forced their diehard fans to watch a double-overtime basketball game against the Philadelphia 76ers last week. Free basketball is fine when the games actually matter, but it's torturous in preseason.
On Monday night, the Wizards were seconds away from going to overtime against the New York Knicks.
Luckily, a referee had enough and blew his whistle during the final moments, giving the Knicks a chance to put the game away at the free throw line.
Rookie Danuel House fouled Lance Thomas and the Knicks closed the deal, 90-88.
Here are the three takeaways from the game:
Wall is rusty, but that's totally okay
John Wall made his return tonight in New York after months of rehabbing his knees.
In 16 minutes, Wall scored 8 points and dished out 4 assists.
It took him some time to find a rhythm, but once he did, the Washington Wizards' offense began to flow. He spoon fed Marcin Gortat on a pick-and-roll, just as we've become accustomed to seeing.
Wall missed a couple of open 3-point shots and had some trouble finishing around the basket.
He hasn't played since the conclusion of last season.
Wall was limited in training camp and has only went through two full practices since being cleared.
Once he gets a few games under his belt and improves his conditioning – the Knicks announcers said that Wall wants to lose 5-10 pounds before the season begins – he'll start finishing around the rim and playing with better pace.
This is what preseason is for, though.
He looked fine, for the most part, but still has a long way to go before returning to his regular self.
Porter is still kind of who we thought he was
Otto Porter has shown flashes of his potential since arriving to Washington in 2013, but he's yet to fully embrace his talent.
Porter made a couple of shots from mid-range and then immediately went away from scoring the ball. Hesitancy has hindered Porter's development, but now that he's in his fourth season, it's time for him to break out of that comfort zone.
Porter scored 9 points on 9 shots and grabbed 6 rebounds.
It's evident that he can contribute and he's certainly valuable, but Porter should be excelling more than he is at the moment.
If Porter had Kelly Oubre's confidence, he would be considered one of the best young wing players in the NBA.
Beal is in regular season form
Out of all the players on the Washington Wizards' roster, Bradley Beal seems to be the most prepared for the regular season. He's always played well against the Knicks and not much changed on Tuesday.
Beal scored 17 points in 27 minutes, displaying his new stepback jump shot and willingness to create inside the 3-point arc. Some might hate me for pointing it out, but seeing Beal actually dribble into open shots from around the free throw line area is comforting.
Last year, Beal had a tendency to pass on clean looks just because they weren't threes. The thing is, Beal is much more than just an outside shooter.
While his primary focus should be hitting shots from deep, getting the defender off his feet and creating a look from mid-range on occasion cannot hurt. Better yet, seeing him pump fake and get to the basket after one or two dribbles shows that he's trying to expand his game.
Washington will have a few days off before playing the Philadelphia 76ers on October 13.
This article originally appeared on