Washington Wizards Three Takeaways: Wizards Drop Home Opener Against Toronto Raptors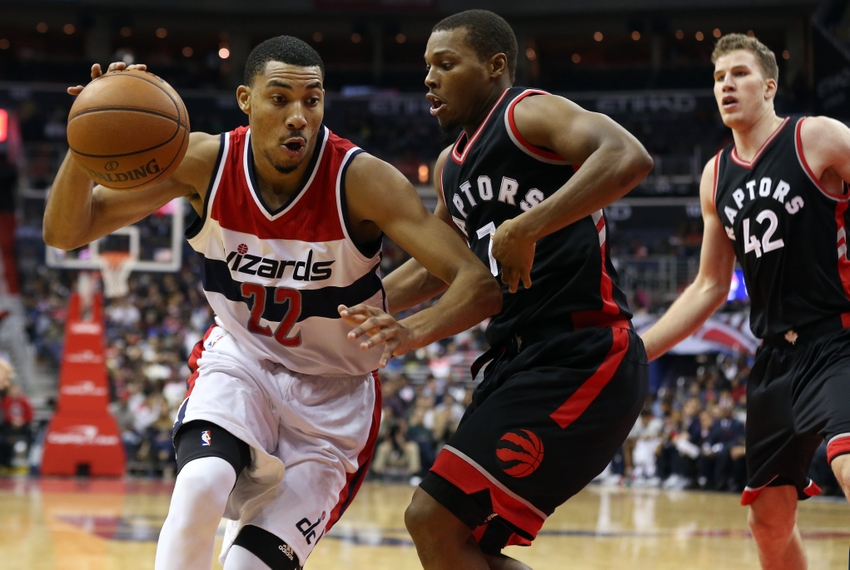 Washington Wizards were hoping to gain some much-needed momentum in their home opener, but dropped a third straight to the Toronto Raptors.
With two games in the books, it was difficult to seriously consider the third a "must-win."
But after falling apart in the fourth quarter against the Atlanta Hawks and losing to the Memphis Grizzlies in overtime, the Washington Wizards were under some pressure in their home opener on Wednesday night against the Toronto Raptors.
This year's Wizards team is different on paper, but their problems haven't changed much – if at all.
Scott Brooks is struggling to find a second unit that works and the defense has been inconsistent.
After gaining a lead in the first quarter against Toronto, the Wizards' bench squandered the momentum in the second and found themselves down by double-digits in the third. From then, the Wizards continued to fight back, but couldn't stop DeMar DeRozan down the stretch.
Washington dropped their third straight on Wednesday, falling to 0-3 on the season.
Passive defense is an issue
For some odd reason, the Wizards haven't been fully committed to finishing out possessions defensively. There were multiple times when Patrick Patterson was left wide open with the assumption that he was going to miss.
The same was true for DeRozan, who certainly hit some tough shots, but got into a rhythm by finding looks from his sweet spots on the perimeter. His game isn't well-liked by those who swear by analytics, but it's effective.
DeRozan makes up for his lack of a 3-point shot by getting to the free throw line and knocking down mid-range jumpers. He scored 40 points in 37 minutes and made 11 free throws.
Porter's breakthrough
It's taken Otto Porter some time to get his legs underneath him, but without his superhero-like performance against Toronto, the Washington Wizards would've gotten blown out at home.
Porter has a knack for scoring the ball without creating for himself. It's a lost art, really.
He's also one of the team's most effective rebounders and has learned how to utilize his length inside to get put-back layups.
The second chance opportunities, cutting to the basket and running in transition is where Porter will make his eventual payday.
He scored 23 points and grabbed 13 rebounds.
Porter also made 11 of the 13 shots that he attempted – virtually all of which came inside the paint.
Brooks is still playing with the rotation
Ernie Grunfeld did a solid job of adding youth in the off-season, but none of the players he signed stand out from each other.
What's the difference between Marcus Thornton, Jarell Eddie (who was cut), Sheldon McClellan and Danuel House, really? It's not like one of the players is particularly more talented than the other.
That's also the case with Trey Burke, Tomas Satoransky, Andrew Nicholson and Jason Smith. None of those names pop off the screen for a reason.
Burke struggled to get the offense going off the bench, committing 3 turnovers in 6 minutes of playing time. He was replaced by Satoransky, who did a better job of managing the game.
Brooks also played Bradley Beal and Markieff Morris more with the second unit. Unfortunately, it didn't impact the result.
If there's one positive thing to take away from this, it's the fact that Brooks is more willing to try new lineups than the previous head coach. When Burke struggled, he replaced him with Satoransky. He's also begun stunting the starters' minutes.
Washington will be back at it on Friday night at home against the Atlanta Hawks.
This article originally appeared on