Washington Wizards Three Takeaways: Wizards Close Out Milwaukee Bucks At Home, 110-105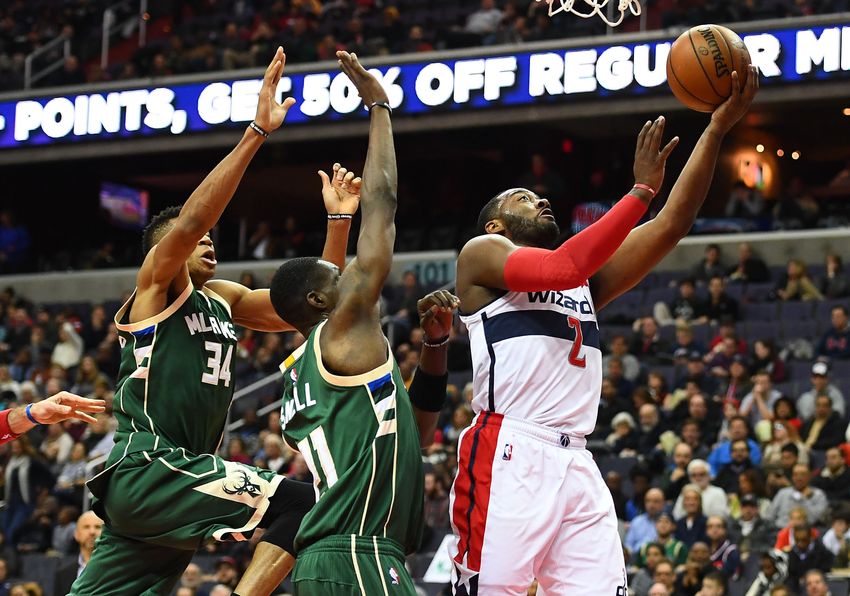 Washington Wizards have been struggling late in games this season, but managed to close out the Milwaukee Bucks at home on Friday night.
Closing out games has been a problem for the Washington Wizards this season.
The team has relied on stagnant offense – often opting to run isolation plays late in the game instead of moving the ball – and their record has suffered as a result.
Defensively, Washington has crumbled in the fourth quarter. Kawhi Leonard and Russell Westbrook both hit game-tying and game-winning shots against the Wizards this season. Neither shot was contested well.
But against the Milwaukee Bucks on Saturday night, the Wizards buckled down and closed out a win, 110-105.
Birthday boy comes through
Kelly Oubre turned 21-years-old on Friday and celebrated with his first legal glass of wine. I don't know what kind of wine he had, but whatever it was, it worked.
Scott Brooks is finally utilizing Oubre alongside the starters. The coach has yanked Markieff Morris out of the game early for Oubre.
With John Wall, Bradley Beal and Otto Porter on the floor, Oubre plays a decoy role and he's able to get shots that he normally wouldn't take.
When he's on the court with the starters, Oubre isn't asked to handle the ball.
He plays a Trevor Ariza type of role by spotting up in the corner and slashing to the basket.
He scored a career-high 19 points and grabbed 9 rebounds in 29 minutes off the bench. Oubre knocked down 7 of his 11 shots from the field.
It's easy to get frustrated with Oubre, especially since he has a tendency to do too much, but those careless mistakes are mitigated when he's on the court with the starters.
Expect Oubre to get more run with the core going forward.
Ball movement resurfaced
Lately, the Washington Wizards have stopped moving the ball. Both John Wall and Bradley Beal have taken on the scoring role and the offense has been inconsistent. While both guards can score the ball at a high rate, neither are at a Kevin Durant or Westbrook level.
Washington's offense is only going to be respectable if ball movement is involved. Wall and Beal scored a combined 44 points, but they also dished out a total of 17 assists.
The entire team feeds off the ball movement. Marcin Gortat, even, made some solid passes to cutters that could've resulted in baskets inside.
Wizards missed out on another free agent
I've been advocating for Mirza Teletovic for quite some time. He was an unrestricted free agent this past summer and the Washington Wizards didn't have any reported interest.
The stretch four lit Washington up for 25 points in 26 minutes on Friday. He's a prototypical spark plug off the bench – something the Wizards desperately need.
Washington will take on the Miami Heat on Monday night.
This article originally appeared on