Washington Wizards Three Takeaways: Wizards Beat Cleveland Cavaliers In Columbus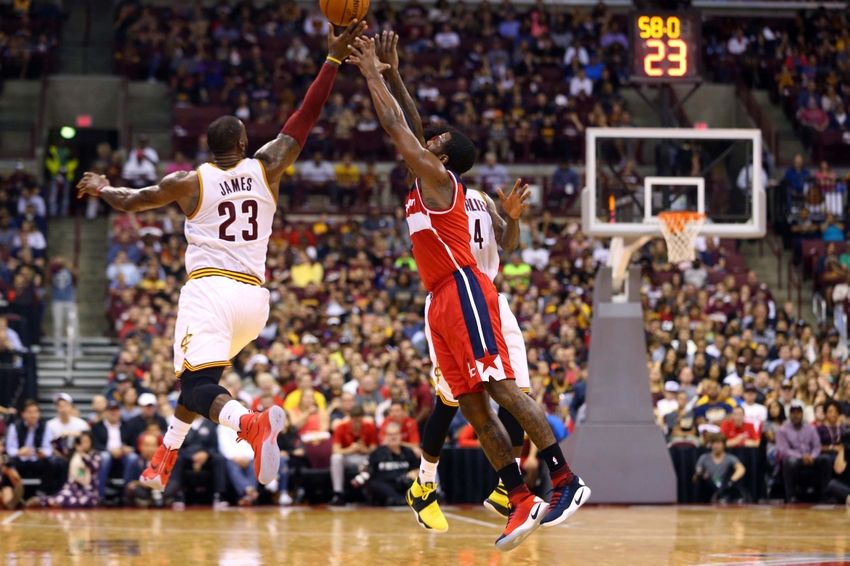 Washington Wizards Three Takeaways: Washington Wizards completed a comeback against the Cleveland Cavaliers in Columbus, Ohio.
DeAndre Liggins isn't quite LeBron James, but he's still a member of the Cleveland Cavaliers (at least for the time being).
On Tuesday night, the Washington Wizards traveled to Columbus, Ohio to take on the Cavs and came out with a preseason victory, 96-91.
While beating the 2016 NBA Champions in preseason doesn't mean much, it still creates the foundation for the future.
A win is a win, after all.
Oubre isn't afraid
Kelly Oubre isn't old enough to legally purchase a drink at the bar, but he's still not afraid of LeBron, who's arguably the greatest player to ever step onto a basketball court.
The kid (he's just 20-years-old) attacks the basket every time he touches the ball. Sometimes it ends well and sometimes it's a disaster. In preseason, it's mostly been positive.
Oubre started in place of Otto Porter, who's dealing with a minor injury, and immediately went after LeBron. He got a steal early in the first quarter, ran up the court and got denied by LeBron. John Wall cleaned it up and scored.
Then, Oubre dribbled right into LeBron and drew a foul.
He's essentially a rookie, having not even played 700 minutes under Randy Wittman last season. Most players that are his age would be understandably nervous to be matched up against LeBron. That's not the case with Oubre. He thrives in those situations.
LeBron dominated, per usual, but it was great to see Oubre accept the challenge, even if he wasn't able to stop the King.
The backcourt is finding a rhythm
The Washington Wizards have just one preseason game left and it's time for them to get locked in. Perhaps most importantly, it's time for John Wall and Bradley Beal to get into regular season mode.
Wall scored 17 points in 24 minutes and made three of his five 3-point shots. He's starting to mix up his offense, too.
Wall wasn't hesitant to shoot from deep, but he also looked to drive when the opportunity presented itself.
He got knocked down a few times, but popped right back up.
That's a good sign that he's back to normal.
Beal scored 13 points on 5 of 11 shooting and dished out 5 assists in 28 minutes. Like Wall, he's also starting to add more to his offense.
He's beginning to create for himself instead of constantly depending on the point guard. If he continues to play at that level, he'll set himself up for an All-Star caliber season.
On a side note, Scott Brooks played Tomas Satoransky with Wall and Beal on Tuesday.
At 6-foot-7, Sato is capable of playing three positions in the NBA. His ability to distribute took pressure off Wall and Beal. It's been some time since a coach in D.C. was willing to mix up the rotation.
Nicholson gets buckets
Andrew Nicholson is a straight up animal on the low-block and from deep.
We're trying to think of a nickname for him, because he's an instant bucket when he touches the ball. Andrew Instabuckets. Andrew Buckets. YMCA. We're still working on it.
He scored 19 points and grabbed 8 rebounds on 7 of 8 shooting from the field. He did that in just 26 minutes off the bench.
He's easily the best low-post scorer on the roster, and now that he's added a 3-point shot to his game, Nicholson has the potential to really shine this upcoming season. Out of all the low-key players, Nicholson has been the most impressive in preseason.
Washington will conclude preseason on October 21 against the Toronto Raptors.
This article originally appeared on