Washington Wizards Three Takeaways: Miami Heat Take Advantage of Wizards' Poor Defense, 114-111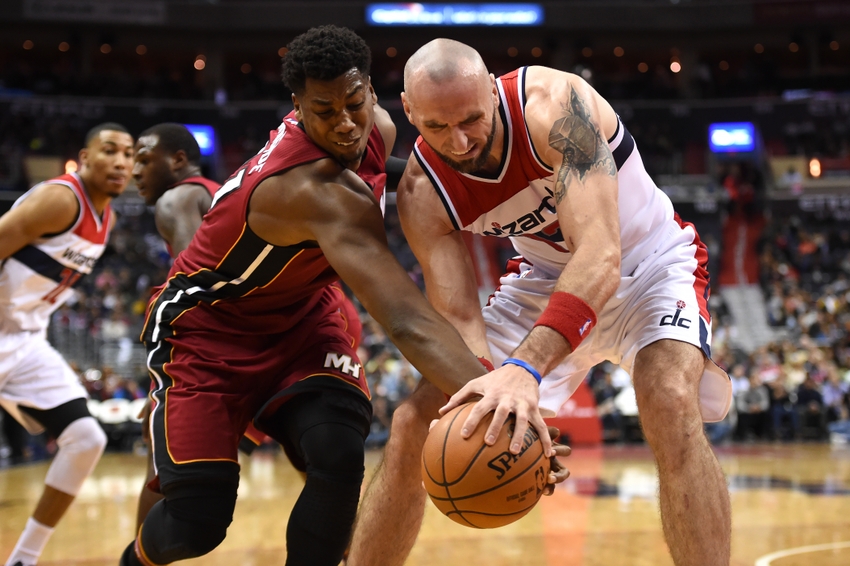 Washington Wizards have hit a stretch of winnable games, but their defense has been poor. They dropped another game against the Miami Heat on Saturday.
Scott Brooks has been preaching defense ever since he was hired in April.
Thus far, the Washington Wizards have failed to execute Brooks' defensive plan.
Prior to Saturday night's game against the Miami Heat, the Wizards had the eighth worst defense in the entire league. Lacking a true enforcer, the Wizards have struggled to string together consecutive stops, which makes it more difficult to get out and score in transition.
Against the Heat, Washington didn't have trouble scoring, but weren't able to gain any momentum because Miami got whatever they wanted offensively.
Despite a late comeback attempt, Washington dropped to 3-9, losing 114-111.
Backcourt thrived (on offense)
John Wall led a late surge, hitting multiple 3-point shots in transition to cut a double-digit deficit in half with about a minute left.
He made five of his six attempts from deep, totaling 34 points.
After playing a facilitator role in the first quarter, Wall took matters into his own hands and looked to score.
Bradley Beal added 34 of his own points.
He played the best game of his season so far and made an effort to shoot more threes, it seemed.
Beal took 11 shots from beyond the 3-point arc.
On the flip side, both couldn't stop their respective assignments from getting inside and controlling the game in the paint.
Goran Dragic, in particular, carved Washington's defense up by keeping his dribble alive inside and using his body to make tough shots at an angle.
Dragic scored 22 points on 7 of 14 shooting from the field.
Dion Waiters and Josh Richardson combined for 31 points.
Eric Spoelstra opted to start the game with a small lineup, putting Dragic, Waiters and Richardson together on the opening rotation.
Defending the line
Since Washington had a difficult time stopping the opposition from penetrating, naturally, they couldn't stop the Heat from getting clean looks from outside.
The Heat swung the ball around the perimeter and got plenty of uncontested shots from three just from moving the ball, driving and kicking.
Whenever the Washington Wizards hit a three, it seemed like the Heat would counter with one of their own. Richardson made 4 of his 6 threes – almost all of which came uncontested.
Washington has to figure out a way to close out, but it starts with stopping the ball. If the ball handler gets inside and forces the defense to collapse, a man will be open from deep every time.
Where's the depth?
Ernie Grunfeld couldn't deliver a top-tier free agent this past summer, but he did – at least on paper – revamp the bench and add depth.
Where is this depth, exactly?
In the first half, Markieff Morris tweaked his knee and couldn't play in the remaining two quarters. Brooks started Jason Smith in the second half after he didn't play in the first.
The Wizards were supposed to be two or three deep at each position, but right now, it looks like the starters are carrying the club. Marcin Gortat played 38 minutes, Otto Porter played 37, Wall played 37 and Beal played 40.
Unfortunately, there's no way to fix this problem (unless the Washington Wizards make roster changes).
Washington will continue their home stretch against the Phoenix Suns on Monday.
This article originally appeared on