Washington Wizards: The Excitement, Optimism Is Gone Again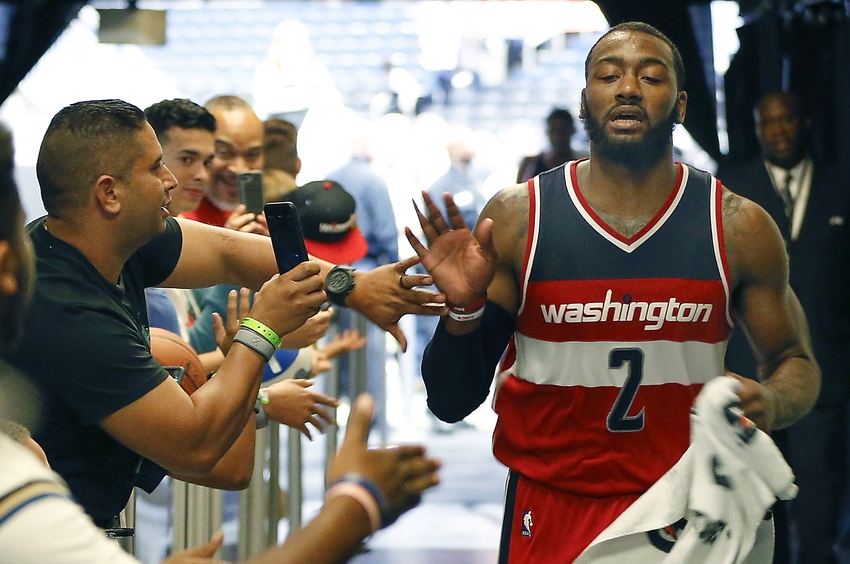 Washington Wizards (6-10) are off to a slow start to the 2016-17 NBA season, which has drained the little excitement remaining in the team.
Dan Steinberg of the of the Washington Post wrote a column last week that for me at least was a gut punch – a realization that, unbeknownst to me, my beloved Washington Wizards have yet again settled into a state of despair and irrelevancy.
Coming off the thrill of Washington's competitive series with the Atlanta Hawks in the 2015 Eastern Conference Semifinals, it wasn't difficult to realize that last season was a setback, a failure to capitalize on the momentum of the prior season's playoff run.
Washington's utterly disappointing 41-41 record, the subsequent firing of Randy Wittman, injuries, and plethora of players on one-year contracts creating a lack of continuity to the roster only amplified the step back and the uncertainty that faced this organization off the heels of missing the playoffs.
The payoff, however, was going to occur in the summer of '16.
During an interview with the Sports Junkies on 106.7 The Fan, Ted Leonsis had this to say in summer 2014 as transcribed by Scott Allen of the Washington Post;
'but we have a plan and we have our budget and we know what's doable. Our main focus and priority is to try to keep our team together to start and then add to it."

Leonsis reemphasized that focus and the team's plans for future years later in the interview.
"If we can keep the team together and then add to it, I think we can be a perennial playoff team," Leonsis said.

"And then we can add to it as the cap goes up in the out years. I'm still hopeful that we can bring in a transformative, name free agent, but they want to play with teams that are really good. They want to be the piece that kind of gets you over the top. So our key goal right now is to keep what we have and incrementally add to it, and then in the out years be able to compete and bring someone in who goes, 'Yeah, this is a great situation.'
I'm not here to make the argument that Kevin Durant should have signed with Washington nor will I criticize the organization for that.
We surely could argue they could have done better by simply being a winning team that was more enticing to any free agent, but in the end would that have gotten Washington a meeting with Kevin Durant? We have no way of actually knowing. o I'll move my focus from there.
Let's break down what the Washington Wizards hoped to accomplish per Leonsis' 2014 interview a little further.
Be a perennial playoff team
This one is simple enough.
Washington finished 41-41 last season and missed the NBA playoffs, a stage where they distinguished themselves the prior two years. Washington may not have been in on Durant in free agency, but they were reportedly a finalist for Al Horford, who eventually signed with the Boston Celtics.
Jae Crowder had this to say about the free agent pitch to Al Horford;
"That's what we were telling him. He had Washington and some other teams looking at him, but we beat them four times this year. You don't want to go there."
We don't know if this was a deciding factor in Horford's decision, but if Washington were the 48-win team coming off a playoff appearance, perhaps that may have tipped the scale in their direction.
Appearing in the playoffs two of three years unfortunately does not equate to being a perennial playoff team and the team's 6-10 start to this season may have people starting to wonder what is the norm rather than the exception for this roster: making the playoffs or participating in the NBA Lottery?
Retain the core
Washington has kept the core of the team.
John Wall, Bradley Beal and Marcin Gortat are under contract for the foreseeable future in Washington.
Otto Porter is a restricted free agent at the end of the season, but Washington will have the opportunity to match any offer he gets on the market, so it would be a surprise to see Porter elsewhere in the immediate future.
That's all that's left, however, from the team that walked off the court after Paul Pierce's potential game tying 3-point shot was waved off in Game 6 versus the Atlanta Hawks.
Gone are players who were key components to the two-year playoff run including Trevor Ariza, Paul Pierce, Trevor Booker, Ramon Sessions, Andre Miller, Garrett Temple and Nene.
The potential cap space their departures cleared up – cap space which was ear-marked for a major free agent – has instead gone towards replacing those players who ultimately didn't return, and the results have not been positive.
While I wasn't optimistic about landing an A-level free agent, I assumed excess of $30 million in cap space would have resulted in more juice to the roster than what has unfolded.
At minimum, I had guessed a starter or starting caliber talent would land in Washington via the free agent market or a trade into unused cap room.
Here's what Washington has to show for to date for last summer's spending.
• Ian Mahinmi – 1 game played
• Jason Smith – 2.3 ppg with a PER of 2.6
• Andrew Nicholson – 4.2 ppg with a PER of 9.6
• Trey Burke – 4.8 ppg with a PER of 10.2
• Marcus Thornton – 7.2 ppg with a PER of 9.6
• Tomas Satoransky – 4.5 ppg with a PER of 9.3
The replacements have not played to nor have they shown the capability to playing up to the level of their predecessors.
You can't blame the starters.
We're only 16 games (18.3%) into the season, but three of Washington's core starters have career high PERs: John Wall (24.5), Bradley Beal (18.7) and Otto Porter (19.6).
Marcin Gortat is fourth in the NBA in rebounding, averaging 12.1 per game and is shooting 59.5 percent from the field. They've held their end of the bargain. The front office did not do the same this summer and as quickly as Washington's playoff success came, this organization just as quickly reverted back to a state of malaise that defined a generation of Wizards/Bullets basketball.
While I knew things were bad with the slow start to the season, it hadn't dawned on me that the sliver of hope and excitement us Washington Wizards fans had for that two-year playoff run has evaporated.
Now I have to ask the question: if Washington is not a perennial playoff team, failed to adequately replace the the free agents who have left this roster, and to date have failed in landing a transformative free agent, what is it all for?
What is the big picture if, in spite of Washington's young core playing at a high level, they are still a 6-10 team? What is the plan, exactly?
This article originally appeared on