Washington Wizards Southeast Division Preview: Wizards vs. Miami Heat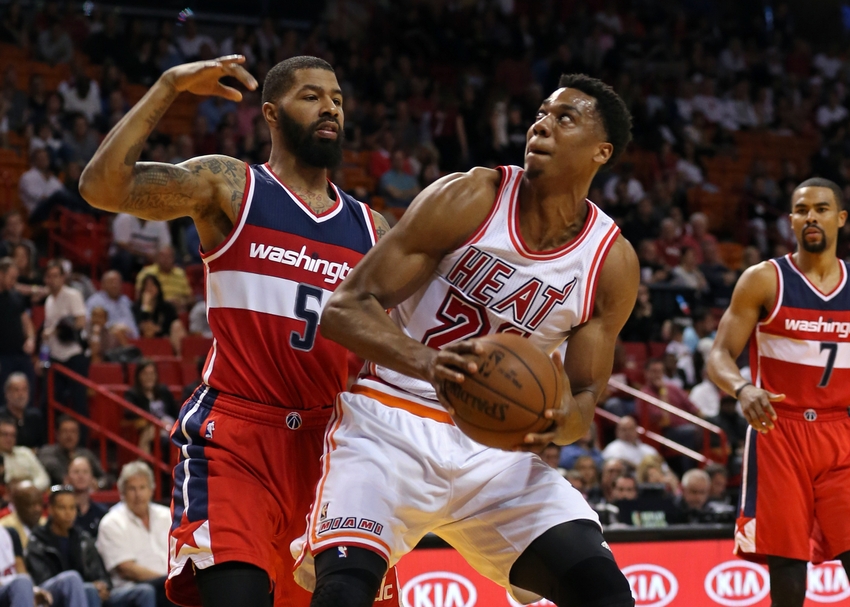 Washington Wizards could become a legitimate threat in the Southeast Division and that's largely due to the decline of the Miami Heat
We all know the couple that should have spent their entire lives together, but something small broke them apart. Dwyane Wade and the Miami Heat deserved to be tied forever. But, for money reasons, they decided to go their separate ways.
Once the Wade domino fell and the Heat re-signed Hassan Whiteside to what could be a back breaking max contract in the not too distant future, Pat Riley started to scramble in free agency, signing way more players than he actually needed.
Currently, the Heat are over the league allowed limit for players. They have more than 15 guaranteed contracts on the roster. That, in itself, is a problem. The bigger issue, though, is that the talent on hand isn't very eye popping.
Key additions:
Key losses:
What are the Heat, exactly? They replaced future Hall-of-Famer Wade, who's arguably the best player in the franchise's history, with Waiters.
That's something straight out of the worst horror movie ever.
Waiters is Wade's evil twin who's been programmed to brick mid-range jump shots and throw his hands up with disgust every time he doesn't get the ball.
Riley, I'm guessing, is hoping that the Heat discover some sort of magical chemistry by completely relying on their unproven players.
Until further notice, Chris Bosh is going to be sidelined.
He's yet to be cleared by the team and it's looking more and more like that situation will get ugly.
The keys have been handed to Whiteside, Goran Dragic, Josh Richardson, Justise Winslow and Tyler Johnson.
A Portland Trail Blazers-like revival might be possible, but I wouldn't bet on it, especially since the team's best player is in limbo.
Whiteside is going to be the highest paid player on the Heat and he's only had one productive season.
There's been plenty of back and forth about whether or not Whiteside is even capable of carrying a franchise. The sample size just isn't big enough to draw a conclusion yet.
Logically thinking, it's tough to picture a scenario where the Heat win enough games to make the playoffs with Whiteside and their current supporting cast.
How the Washington Wizards match up
The Wizards have the Heat beat at virtually every single position besides center (and that's to be determined soon, too).
Out of all the aforementioned Heat players, I'm most excited to see how Dragic will perform now that Wade is a Chicago Bull.
The Heat never really found a rhythm with Dragic and Wade on the court together, and it seemed like the Slovenian guard hated playing off the ball. Well, now that ball is going to be in his hands…a lot.
Dragic is a former All-NBA player and he's coming off a rather underwhelming season.
He's given John Wall fits in the past and the Wizards' star shouldn't be ashamed about it.
When he's on, Dragic is one of the toughest guards to stop in the league. He can score both inside and out, and he does a great job of conserving his dribbles. He's incredibly crafty around the rim and he's not afraid to take contact.
Marcin Gortat hasn't matched up well against long, athletic big men in the past and now that he's gotten older he'll only continue to have problems.
Ian Mahinmi has a similar build as Whiteside, but he's nowhere near as explosive.
Winslow is also someone that should be watched. The opportunity for him to flourish is there.
Erik Spoelstra will allow Winslow to learn on the fly, as I'm sure his shot output will increase significantly with Wade's departure. If he can consistently knock down the deep ball, Winslow could sneak into the Most Improved Player conversation.
As a collective unit, the Heat are pretty depressing, to put it bluntly. Their roster is comprised of NBA journeymen and the starting lineup lacks talent.
Ultimately, the level of success they reach will be determined by Bosh's status. If he cannot play or the Heat just refuse to clear him, the team is going to sink to the bottom of the Eastern Conference.
Out of all the teams in the Southeast Division, the Washington Wizards should be least concerned about the Heat.
This article originally appeared on