Washington Wizards Should Consider Tanking and Trading John Wall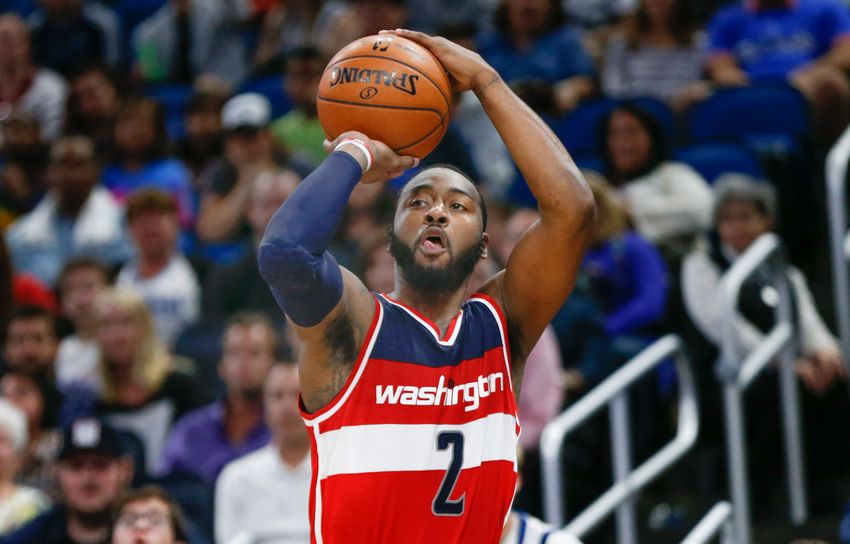 Washington Wizards don't look like a team ready to contend and should consider rebuilding by trading their franchise player John Wall.
The Washington Wizards are a bad basketball team – a team that looks like a shell of the one that was in the Eastern Conference Semifinals two seasons ago.
With just 7 wins, only 7 teams have a worse record than the Wizards. Washington is 72-81 in their last 153 regular season games, dating back to January 2015. The team is 26th in the league in average attendance, down over 16 percent from the 2014-15 NBA season.
This, on the surface, is a reason to be concerned, but there is an even greater reason to panic that people have avoided.
Washington is getting great production from their three top players – John Wall, Bradley Beal and Otto Porter, all of whom will likely have max contracts by the end of next summer.
The trio is averaging 60 points per game and each player individually has a career high PER. The finger can't be pointed there.
Marcin Gortat is averaging 11.5 points and 12.1 rebounds per game on 56 percent shooting from the floor. He's not the problem.
The blame arrow is pointing in one direction: team president Ernie Grunfeld.
The moves he's made to improve the roster this season, beginning with the acquisition of Markieff Morris at last season's trade deadline and building the bench this past offseason, have not worked.
I'm not breaking any news by telling you that. That is not the topic I'm here to broach. The Wizards are a bad basketball team – but what's next? Does a path exist to fix the current state of the roster?
Before diving in, it's prudent to lay the ground work.
Per Sport Trac, the Wizards have $99,513,714 of cap space spent towards the 2017-2018 payroll.
This does not include Porter's cap hold, which will exceed $10MM.
The anticipated salary cap for the 2017 season is $102MM, so with Porter's cap hold, Washington's salary commitments exceed the salary cap, leaving the mid-level exception and the bi-annual exception as their primary cap space tools to improve the roster (although the luxury tax can be an impeding factor).
That approach has worked in the past as Washington was able to sign Paul Pierce utilizing the MLE, however, in the rising cap environment, it's no longer realistic to expect impact contribution from that source of cap room.
The Washington Wizards do have their first and second round selections in the upcoming draft.
I'm going to start by eliminating one fork in the road.
Growth from within can't be viewed as a primary path to contention.
As previously mentioned, the trio of Wall, Beal and Porter are averaging 60 point per game.
Porter and Wall are shooting at career-high levels and all three players are averaging career-highs in points per game.
Washington has Kelly Oubre Jr. and Tomas Satoransky, two young players drafted by the organization whom the team should expect growth and development from, but neither should be considered a franchise-altering type of impact player.
There is some homegrown talent in-house and the expectation should be that these five players continue to improve and grow together, but expecting that growth to be the driving force behind a franchise turnaround would be wishful thinking.
They need help.
This brings us to the bench.
The bench is mostly comprised of veteran players who are what they are – mediocre players with a limited skill-sets, several of whom probably fit the journeyman profile.
Marcus Thornton has a career net negative rating and has shot below 40 percent since arriving to Washington.
Jason Smith, signed to a three-year contract, will be 31 before the end of this season and is in the midst of possibly the worst season of his pro career.
The bench does have three undrafted rookie free agents, however, it's too early to know anything about them given their lack of playing time (and injury in Danuel House's case).
That's the quick and the dirty on the current state of the team.
Washington is top heavy without the necessary depth and talent to be a good team, but somewhat boxed in from a cap perspective based on a bad summer of contracts.
Where can Washington go from here?
Here are a few alternatives.
Tank.
It might be time for the Washington Wizards to "trust the process" and go all-in on the 2017 NBA draft. According to the Sporting News: Truly, this is a loaded draft that will be a gift that keeps on giving for teams selecting well into the teens."
This draft is presumably deep and rich with high-end talent, with several players capable of landing in the no. 1 overall spot.
Washington is potentially capped out and has been unable to land a complimentary star to John Wall in free agency or in trade since drafting him in 2010.
This year's lottery might provide him that opportunity at the price of a rookie contract.
Washington, as of today, would enter the lottery with the eighth best odds of selecting first overall.
While there's a shot to jump into the top three, it's not a great shot and there's only a 2.8 percent chance of landing the number one overall pick.
Wouldn't the Wizards be better served playing and developing their youth, limiting the minutes (and wear and tear) on their core and potentially looking for trades involving their veteran bigs in an effort to truly build to a long, sustainable winner in the future?
There's a downside to this and that downside is it would require wasting a year of Wall's career which takes us to the second option.
Should Washington trade John Wall?
Wall is having a superb, career season thus far.
He's a relative bargain contractually in the current NBA and has two full seasons of team control remaining on his contract.
With Wall's contract status hanging in the balance in the coming future, he would have to be on-board or support any strategy that promotes a tank.
Will he be happy in his 7th season playing a season he knows won't result in the playoffs? I'm guessing not, but Wall must face the reality that the team as currently constructed isn't good enough.
If he doesn't get on-board or indicate support for the plan, Washington will have a decision to make.
Do they bet that they can build a contender around Wall before his contract expires and he becomes an unrestricted free agent or do they start the rebuild sooner rather than later and try to accelerate it by moving Wall ahead of a "loaded" draft?
With two full years left on his deal and on his current contract, Wall would be a desirable player on the trade market and potential game changer, capable of shifting playoff dynamics depending on where he were to land.
It may very well be too soon to have this conversation, but Wall is likely at his peak value given how he's played and how much time is left on his deal.
If you wait until the summer of '18, when Wall is entering the last year of his deal, you'll be faced with teams perhaps being unwilling to part with a complete trade package knowing that he is only under contract for one additional season and could walk.
That was reportedly an issue for teams as they tried to put together trade packages for Russell Westbrook this past summer.
Would you be able to blame either party (the team or John Wall) for making the decision to go this route at this point?
You can point blame for the decisions that have gotten the team here but the bottom line is, the team isn't performing and hasn't for some time and attendance is declining.
What Washington can't let occur, under any circumstance, is allow Wall to walk without any compensation.
The Washington Bullets once let a young franchise caliber player go, albeit in a trade with little in return, when they dealt Chris Webber to the Sacramento Kings and it took years to dig out of that hole.
There's no worse place for an organization to be than stuck in mediocrity – not bad enough to land a game changing player in the draft but not good enough to be a contender.
Instead, those franchises claw to simply make a playoff appearance. Washington was among those teams in 2014 and '15, however, they had an expectation that their cap space in '16 was the key to making the leap to contender status.
That plan failed and the Washington Wizards have to reorganize their plan towards making the leap, otherwise they'll be stuck in the mediocrity that defined generations of Washington Wizards/Bullets teams since their last 50-win season.
This article originally appeared on