Washington Wizards' Offense Cannot Grow Too Dependent on John Wall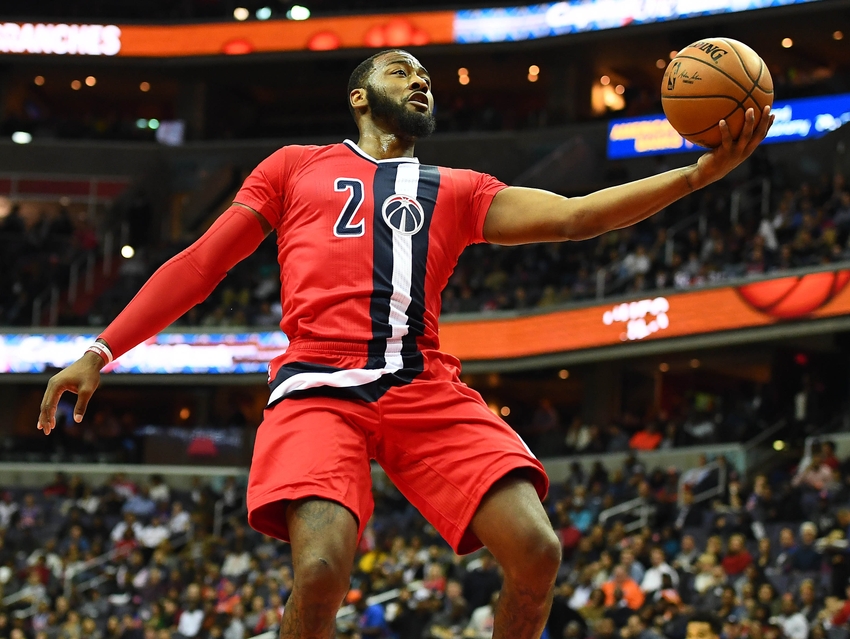 Washington Wizards All-Star John Wall is scoring at a career-high level, but the team needs him to focus on distributing the ball instead.
John Wall's frustration this season has been palpable.
As the first overall pick, Wall has essentially been the leader of the Washington Wizards since 2010. He overcame years of struggles to lead the Wizards to back-to-back playoff appearances in 2014 and 2015, and led the team to the semifinals both times.

Last year, the frustration began.
Washington was seemingly stuck on the dreaded treadmill of mediocrity. The roster was decent, but was not seriously contending for anything.
Ernie Grunfeld and the Wizards' front office decided to remain passive in the summer of 2015, hoping to keep enough salary cap space open to make a big splash the following year.
The result of this lack of action was a disappointing season.
A 41-41 record, surrounded by an improved Eastern Conference, meant that there was no third consecutive playoff appearance.
The struggles from the previous season meant that there was no big free agent signing. The lack of a big name move meant that there was little hope for substantial improvement.
However, what has happened thus far this season has been worse than what anyone, especially Wall, could have anticipated.
The team is 3-9, with losses to the lowly Philadelphia 76ers and Miami Heat in the past week. Wall has missed two games, and the Wizards have struggled enormously to put the ball in the basket without their point guard.
When he's been on the court, Wall has looked good.
He's currently averaging what would be a career-high 24.0 points per game on a career-best 46.7 percent shooting. He has showed an increased willingness to stay aggressive and consistently look to attack the basket.
Wall is currently shooting seven free throws per game. He has considerably increased the distribution of his shots at the basket, a number that now stands at approximately 36 percent.
It has long been asked of Wall to be more aggressive offensively. He is among the league's quickest and most athletic players, and it is therefore extremely difficult to stay in front of him.
However, as Wall increases his assertiveness and improves his scoring ability, the Wizards are still unable to collect victories. The question is, why isn't Wall game adaptation transforming the Wizards' record as well?
Watching Washington play against Philadelphia, it was clear that Wall had no intention of involving his teammates. Wall was on a 24-minute limit, so he hadn't played much in the first three quarters plus of the game.
Coming into the game against a team that was supposedly the worst in the NBA, Wall led a furious fourth quarter comeback that ultimately came up short.
Wall finished the game with 27 points; 23 of which came in the second half. He took 19 shots and attempted 12 free throws. For much of the fourth quarter, he appeared to be a one-man fast break.
Wall only dished out 6 assists in that game.

It has been part of a larger trend apparent in Wall's game this season.
He is averaging 8.3 assists per game this season, down from 10.2 last year and 10.0 the season before that.
Against the Knicks, in the game directly after the disheartening loss in Philadelphia, Wall played what was probably his best game in a win this season.
He opened the game as a distributor, piling up assists as Bradley Beal, Otto Porter and Marcus Thornton all shooting well.
Late in the game, with the Knicks pushing hard for a remarkable comeback, Wall checked back in and scored eight points down the stretch to clinch the victory.
He finished the night with 23 points and 11 assists. Prior to that, Wall had gone five consecutive games without double digit assists.
For comparison's sake, in 2015-16, Wall only had one streak that long of single digit assist games. Wall had at least 10 assists in 52 of his 77 games.
In Wall's two best scoring outputs of the season, 33 points against the Raptors and then 34 last night against Miami, the Washington Wizards have lost. Wall has always been a very ball-dominant player. Especially over the course of the last three seasons, Wall has been the center of the Wizards' offense at a level that very few NBA players experience.
In their two most successful years of the Wall era, the pick-and-roll was the Wizards' primary method of attack.
Wall was so quick and dangerous turning the corner, and his improved mid-range game made him a constant threat to score coming off a pick.
With Marcin Gortat and numerous 3-point shooters on the court, like Bradley Beal, Trevor Ariza and Paul Pierce, the pick-and-roll was always there to create clean looks.
This season, Washington has changed personnel.
No longer is Wall surrounded by multiple catch-and-shoot threats. Instead, the Wizards starting lineup includes players like Otto Porter and Markieff Morris, who are evidently solid players, but whose preferred offensive game is not predicated around hanging out behind the 3-point line and waiting for open looks to appear.
Because of this, the Washington Wizards are no longer focused on running the pick-and-roll quite as often. Instead, the Wizards try to create more isolation opportunities for Morris and push the ball in transition to give Porter the chance to run.
These changes have impacted the team in a number of ways. The most evident changes have been the lack of touches for Gortat and the significant drop off in 3-point attempts.
However, one of the more important impacts have been on Wall's role within the offense.
The team's offensive system has never been particularly innovative, neither under new coach Scott Brooks nor his predecessor Randy Wittman.
Therefore, their ability to score points has been heavily predicated on Wall's ability to create opportunities.
The pick-and-roll based system created opportunities for Wall both as a passer and a scorer.
This year, the changes have made Washington more dependent on Wall the scorer in order to succeed, and it has not at all paid off.
A number of other NBA teams, especially this season, have found themselves increasingly contingent on one player to lead the team to success.
Washington is in that boat.
These teams need to put together an offensive system that best suits their best players' biggest strengths. For Washington and Wall, the answer is not to allow him to score as he pleases. It is to create a system in which he can attack the rim, but still be looking to create for others, thus utilizing his biggest strength, which is as a distributor.
Wall's frustration this season is fully understandable.
The front office has not built a good roster around him, and they surely haven't built a roster that meshes well with Wall's style. Some have argued that the only way to save Wall, who seems to be just entering his prime, is by trading him. But the way for Wall to break out of this frustration is not to try to score.
He needs to play to his strengths and go back to what permitted the Wizards to succeed in the past. It may not have been pretty, but it was far more effective that what the team has put together this season. The Washington Wizards' offense cannot be dependent on only Wall as a scorer if they hope to have any success moving forward.
This article originally appeared on