Washington Wizards' Marcin Gortat Takes Subtle Shots At Randy Wittman During Media Day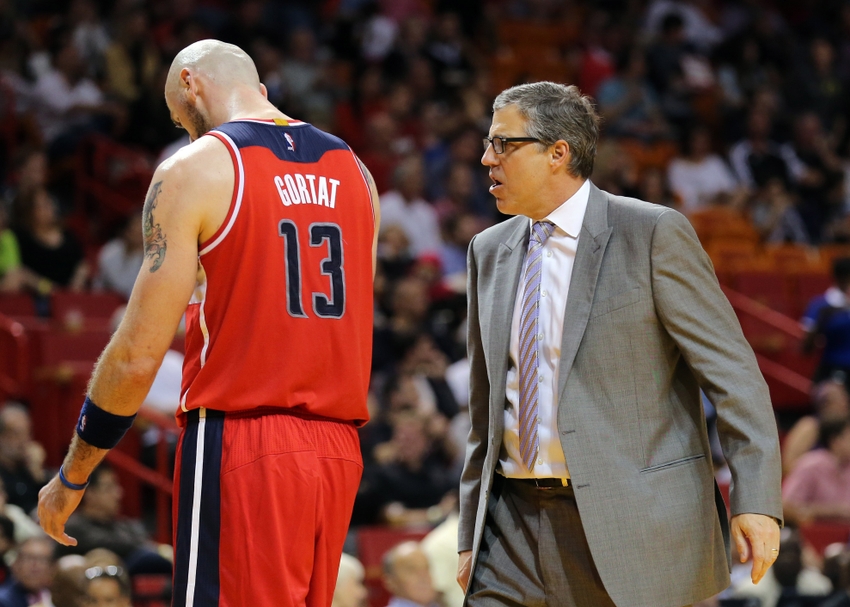 Washington Wizards center Marcin Gortat took some subtle shots at his former coach Randy Wittman during media day on Monday.
Sometimes silence is louder than any words that a person could speak.
Donning a fresh tattoo on his left arm, Marcin Gortat was visibly excited about all of the changes the Washington Wizards made this off-season.
On Monday, Gortat was surrounded by reporters who knew that the Polish Machine would deliver some golden quotes. Media day, while necessary, isn't always the best place to get hot takes. But Gortat, like always, delivered.
While his teammates spoke about their off-season workouts and the improvements the team made during the free agency period, Gortat talked about his summer – as in, his trips to the beach and his pool.
But when he was asked about the changes the team made, Gortat opened up, citing how miserable he felt during the last few months of the season.
"Man, you don't want to know. It was bad. Let me tell you that, it was bad," Gortat told reporters in a scrum on Monday. "I'm rejuvenated. I feel much better. I feel rested. I feel physical much better. And obviously mentally, I'm feeling much better."
Gortat, who opted not to speak to the media at times during last season by saying he didn't know how to speak English, says he was simply protecting himself from himself.
Scott Brooks, whom the Washington Wizards hired after firing Randy Wittman right after the 2015-16 season concluded, has brought a new feel to the entire team.
Gortat spoke about the coaching change, but also made sure to take a subtle jab at Wittman, who would reportedly often pick favorites during the team's video sessions.
"He doesn't have to do anything. He just has to respect everyone, from the first to last guy," Gortat said. "If John Wall does something bad, he has to yell at him the same way he would yell at the last guy on the team. Trust me, everything is going to be fine."
Last season, Gortat lost minutes at the end of games with the likes of Nene and Kris Humphries getting the opportunity to close. Gortat would often sit on the bench with a face that only Gortat could make. He stayed silent, but everyone in the Verizon Center and those watching on their television screens knew that he was upset.
That same silence appeared during media day, too.
Someone mustered up the courage to ask Gortat how exactly Brooks was different from Wittman.
"Oh, man. I don't want to answer this question," Gortat said. "Sorry."
And he didn't.
This article originally appeared on