Washington Wizards Mailbag Monday: Comparing Scott Brooks to Randy Wittman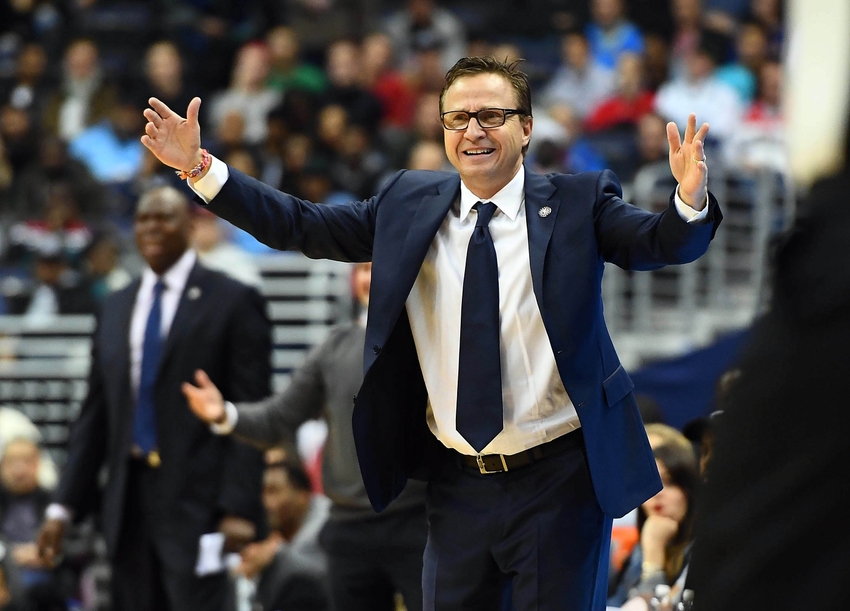 Washington Wizards Mailbag Monday: Scott Brooks has struggled to rally his team, so how much different is he than Randy Wittman?
With their schedule weakening, the Washington Wizards had an opportunity to gain some momentum this past week. Instead, they dropped games to the Philadelphia 76ers and Miami Heat.
Now, the Wizards are occupying the 14th spot in the Eastern Conference and their defense has continued to fail.
At 3-9, the Wizards have to turn things around quickly.
Like always, we'll begin the week by answering some of your questions. Thanks for participating.
We get this question every week, but I answer it every single time.
DeMarcus Cousins, like John Wall, deserves better.
For what it's worth, I spoke to someone in Washington over the weekend who told me that the Wizards' front office isn't particularly high on Boogie. That doesn't mean a trade won't (or will) happen, though.
If the team continues to lose – and there's no reason to believe they won't – Ernie Grunfeld will have to make changes. If Boogie becomes available, the Wizards have to at least entertain a deal. He's a franchise player, after all.
I'm team Boogie, for sure. We'll see what happens. But don't get your hopes up.
I think it's more of a personnel issue than anything. It's not like the players are purposely allowing others to get to the basket without resistance. They're trying, but honestly, they just might not be good enough.
Bradley Beal tries – he really does – but he's only 6-foot-5. He's not incredibly long, either, so it's going to be tough for him to stop players.
John Wall is a weird case, though. He's a tall point guard and he's one of the most athletic in the game. For him, it might be a concentration thing. He depends on help defense more than he should.
Otto Porter has blossomed as a defender. Porter and Markieff Morris are two of the best on the team.
Marcin Gortat has never been a great rim protector and gets abused by more athletic bigs, like Hassan Whiteside on Saturday. You can't teach height, quickness and athleticism.
So, yeah, I think it's more of a personnel issue than it is desire.
Maybe? It's a matter of giving some of the younger players a chance, I think. Playing Marcus Thornton and Jason Smith certainly hasn't been the answer.
Scott Brooks has shown a willingness to play the developing players, so it could be a matter of time. Sheldon McClellan is clearly more productive than Thornton and Daniel Ochefu couldn't possibly be any worse than Smith.
I also think the Tomas Satoransky and Trey Burke backcourt hasn't been used often enough. Burke is better at the two spot than he is at the one. This all comes down to Thornton being bad, really.
There are lineups that haven't been "unlocked," but I'm not sure any of them could be "successful." What's the difference between, say, Burke and Thornton? They're both inefficient and struggle defensively.
The depth, at least in terms of talent, just isn't there.
John Wall and Bradley Beal are under max deals. Gortat and Ian Mahinmi are on long-term deals and Porter will get a large deal in the off-season. Tanking isn't an option, unless the Washington Wizards want to give up franchise cornerstones for potato chips.
A trade might give the team a spark, but they don't have any tradeable pieces. No one is calling about Smith, Thornton or Andrew Nicholson.
If a deal happens, it might happen when it's too late – like the Morris trade last year, for instance.
Neither are real options. The Wizards have what they have. They have to figure it out with the current roster, otherwise they'll be on the couch come playoff time.
But if a deal does become available – like the Boogie one, since we like referencing that – then the Wizards have to consider it.
No way.
Randy Wittman was a stubborn old man, to put it bluntly. He was hellbent on doing things his way, even if that meant he'd lose his job. Let's put it this way: if Wittman was coaching this team, Satoransky would be on the bench forever.
The small things, like swapping Burke for Satoransky, weren't going to occur under Wittman.
At least Brooks is open to trying new lineups. He's played three-guard lineups and ran with smaller bigs. Wittman wasn't about that, at all.
I think most fans developed a negative feeling towards Wittman because they were sick of the same old. Brooks is open to change and he's going to develop players. It will take some time, but the core will grow. We're already seeing it out of Porter, who sat for most of his career with Wittman as the head coach.
Brooks isn't the problem. The Washington Wizards just don't have a lot of talent on their roster and injuries aren't helping.
This article originally appeared on