Washington Wizards' John Wall Not Getting Respect He Deserves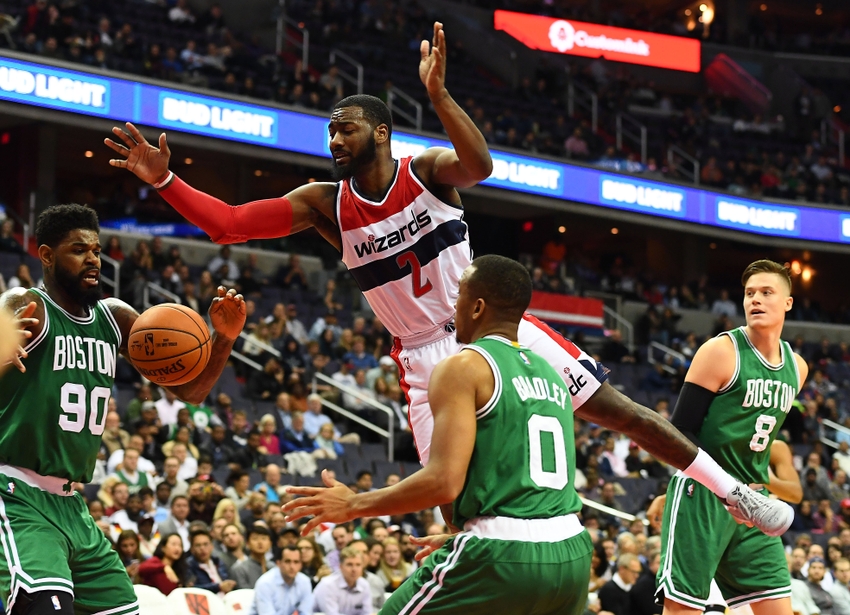 Washington Wizards have failed to make sure that their star player, John Wall, gets the respect that other stars around the league get.
Washington Wizards star John Wall teaches leadership on and off the court to youth in the DMV area.
These youth are both overlooked and under-served, but Wall provides a beacon of hope through his charitable giving to these communities.
As an NBA Community Assist Award recipient, Wall has focused on expanding his voice beyond the court and locker room.
However, Wall has expressed concern and even frustration at the way the referees have been officiating the game.
Wall has been ejected in two straight games. He committed two technical fouls against the Houston Rockets and a flagrant-two foul against Marcus Smart of the Boston Celtics.
Following his most recent incident, Wall spoke about his growing frustration.
"Just getting frustrated," added Wall, via CSN Mid-Atlantic. "My finger was bleeding the whole game. Got stepped on on purpose. Drove to the basket a couple times, didn't get calls," Wall said of being tossed with 5:24 left and the Wizards ahead 106-86. "The play before I (drove) and got smacked right across the face. On my ear. So I just let my frustration get the best of me."
Last season's trials and tribulations
Last year, Wall wasn't an All-Star starter, taking a backseat to Toronto Raptors guard Kyle Lowry, who started alongside Wall at the showcase in 2015.
Wall was voted in by the coaches, but the lack of attention he's gotten from fans – even his own in D.C. – is concerning.
After a win over the Detroit Pistons last year, Wall spoke about the fans caring more about free chicken sandwiches than their hometown team getting a "w."
Wall said, partly in jest, "I think the fans care more about about the chicken sandwiches."
The lack of hometown support is frustrating, to say the least, but the fact that opposing fans outnumber Washington Wizards fans can almost be considered disrespectful.
When Kobe Bryant made his final stop in D.C. last year, the Verizon Center was packed with Los Angeles Lakers jerseys.
Wall stepped to the free throw line after drawing a foul and heard boos from his own fans.
KD2DC
There was a strong push by some Washington Wizards fans and the team itself to bring Kevin Durant home.
When the Oklahoma City Thunder came to D.C. last season, fans proudly displayed their "KD2DC signs," the Wizards organization put a picture of Durant on the jumbotron during the game and Wall – the player who's actually on the team – continued to be mistreated.
After that game, Durant made sure to make his opinion of Washington's actions known.
"It was kind of disrespectful, in my opinion, because you've got a great team there already that deserves your full 100% support," Durant said, via Michael Lee. "I wouldn't like that if I was on that team, I wouldn't like that if I was on that team. I didn't like that, but it comes with it nowadays." "Me, I feel, is you should focus on who you have on your team.
The Washington Wizards, a team with only one All-Star against a team with two, would go on to lose that game in double-overtime.
The locker room
It's no secret that Washington's locker room was somewhat dysfunctional this past season.
Once it was over, Wall talked about not having full control and respect of the locker room.
"I did a great job leading as much as I could. A lot of guys that's on a one-year deal, you put your foot down, you say what you need to say as a leader, but at the end of the day if everybody is not held accountable from the starting position down — from me to the last person on the bench — if we're not held accountable if one person wants to do something more no matter what I say as a leader if he's not backing me up it's not going to work."
Washington D.C. versus Kentucy
While playing for Kentucky, Wall appeared to get more national exposure than he does playing in the NBA.
According to Wall, for the short time when he played for the University of Kentucky, there were signs of him everywhere. Yet, there's not a single billboard of himself in D.C.
As someone who's never played with another All-Star and continues to set a positive example off the court, you'd think that the Washington Wizards would go out of their way to market their franchise player. Seven years into his career, the team hasn't done much to make sure he feels appreciated.
This season
"Is it better to be loved or feared? That's a good question. It's great to be both, but it's very difficult. But if I had my choice, I would rather be feared. Fear lasts longer than love."
Respect has to be earned. Wall has single handedly carried the Washington Wizards for over half a decade, yet continues to be overlooked.
At some point, the organization, the league and the fans have to start respecting Wall for everything he's done.
This article originally appeared on