Washington Wizards' John Wall Facing Possible Suspension Following Consecutive Ejection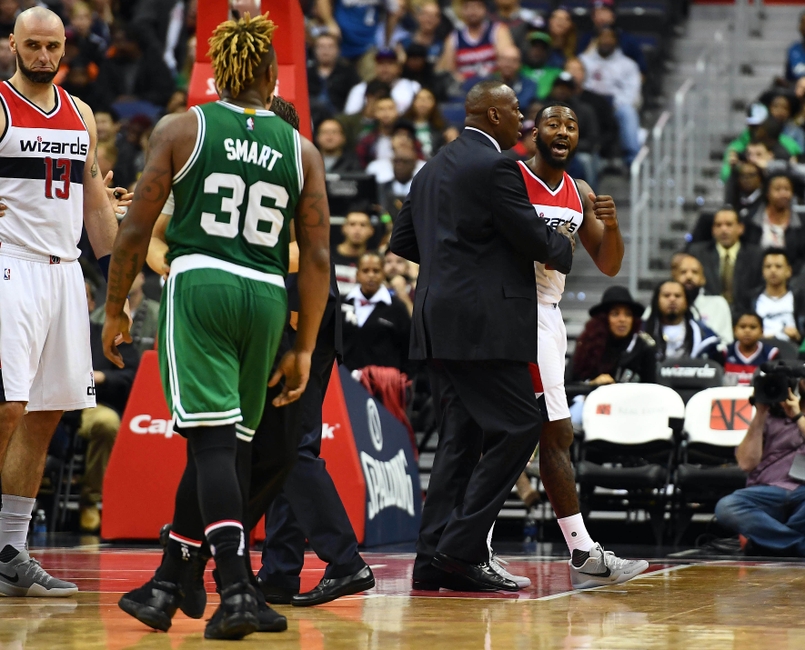 Washington Wizards star John Wall is facing a possible suspension from the NBA after getting thrown out of two straight games.
John Wall picked up two technical fouls against the Houston Rockets earlier this week and was thrown out of the game. He was fined $25,000 by the league.
Then, days later, Wall committed a flagrant-two foul on Boston Celtics guard Marcus Smart and was subsequently ejected for his action.
He's been tossed from two straight games.
The Washington Wizards have lost five of their first seven games of the season and Wall, who's played relatively calm basketball throughout his career in D.C., is understandably frustrated.
The losing, coupled with the lack of help on the roster, would cause anyone – even the even-keeled Wall – to erupt.
Given that he's been thrown out of consecutive games, the NBA will likely make a decision on whether or not to suspend the Wizards' lone All-Star.
After the most recent ejection against Boston, Wall offered an apology on Twitter.
Just want to take a moment to apologize to my coaches, teammates and fans for losing my cool tonight. The last thing i would ever want to do is to let you all down. I love and respect this game to much.
As J.Michael also noted, the Wizards are scheduled to play back-to-back games against the Cleveland Cavaliers and Chicago Bulls. Wall, who underwent double knee surgery in the off-season, will miss one of the games due to his rehab. Currently, he's not allowed to play two straight games without rest. If he gets suspended, the league will yank him out of one contests regardless.
Normally, ejections and frustration should be looked down upon, but the Washington Wizards are in a unique situation.
The team, at least over the past several years under Randy Wittman, has lacked fire. As the team's leader, Wall sets the example for the rest of the players on the roster. When he plays aggressive, passionate basketball, his teammates follow his lead.
Now, I'm not saying that the Wizards should play dirty basketball, but there's nothing wrong with getting underneath an opponent's skin.
The Celtics, in particular Smart, have become known for playing feisty ball and they've become a potential threat in the Eastern Conference. Sometimes, f-bombs and physicality is necessary.
The Cavaliers will be considered an overwhelming favorite against the Wizards, so the result of the game might not be impacted if Wall is suspended or if Scott Brooks decides to rest him on Friday.
This article originally appeared on