Washington Wizards Haven't Discussed Contract Extension With Trey Burke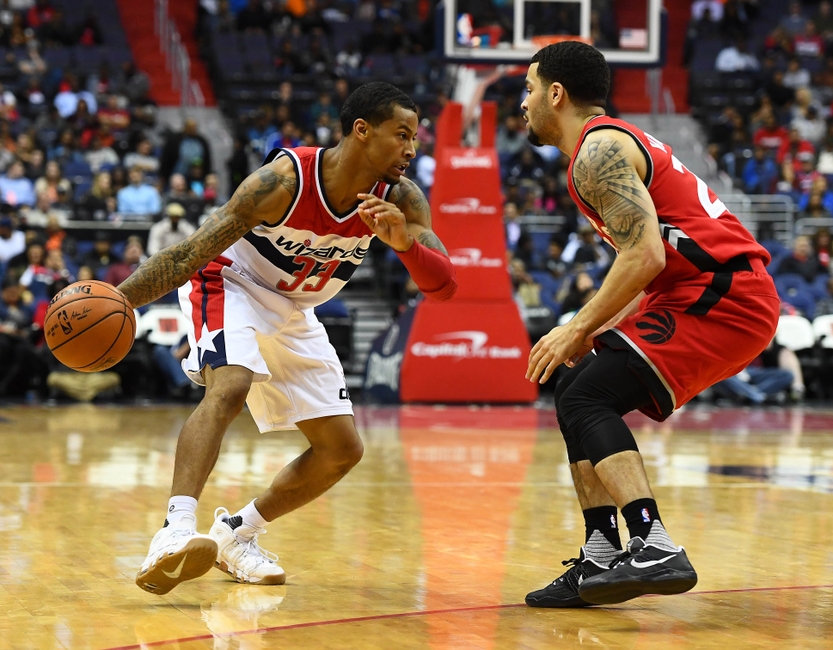 Washington Wizards likely won't reach a contract extension with Trey Burke, who they acquired from the Utah Jazz this past summer.
Washington hasn't always been considered a second-chance city for NBA players, but after a few successful seasons and playoff appearances, the nation's capital has become a place where players have turned their careers around.
The likes of Trevor Ariza, Ramon Sessions, Drew Gooden, Martell Webster, Marcin Gortat, Jared Dudley and others all had exceptional seasons with the Washington Wizards after going through slumps.
A winning culture, formed by a mixture of developing and veteran players, has been something the Wizards have sought to build in Washington.
Trey Burke, a former first round pick who fell out of the Utah Jazz's rotation last season, is hoping to become a part of the group that bounced back in Washington.
Much like Sessions during his time with the Sacramento Kings, Burke struggled to play efficient basketball in Utah and was ultimately yanked from the lineup and replaced by Shelvin Mack.
Burke was supposed to fill the shoes that Deron Williams once wore, but failed to live up to expectations for a number of reasons.
This past summer, Burke was traded to the Washington Wizards for a future second round pick.
He was essentially given away by the Jazz.
Needing a backup point guard following the departure of Sessions to the Charlotte Hornets, Ernie Grunfeld believed that it was worth the small price to get Burke in D.C.
During media day, I asked Burke if he felt the pressure to perform well in Washington now that he's in the final year of his contract. He told me that he didn't.
On Sunday, it was reported that the Wizards have not discussed a contract extension with Burke, who will go on to become a restricted free agent – meaning, the Wizards will have the right to match any offer he gets in the summer of 2017.
Trey Burke, Washington Wizards have not had any dialogue on extension, league source told ESPN. Highly unlikely deal done before deadline.

— Chris Haynes (@ChrisBHaynes) October 30, 2016
A deadline for early extensions is on Monday, so a deal, as Haynes pointed out, in "unlikely."
For now, Burke is the primary backup point guard in Washington, beating rookie Tomas Satoransky for the spot behind John Wall.
He scored 8 points in the season opener against the Atlanta Hawks and has looked relatively stable.
Burke has done a solid job of keeping his dribble alive and creating looks from mid-range, which is something he struggled to do in Utah. His scoring ability hasn't been questioned, so he needs to continue proving himself as a facilitator.
This article originally appeared on