Washington Wizards Have Two Flaws That Are Holding Them Back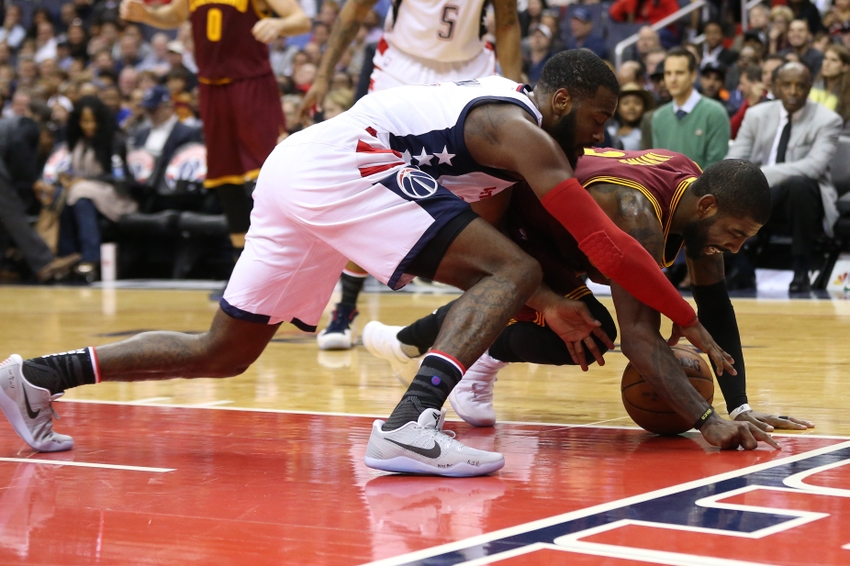 Washington Wizards cannot give up on the season yet, but they must fix these two major flaws in order to succeed going forward.
The Washington Wizards' 2016-17 season, so far, has been an unmitigated disappointment. The team in 2-7, and has struggled mightily late in games. The Wizards have led in the second half in all nine games thus far, but have nonetheless came away with only two victories.
John Wall has produced well in the early going, showing more of a willingness to score the basketball, but his assist numbers are way down from the past few seasons.
Wall has also sat out two games, due to the fact that he is still recovering from double knee surgery over the summer, and been ejected from two others. The team has shown a complete inability to score without Wall, except for a hot start this weekend against Chicago.
Bradley Beal has not at all lived up to his hefty contract, continuing to show himself as being frustratingly injury-prone, but also being unable to produce when he is healthy.
Meanwhile, Marcin Gortat has not yet quite found his footing (except for his outburst in the first quarter against Bulls), as Scott Brooks' offense seems to be less dependent of pick-and-rolls than his predecessor's.
However, all is not lost for the Wizards.
They have played a tough schedule so far and are approaching a very friendly stretch of contests, which includes games against the Philadelphia 76ers, the New York Knicks, the Miami Heat, the Phoenix Suns and the Orlando Magic. If the Wizards play as well as they can, the team could be hovering around .500 very quickly.
On the court, Otto Porter has looked much improved from last season and is becoming a very solid piece.
Markieff Morris may seem uninterested without the ball and stop ball movement when he does get it, but he has had a few offensive performances that very few Wizards players are capable of putting together.
Tomas Satoransky has looked as if he might eventually be the real deal for Washington in the future.
New signing Ian Mahinmi is approaching his season debut, which means the end of Jason Smith receiving minutes (which could provide a big boost).

However, if the Washington Wizards hope to turn this terrible start into a decent season, there are two areas that they absolutely must fix immediately.
Otherwise, this team can be ready to take another step backward and kiss the playoffs goodbye now.
The first issue is 3-point shooting.
Washington is currently shooting the long ball at a dismal 31 percent clip, good for 26th in the NBA.
The team also ranks dead last in the league in three pointers made and attempted per game. As the rest of the NBA moves to a more three-point heavy game style, Brooks' team seems to be moving in the opposite direction.
It's not purely a matter of choice, though, as a quick look at the team's roster explains exactly why hitting threes has been such a struggle.
Beal is the only true 3-point shooter in the starting five. Wall has obviously improved his long range shooting ability throughout his career, but he would still prefer to attack the basket or pull-up from midrange.
Porter and Morris are also capable deep ball shooters, but both are also more comfortable taking shots inside the arc. Gortat is not a threat from downtown.
Off the bench, Marcus Thornton is surely not shy to launch from three, but he is far too inconsistent to be a reliable three point threat. No other member of the second unit makes more than 0.6 three pointers per game.
Since last season, where the Wizards were solidly middle of the pack from three, Washington has lost Jared Dudley, Garrett Temple and Gary Neal – three of their most reliable 3-point shooters.
With Wall at the helm of the attack, open shots from long range should be very easy to come by.
In 2015-16, Wall led in the entire NBA in assists on threes.
However, it is still necessary to have capable weapons surrounding Wall, and as of now, that is not the case.
Of course, the best way to shoot the three better would be to acquire to fill this need.
With that said, the team is relatively short on tradeable assets.
The free agency pool has some players who have previously shown an ability to shoot, like Mario Chalmers, Chris Copeland, and former Wizard sharpshooter Rasual Butler.

The Washington Wizards, though, are not an especially deep squad, and adding a 3-point marksman could definitely help them moving forward.
It is more hopeful that the team will adopt an offense more centered around outside shooting. The team's early record is indicative of the fact that eschewing the deep ball is not the way forward for this team.
Wall can create open looks better than anybody else in the league, so Porter, Morris, Kelly Oubre, and others, have to become increasingly confident with their outside shots for the team to show progress.
Outside of the inability to shoot the three, the biggest issue holding this team back is bench play.
Only Minnesota averages less than the Wizards' 25.3 points per game from reserves. Washington's bench also ranks second to last in minutes and rebounds and dead last in assists.
Once again, it is not difficult to understand why this is the case.
Brooks has demonstrated a confounding loyalty to Smith and Thornton, two uninspiring veterans whose play has not at all justified their playing time. Kelly Oubre has shown flashes, but has also unquestionably not shown clear, substantial improvement from his rookie campaign.
Andrew Nicholson did not impress early in the season,and has seen his minutes consistently fluctuate.
Satoransky has been a bright spot, but he clearly is more useful when surrounded by players who can score. When he playing with the reserve unit, he does not provide enough of a scoring threat to be a great threat.
Rookie Sheldon McClellan also played well enough in his first start of the season against Chicago. Trey Burke has been inconsistent, but he unquestionably knows how to score.
When Beal returns, these three should be the backup guards, while Thornton should be relegated to the bench for good.
In general the team is suffering from the same issues that have plagued them for years now. The team does have a true, stereotypical sixth man.
No one comes off the bench for Washington and provides an instant scoring threat. When he was signed, some, including myself, hoped that Andrew Nicholson could fill the void, but he has so far been completely unable to do so.
The fix for the bench's struggles seems a little easier than that for the 3-point shooting dilemma.
First of all, Mahinmi's return should undoubtedly help. It is even a possibility that the Frenchman supplants Gortat in the starting five, given that Gortat is more comfortable scoring out of isolation post-ups.
Mahinmi's ability as a defender, passer and dive man can be useful in a lineup with four other guys that can score, whereas Gortat could get the touches he wants playing with the reserve unit.
Secondly, Brooks has to show a continued willingness to stagger his lineups. After originally stubbornly deciding to play the starters and bench as two distinct units, Brooks realized that this tactic could not work with this roster.
Allowing Gortat, Porter and Beal to play with the bench can permit these players to demonstrate what they can do as the focal points of an offense, whereas bench players who are better suited to be complementary pieces, like Satoransky or Oubre, can play more minutes alongside starters, where their respective skill sets will be better utilized.
The Washington Wizards' season is far from over. They have played only nine of 82 games. Early returns have not been positive, but it is surely not time to give up just yet.
The Eastern Conference is not necessarily strong and a playoff berth is not yet out of the question. However, if these two crucial aspects of the team are not fixed, and quickly, it will be a very long season for the Wizards and their fans.  
This article originally appeared on