Washington Wizards Fall To Sacramento Kings At Rupp Arena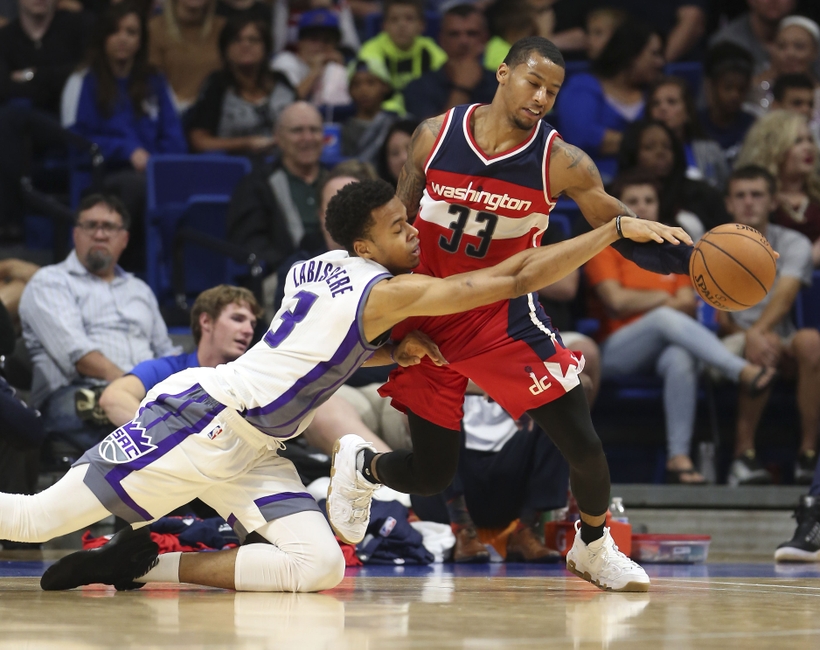 Washington Wizards Three Takeaways: Washington Wizards fell to the Sacramento Kings at Rupp Arena on Saturday night, 124-119.
For some reason, there are NBA games that aren't broadcasted in 2016. Even if a network doesn't pick a game up or it's being played in an obscure place, online streaming is an instant solution.
On Saturday night, the Washington Wizards played against the Sacramento Kings at Rupp Arena.
John Wall and DeMarcus Cousins, the two stars on each respective team, played together at the arena during their one-year stint with the University of Kentucky.
Given that both players are basketball legends at the school, you would think that someone – one of the teams, even – would make sure the game is able to be watched by people that weren't in attendance. Apparently, no one cared enough to solve the problem.
Saturday's game wasn't broadcasted on television nor radio, so we had to use our imaginations.
Washington lost 124-119 in regulation.
The defense regressed again
Recently, I praised the Washington Wizards for stepping up defensively against the Philadelphia 76ers. I should have proceeded with caution. It is the Sixers, after all.
Sacramento made 60 percent of their total shots.
Cousins scored 22 points in 26 minutes. For the fifth straight game, a big man has managed to have an outstanding performance against Washington. The team's interior defense has been bad, to say the least.
Now that Ian Mahinmi, the best rim protector on the team, is out four to six weeks, Scott Brooks is going to have to find a way to stop the bleeding inside.
Nicholson continues to thrive off the bench.
Andrew Nicholson was low-key the Washington Wizards' most impressive addition this past summer.
Sure – he's not Kevin Durant and his game is incredibly boring, but he's effective.
He scored 19 points and made two of his four 3-point tries.
He brings value to the team and should be able to share the court with the starters at some point.
Additionally, Markieff Morris made his return to the Wizards' lineup. He scored 8 points in 15 minutes.
Johnny O'Bryant, who's competing for one of the remaining roster spots, also chipped in with 10 points.
Mahinmi's absence will increase the forward's chances of making the final roster.
Burke isn't done competing
Tomas Satoransky has been the Washington Wizards' most impressive backup guard so far in preseason, but Trey Burke isn't going to give that position up easily.
That's not to say that Burke cannot play or contribute. Satoransky has just been really good at managing the game and distributing the ball.
Burke, on the other hand, has struggled a bit defensively. Of course, it doesn't hurt that Satoransky is 6-foot-7 and could play multiple positions. Sometimes, the main difference is purely physical.
Burke scored 14 points and dished out 10 assists in less than 30 minutes off the bench. The positive thing is, Brooks will be able to play Burke and Satoransky together during the regular season.
So, that concludes our recap that was totally just based on looking at the box score.
Washington will continue preseason against the Cleveland Cavaliers on Tuesday night.
This article originally appeared on