Washington Wizards Desperately Need To Find Their Identity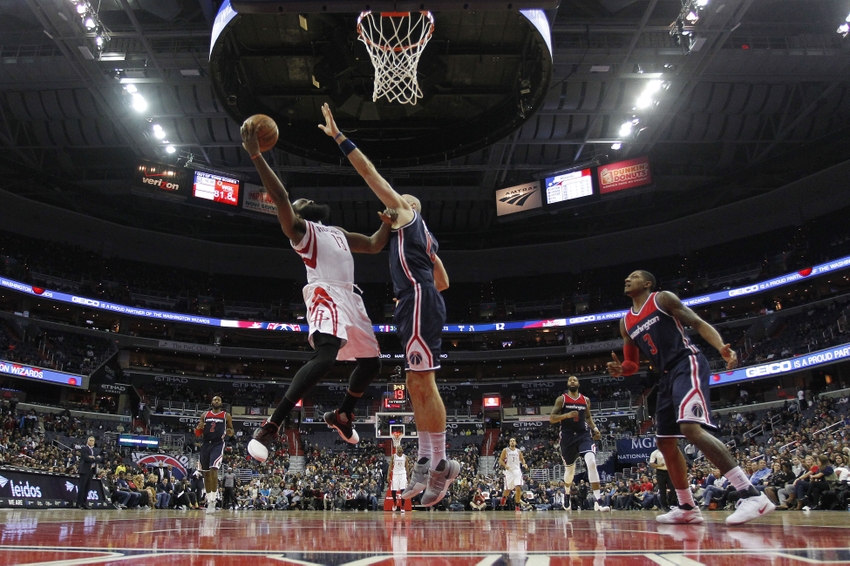 Washington Wizards are at the bottom of the Eastern Conference standings and must find an identity in order to climb out of their hole.
Superteams have become commonplace in the NBA. Teams are loaded with talent that transcend the game itself. LeBron James, Kyrie Irving and Kevin Love are brands that happen to be great at basketball.
The only teams that will realistically compete for an NBA Championship are the superteams. Its the Cleveland Cavaliers, Golden State Warriors, Los Angeles Clippers, San Antonio Spurs and then the rest of the league.
Washington hasn't even come close to reaching that status, mostly due to poor roster construction and the lack of development shown by those who could become stars – mainly Bradley Beal.
Other teams, like the four mentioned, could survive if one of their stars misses a game.
When John Wall is out or Beal misses action, the Washington Wizards are almost guaranteed to get another loss.
On Saturday night, the team's backcourt wasn't available, and despite a valiant effort, Washington returned home from Chicago with their seventh loss of the season.
With that said, the Wizards do have enough talent to win games, even though they're not a championship contender.
The likes of Markieff Morris, Otto Porter and Marcin Gortat have all proven to be serviceable starters. Rookies Tomas Satoransky and Sheldon McClellan stepped up against the Bulls, showing flashes of legitimate productivity.
The rest of the roster

For all the complaints against President Ernie Grunfeld and the way he assembled and dissembled the team over the years, the acquisitions have somewhat panned out.
Morris, whom Grunfeld gave up a first round pick for this past season, has become a true starter and go-to player for Washington. Really, he might be the second best player on the team behind John Wall.
McClellan burst onto the scene in his first start against Washington, scoring 15 points.
He'll likely be a big part of Washington's rotation going forward.
Couple his potential with Scott Brooks' focus on player development, and the Wizards might've found a gem.
Satoransky has also become a solid role player in D.C., capable of playing three positions.
He's arguably the best defending point guard on the roster and he's the second best passer behind Wall.
Ian Mahinmi has yet to play, but will likely help stabilize the team's defense once he returns from injury.
Finding an identity
The aforementioned teams – the Warriors, Cavaliers, Spurs and Clippers – have all found their identities based on the talent that's on their respective rosters.
If Stephen Curry, Klay Thompson and Kevin Durant are on a team together, that team is going to be outstanding offensively. Chris Paul, Blake Griffin and DeAndre Jordan? Expect that team to run and flat out abuse teams with their athleticism.
Washington doesn't have that talent differential, so an identity is going to be harder to find.
But the Wizards do have a core that was a top-10 defensive team under Randy Wittman. They've become more versatile now, too. Porter's development, the addition of Morris and the added length with Satoransky, Kelly Oubre and others should be enough to propel the team back to that elite status.
For some reason, the team just hasn't fully embraced Brooks' defensive emphasis. It comes down to discipline.
Why are the Charlotte Hornets, for instance, the third best defensive team in the NBA? Is Kemba Walker a better defender than Wall? Is Marvin Williams more physical than Morris? The Hornets have discipline and the Wizards, who are in the bottom half of the league defensively, don't.
If the Washington Wizards want to climb out of their current hole, they need to embrace each other and play like a team. We're only nine games into the season and players have already begun pointing fingers. In reality, they have nobody to blame but themselves.
This article originally appeared on