Washington Wizards' Bradley Beal Is Prepping For An All-Star Season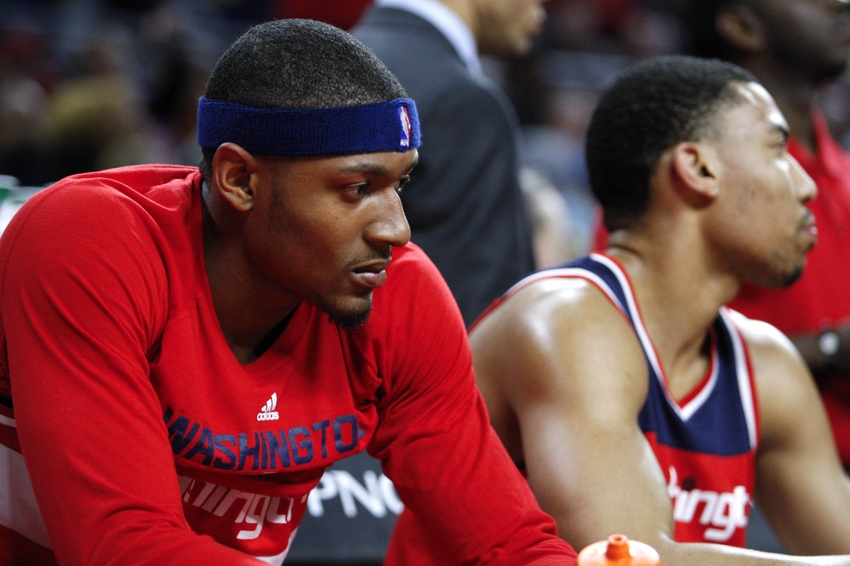 Washington Wizards guard, Bradley Beal, has been prepping for what could be his first All-Star season in 2016, according to his trainer.
Besides signing the biggest contract in Washington Wizards history this summer and getting into a pseudo feud with his star teammate, Bradley Beal has stayed out of the limelight this off-season. For all we know, Beal has locked himself up in a cave with a basketball hoop and has done nothing but work on his game.
Beal, who's going into his fifth season in the NBA (time flies, eh), has been due for a breakout year since 2014. Well-documented injuries, specifically the reoccurring stress reactions in his legs, have hindered his development, putting that eventual breakthrough year on "pending."
Nevertheless, there are reasons to remain optimistic about Beal and his future in Washington.
The former third overall pick just turned 23-years-old this summer, so there's still plenty of time for him to find himself as a player.
Plus, Beal played the best basketball of his career on the biggest stage the NBA has to offer: the NBA Playoffs. There aren't many other young guards in the NBA that have his resume.
Renowned trainer Drew Hanlen has worked with Beal this off-season and has pinpointed certain aspects of his game that need to improve. Knowing that injuries have been a concern for Beal, Hanlen has kept track of Beal's movement and workload.
More @DrewHanlen now on Bradley Beal: "Brad's ready for an All-Star season. Threes are dropping, finishing has improved…

— Wiz of Awes (@WizOfAwes) September 9, 2016
Cont…and we've focused on drawing more fouls so he can get to the line more"

— Wiz of Awes (@WizOfAwes) September 9, 2016
Assuming that he can stay healthy, all the necessary ingredients for a career season are there for Beal.
John Wall's comments about Beal this summer will only fuel him to work harder and realize his potential. The Scott Brooks hire could theoretically have the same effect on Beal as the Steve Kerr hire had on Klay Thompson.
Beal will have the freedom to launch threes without having a coach who preaches a "take what the defense gives you" mentality, which typically resulted in bad long two point shots and inefficient offense.
If Beal becomes one of the league's deadliest 3-point shooters, it will only open up more driving lanes for himself and his teammates. That's where the free throw factor, as Hanlen mentioned, will play a big role.
Instead of constantly relying on shots from the perimeter, Beal has to do a better job of conserving his dribbles and getting to the free throw line when attacking the basket.
Once he gets there, Beal has to knock the shots down from the charity stripe. Beal has shot 78 percent from the free throw line in four seasons. That number has to increase, especially if he wants to be known as a great "shooter" and not just a 3-point specialist.
The road has been a bit rocky for Beal, but the struggles will be worth it eventually – or at least that's what the Washington Wizards are hoping.
This article originally appeared on