Washington Wizards' Bradley Beal Finally Starting To Turn Season Around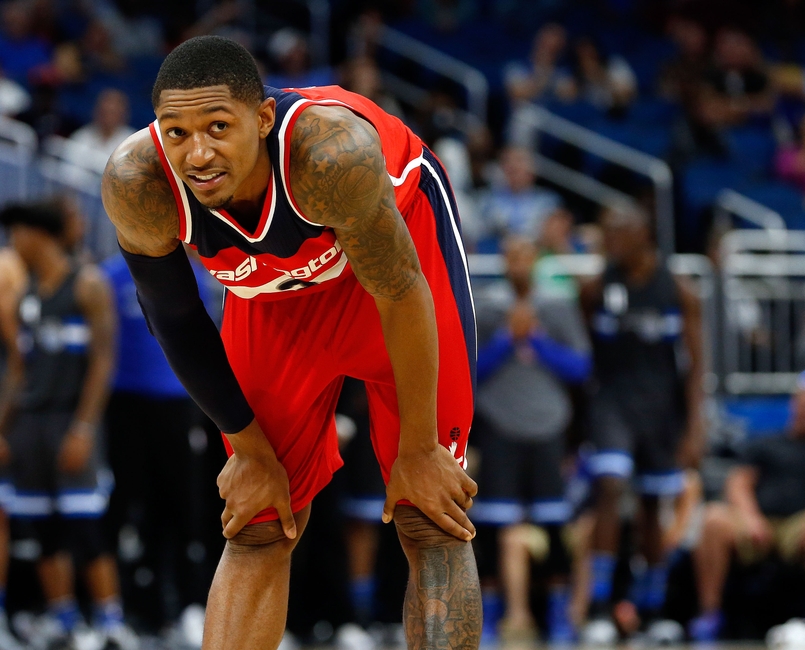 Washington Wizards guard Bradley Beal had a rough start to the season, but after a few breakout performances, he's finally starting to turn it around.
Bradley Beal became the highest paid player in Washington Wizards history this past summer after agreeing to a $128 million extension with the team.
Traditionally, players who sign those type of deals have already proven themselves as All-Stars. Beal, however, had suffered a stress reaction in each of his four seasons in D.C. and hasn't been able to produce at a consistent level.
His performances in the NBA Playoffs was enough for the team to gamble.
At 23-years-old, Beal is considered one of the best young guards in the NBA, so despite the risk, the Wizards didn't have much of a choice but to bring him back for five years.
Following a summer of working out with trainer Drew Hanlen, including foregoing an opportunity to play with Team USA, Beal was supposed to finally have a breakout season this year.
After the first two games of the season, Beal had averaged under 14 points on over 14 shots per game. He lacked rhythm and his shot selection was concerning.
Before his recent stretch of games, Beal was putting up 15 points on less than 40 percent shooting from the field and 30 percent from deep.
Statistically, he was having the worst season of his career and the Washington Wizards, who are second to last in the conference standings, weren't getting much out of the co-face of their franchise.
To make matters worse for the organization, Beal had suffered a hamstring injury, causing him to miss three straight games.
Once he returned from that injury, Beal started to have somewhat of a breakthrough.
Against the New York Knicks on November 17, Beal scored 18 points in limited action, making 5 of his 11 shot attempts.
He followed that up with a 34 point performance against the Miami Heat.
Then, on November 21, Beal scored a career-high 42 points on 14 of 22 shooting against the Phoenix Suns.
Health, according to Scott Brooks, has been the key difference for Beal.
"He's healthy. He's really battled back to get back on the court with his hamstring but he's confident. He's a good basketball player," said Brooks after the Wizards' win over the Suns.
"This guy, he can be one of the best two-way players in the league. My job is to continue to push him to strive for greatness. I think he has the ability to be one of the best in the league, being a two-way player and it's hard to do that. It takes a lot of energy. It takes a lot of inner drive and determination but I think he has the ability to be that player."
Against the Heat, Beal took 10 three point shots and attempted 11 from deep against the Suns. Instead of relying on his ball handling – which has improved, but still isn't at an elite level – Beal has gone back to what made him the third overall pick in 2012.
Even if Beal becomes one of the top scorers in the league and his ball handling improves immensely, 3-point shooting is always going to be his calling card. Washington doesn't have many threats from beyond the arc and they need Beal to take those shots.
It's not a coincidence that his best games are often the ones where he jacks shots up from deep.
Sometimes, Beal has a tendency to complicate the game, especially on the offensive end of the floor. He dribbles into traffic and tries to do too much. Over the past few contests, he's allowed the offense to come to him and hasn't hesitated to shoot the three ball.
If the Washington Wizards want to return to the postseason and climb out of their current hole, they need Beal to remain aggressive and continue playing at this level. He won't average 30+ points like he has recently, but he has to play assertive basketball for the Wizards to advance.
This article originally appeared on