Washington Wizards 2016 Off-Season Failures: The Hiring of Scott Brooks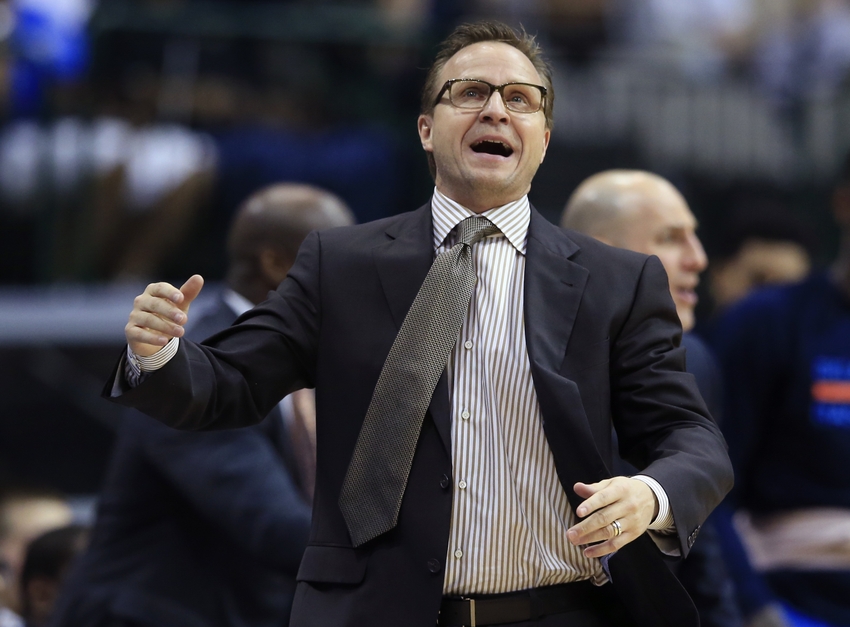 Washington Wizards' new head coach, Scott Brooks, is an improvement over  Randy Wittman, but the process of hiring him was unimaginative.
When the Washington Wizards announced on April 26th that Scott Brooks, the former Oklahoma City Thunder coach, would replace Randy Wittman, I was immediately unimpressed.
Every step of the way – every piece of the process – seemed rushed. It wasn't that Brooks is a bad coach – his record speaks for itself – but everything about the hire displayed a lack of inspiration and innovation.

Although in general it may be a good idea to lock in one name, especially an accomplished one, and chase after him before competitors have a chance to speak to him, the rule does not apply in this case.
In an ever-changing NBA, where offensive innovation is at a premium, going after an old-school coach, particularly an old-school coach against whom the primary knock is a lack of offensive innovation, seems imprudent.
In a world in which first-time NBA head coaches, namely Steve Kerr, David Blatt, Tyronn Lue and Billy Donovan, have found success on their first forays into the business, hiring a tried and tested (and somewhat failed) veteran doesn't seem to be the most logical route.
Brooks is very much cut from the same cloth as many other NBA coaches, like Kevin McHale, Tom Thibodeau, Mike Woodson, and, yes, the recently departed Wittman.
All of these coaches have had at least one decent-to-good season in their careers, but they are coaches primarily known for leading solid defensive teams while struggling to create on the other side of the court.
Another similarity between these coaches?
None of them have ever won an NBA title as a coach.
Now, if Ernie Grunfeld had interviewed multiple candidates, possibly NBA assistants like Luke Walton (who was eventually hired to coach the Los Angeles Lakers) or college coaches such as Kevin Ollie, as well as past NBA coaches, and come to the conclusion that Brooks was the best fit, the move would have shown some kind of creativity and allowed the move to at least be defensible if it ever failed.
Not even looking for a new or fresh voice and settling for a known commodity is not always wrong, but for whom Brooks is and the price at which he came, it does not scream a desire for change.
The process itself seemed rush but there were also other elements about the decision that disappointed me as a fan.
The first name that came to the mind of many fans when the Brooks hiring was announced was not that of the coach, but rather one of his former pupils in Oklahoma City and DC's native son, Kevin Durant.
Many wondered whether this hiring was a thinly-veiled pitch for KD as his free agency was about to approach.
However, Durant in the end decided to take his talents to the Bay Area without even granting his hometown team as much as an interview.
Now, even if Durant was considering returning back to the nation's capital, the way to lure him over was not to hire the coach for whom he played for six and half seasons and who was emblematic of Durant's failure to bring a ring to Oklahoma City.
Evidently, the hiring had no sway on Durant's move to the Warriors.
If this move was in any way geared towards landing Durant, it not only failed, but no coach is worth bringing in on such a lucrative deal – and without any real competition – to minimally increase the low chances that a free agent will follow him.
Of course, if the coach had other clear upsides, this would be different, but that doesn't seem to be the case with Brooks.
Finally, the Washington Wizards are, despite all their problems, a team that wants to win now.
Not to say that they are competing for the ring next year, but the core is in place for the not-so-distant future and not the long-term.
However, they seem far off that pace.
They need a coach capable of dramatically improving the team in the way that Kerr did in Golden State.
Brooks should improve the Wizards, at least minimally.
His record with player development – concerning Durant, Russell Westbrook and Serge Ibaka – indicate that franchise cornerstones John Wall and Bradley Beal should be in for an uptick in production next season.
But Brooks is not the coach to take this team to the next level.
He is essentially a B+ coach and the team should expect B+ results.
With a team stuck in the mire that Washington is in now, one in which they want to win quickly but are not necessarily positioned to do so, a more risky selection with upside seemed to be the more logical move.
The Wizards under Grunfeld have made a habit of not swinging for the fences, preferring stability to potential.
In the past, this has led to the team being stuck on the treadmill of mediocrity, and this hire does not get them out of this situation.
No team in the East outside of Cleveland can (at least on paper) definitively say that they are better than the Wizards.
With this hire, the Washington Wizards hindered their ability to take the next step and as a result will probably find themselves fighting for a playoff spot instead of home court advantage.
Everything in this move, from the process to the reasoning, expressed an unwillingness to experiment and take risks. It was uninspired and the team seems less likely to make a major leap with Brooks at the helm.
This article originally appeared on