Washington Wizards 2016-17 Season Outlook: What the Rotation Might Look Like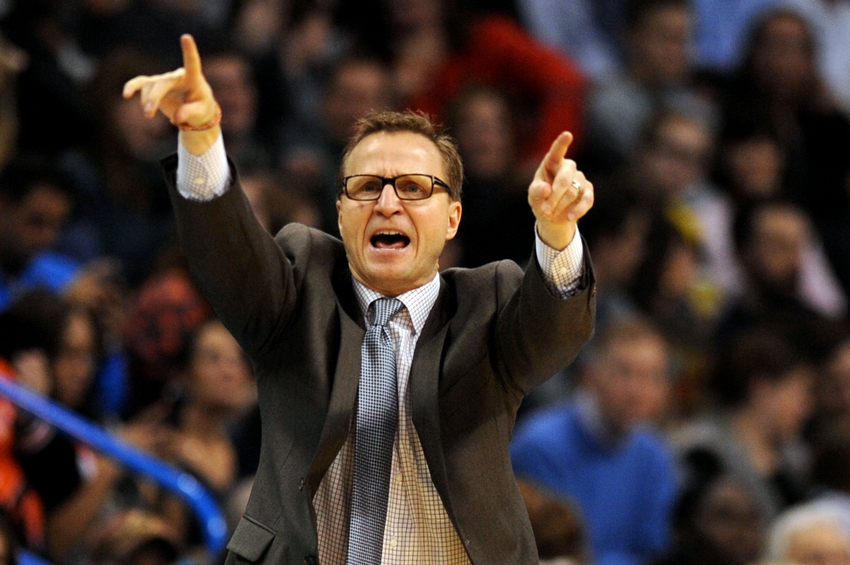 Washington Wizards will have to adapt to new head coach Scott Brooks, but he's also going to have to find a rotation with plenty of roster changes.
The 2016 off-season was one of change and ultimately failure for the Washington Wizards.
The summer that has been circled on the calendars of Wizards fans for years, with the hopes of landing former Oklahoma City Thunder star and D.C. native Kevin Durant or perhaps another shiny consolation prize like ex-Atlanta Hawks big man Al Horford, ended instead with the likes of Ian Mahinmi and Andrew Nicholson joining the Wizards.
Those names don't exactly instill the same confidence in Wizards fans as Durant or Horford would have.
The two most significant moves of the off-season for general manager Ernie Grunfeld were not bringing in players from other organizations.
Instead, the biggest moves involved inking shooting guard Bradley Beal to a maximum five-year, $128 million contract and replacing head coach Randy Wittman with former Thunder coach Scott Brooks.
Despite the disappointment of the summer, Wizards fans can at least find some excitement in the fact that there is a fresh face in charge of the team and that Brooks is sure to install some new ideas.
Although he is cut from the same coaching cloth as Wittman – a sound defensive coach who often struggles with offensive innovation – he showed a great ability to develop players while in Oklahoma City, which is a skill that Wizards fans hope he will bring to the nation's capital as key pieces Beal, Otto Porter, and Kelly Oubre continue to improve.
Brooks' record speaks for itself. He is unquestionably an upgrade over Wittman.
With Brooks and Grunfeld having now essentially out their roster, the next important step is to figure out how to use the talent on hand.
Having not seen Brooks coach this team yet, and with a lot of new pieces in place, it will likely take a bit of tinkering before the rotation is completely set, but let's take a look at how the Wizards might line up when the season kicks off in Atlanta on October 27.
Starters
The starters seem to be pretty much set in stone, with no changes expected from last season.
John Wall
Wall enters this season maintaining his role as the Wizards' unquestioned leader and best player, but perhaps with more questions plaguing him than were last season.
For starters, he is still recovering from double knee surgery that he underwent in May, and although the operations were relatively minor, the wear of playing many minutes and taking many hits over the past few seasons is definitely not a good sign for Wall or the Wizards. 
Then, just a few weeks ago, Wall said that he and backcourt mate Beal "have a tendency to dislike each other on the court."
This led to reports of a rift between the two faces of the Wizards' franchise, with reports focusing on the fact that Wall – whose contract extension was for five-years and $80 million – is jealous of the enormous contract that Beal received due to the huge expansion that the salary cap underwent this summer.
While Wall has vehemently refuted these reports, it is clear that all is not well and good between Wall and Beal, the two centerpieces to any run Washington might make this season.
Even so, when healthy, Wall has established himself as one of the five best point guards in the entire NBA.
He fell one tenth of a point short of putting up a 20-10 season and was once again one of the league's leaders in double doubles. He is the focal point of the Wizards offensive and defensive schemes, and the success of other Wizards players is greatly dependent on Wall's own success.
Expect another year of double-doubles, and perhaps one in which Wall finally puts up 20 and 10.
If his outside jump shot continues to improve, the offensive schemes play more to his strengths, and he and Beal can get on the same page, those numbers can grow even higher.
Wall, if healthy, is in line to put up another robust year, and the only downside seems to be that the Wizards are wasting away a great player's prime years by not finding him an adequate supporting cast.
Bradley Beal
Beal is both the other centerpiece to the Wizards on court success and off-season drama.
After receiving the expensive contract that he desired, Beal became embroiled with Wall's comments about the two stars' on-court relationship.
When healthy last season, Beal showed some signs of the improvement that Wizards fans have been hoping for in essentially every off-season since he was drafted third overall out of Florida in 2012.
Beal has been a solid contributor when on the court, but his injuries have been far too common an occurrence.
For the Washington Wizards to make the jump from an average team to a good or great one, they need their shooting guard to make a quantum leap similar to the one that Klay Thompson made between the 2014-15 and 2015-16 seasons.
Beal can no longer only be a 17 point per game scorer who is mostly a threat as a catch and shoot option.
He needs to average closer to 20 points and impact the game in more ways.
There have been definite flashes of this ability over his career, most notably in the playoffs, where he has averaged 21 points over 21 games, and late in games early last season.
In the first few weeks of last season, Beal was the NBA's leading fourth quarter scorer. If the Wizards hope to improve on last season's middling 41-41 record, Beal is the key.
His continued progress is the best way to assure that the Wizards can also progress. The aspects of his game that he most needs to improve are an ability to create his own shot and to successfully mesh with his backcourt mate Wall.
Otto Porter
On a team where the other four starters can score, which is ideally the situation that the Wizards are in, Porter is a great fifth piece.
Although he will struggle to create his own shot, Porter does a lot of small, yet important, things for the Wizards.
Porter has greatly improved his 3-point shot in his three years in the NBA. He shot 37 percent from three last season.
He's arguably the team's best wing defender and runs the floor well enough to pair up with Wall. So while his ceiling isn't very high, he is a consistent performer for the Wizards.
If he doesn't continue to show improvement, Porter may not be the ideal long-term starter at the three, but for the moment he is an adequate player for what Brooks needs out of this lineup spot.
Markieff Morris
In many ways, Morris provided exactly what the Wizards needed at the trade deadline last season
He is a true stretch four, as opposed to previous pieces like Paul Pierce or Jared Dudley, who were really wing players who Wittman chose to operate as stretch fours.
Morris can play inside and out, and gives Washington a better rebounder alongside Marcin Gortat.
His offensive game also brings an element that was largely absent from Washington's game in the first half of last season. Morris is one of the best of the team on taking – and making – tough shots.
Washington has habitually struggled late in shot clocks, because so much of their offense has been predicated around Wall penetrating and creating shots for others.
Morris is a guy who can get the ball and create a shot for himself, which is an underrated skill for any team to have.
Morris' contract is also looking better given the large sums of money thrown around this off-season, and even though the price to get him seemed rather steep, the move has a possibility to be a positive one in the long term.
If the Wizards can keep Morris happy and avoid a situation similar to what happened in Phoenix, it is fully reasonable to expect him to put up numbers comparable to or better than his career best 2014-15 season in which he averaged over 15 points and six rebounds per game.
Marcin Gortat
Over the past few seasons, Gortat has been among the Washington Wizards most consistent performers.
Although he is sometimes frustrating to watch due to his somewhat confusing shot selection out of the post, he is a great pick and roll partner for Wall and an adequate rim protector on the other end of the floor.
He has averaged between 12 and 13 points and eight to nine rebounds every year since arriving in the nation's capital.
Gortat's role is very well defined within the Wizards roster and there is no reason to believe that his performance will change this year.
Bench
The bench went through a complete makeover this off-season.
Having signed players to one-year contracts in the summer of 2015 in hopes of clearing enough cap room to sign Durant this year, the Wizards did not have many bench players on the books coming into the season.
Some players re-upped with Washington, but many did not, leaving Grunfeld to search the free agent and trade markets in order to fill out the roster.
Sixth Man
Andrew Nicholson
Sixth man has been a major problem spot for the Wizards for a long time now.
The role of the ideal sixth man is to come off the bench and provide instant offense; a player who is capable of creating his own shot and making that shot.
Recently, the Wizards have had benches filled with role players. They may have been quality players, but none of them really fit the mold of a true sixth man. 
Nicholson has a chance to change that.
His stats last season were not necessarily impressive, but he played limited minutes and was not surrounded by the right cast to really impact the game.
Getting minutes with the Washington Wizards' starters will provide Nicholson with open looks, and he has flashed the potential to become a real threat as a stretch four who can score inside and out.
Nicholson is a very talented player, and he could end up being one of the Wizards' most important additions. If all goes well, it is not unrealistic to expect the former Orlando Magic player to average double-digit points in his first year with the team.
Other Important Pieces
Ian Mahinmi
The most expensive new addition of the off-season was former Pacers big Mahinmi.
The Frenchman had a career-year in 2015-16, averaging over nine points and seven boards per game.
He is a great dive player in the pick and roll and should thrive when on the court with Wall. The center is also an underrated passer and a very solid defensive player.
Mahinmi should receive solid minutes spelling Gortat and will play a similar role to the one that Nene served last year in Washington.
Mahinmi's performance last season proves that he should be considered one of the top backup centers in the league.
Kelly Oubre
After a largely anonymous rookie season in which he only averaged 10.7 minutes over 63 games, Wizards fans and front office alike will be hoping that Oubre experiences some kind of sophomore improvement.
Oubre has the athletic ability to be a very good player in the league. He showed an increased offensive awareness and an improved jump shot in the summer league, and his defense was already relatively impressive for stretches last season.
Oubre is raw but skilled, and the expected uptick in minutes he should receive this season can help him adapt more to the NBA game and improve his confidence.
While Oubre is still unproven, the hope is that by the end of the season, he is competing with Porter to earn a spot in the starting five.
Trey Burke
Burke was brought in through a trade with the Utah Jazz to replace Ramon Sessions as Wall's backup.
Sessions was good fit in DC, and was often one of the few players to really bring a spark off the bench. 
Burke followed a great college career at Michigan with a bumpy first few seasons in the NBA.
He played solidly in his first two years, but being relegated to the bench last season seemed to impact the guard significantly.
He is a good shooter and scorer, and should provide a boost to the second unit, but the deficiencies with the rest of his game, particularly defensively, are what hampered his time in Utah.
Due to a distinct lack of scoring threats on the bench, Burke seems to be a nice addition, but he has yet to really prove himself as a good NBA point guard.
The Rest
Marcus Thornton, who joined the Wizards in the middle of last season, will likely be Beal's primary backup. Thornton knows how to score, but doesn't do much else of significance.
Jarell Eddie had a few impressive appearances last year and secured a new contract, but he is unlikely to receive much playing time from Brooks.
Tomas Satoransky is a completely unknown commodity, but his scouting report makes it seem as if he could be a sleeper contributor for the team. Jason Smith will likely be a third stringer. Daniel Ochefu, Danuel House and Johnny O'Bryant will battle it out for the final roster spot.
The Wizards don't seem to have improved much this off-season, if at all. The only hope is for key players, notably Beal and Oubre, to show distinct improvements from last season. If the Wizards could stay healthy, the team should be able to compete against any team in the east not named the Cavaliers.
This article originally appeared on