Warriors survive the Bucks in narrow victory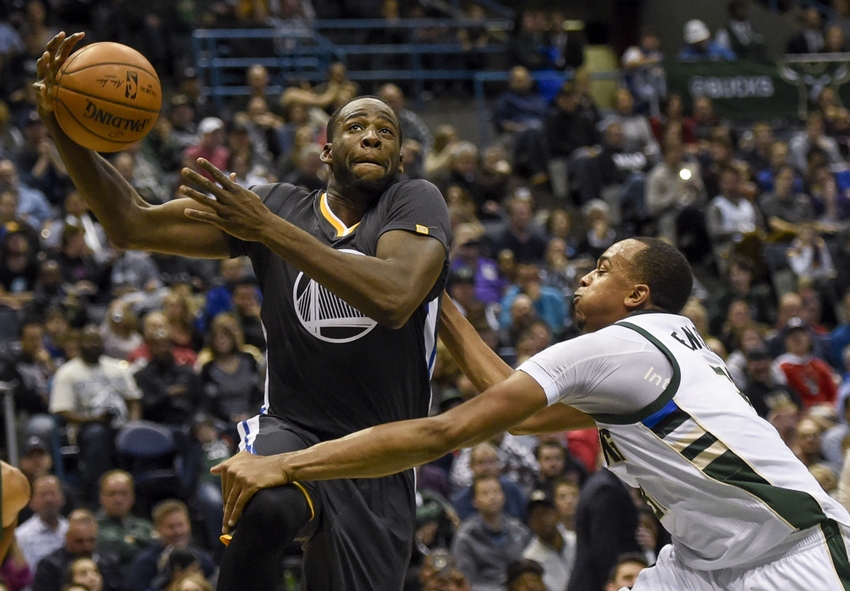 The Golden State Warriors barely survived the Milwaukee Bucks.
Giannis Antetokounmpo launched his final free throw high into the air off the back of the rim. He was trying to miss it intentionally to get one more shot at a three-pointer to tie the game. The Bucks couldn't clear it out to the perimeter and the Warriors held onto a 124-121 victory.
This game was a serious back-and-forth that could have gone either way. It was incredibly physical game and it was clear that the Bucks were disrupting Golden State's rhythm. Kevin Durant played the closing minutes of the game with five fouls.
Last season, the Bucks ended the Warriors' historic 24 game winning streak in Milwaukee. Then, at Oracle Arena, played another tough game, but Golden State edged them out. Even with Durant, the Bucks just match up well with the Dubs.
The Warriors managed to survive tonight. On a night where they struggled to defend, they sealed the deal with some huge defense down the stretch. The Bucks were trying to inbound the ball, down two, and Draymond Green–who has admitted to really wanting the Defensive Player of the Year Award–tipped the ball away to Klay Thompson who hit two free throws to put the game out of reach.
On the second game of a back to back, the Warriors definitely looked sluggish at times. The Bucks' intensity almost overwhelmed them, but the Dubs' stars proved to be too much. Durant lead the way with 33 points, 6 rebounds, and 5 assists on 58 percent. Klay Thompson also had an exceptional game pouring in 29 of his own points.
The Warriors, for as talented as they are, still struggle when Steph Curry struggles. He aded 20 points of his own, but it took 21 shots to do so. It was his second straight poor shooting performance in a row.
It wasn't the type of effort that Steve Kerr will be happy with, but it's good for them to face adversity. They struggled down the stretch as Curry and co. were not executing. The Warriors will look to clean things up on Monday against the Indiana Pacers.
This article originally appeared on