Warriors "Splash Family" has 89 points in shootout with Suns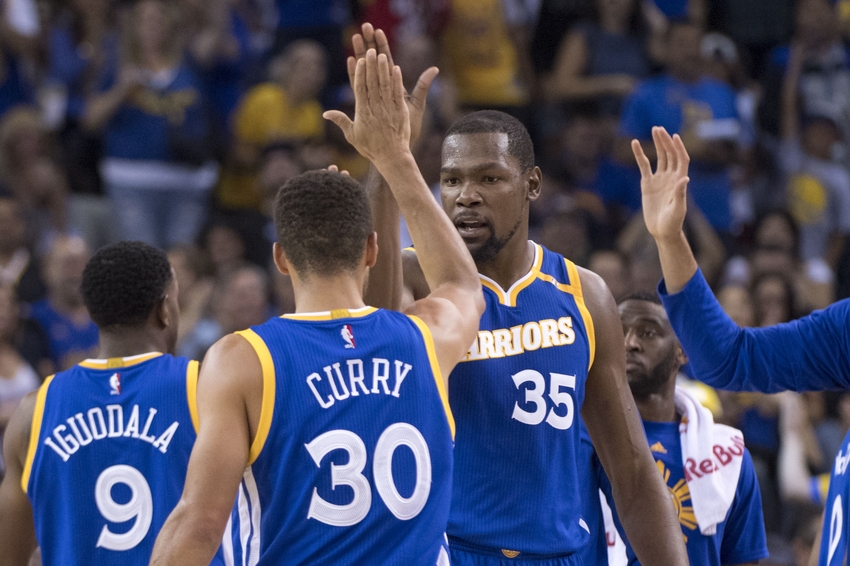 The Golden State Warriors' Big Three of Steph Curry, Kevin Durant, and Klay Thompson combined for 89 points in their high-scoring win over the Suns.
Stephen Curry and Klay Thompson each had 30 points. Kevin Durant added 29 of his own points. The Warriors needed each of them to go of in order to beat the Phoenix Suns. Golden State defeated their feisty divisional rivals 133-120.
The Phoenix Suns have some good young talent, headlined by rising star Devin Booker. Despite that, they are not on the Warriors' level. But they played 48 minutes of scrappy basketball and had the Warriors with their backs against the wall even in the fourth quarter.
This game was one of runs. The Suns were attacking the hoop and making the Warriors pay for their careless turnovers. Before they could pull away, one of Golden State's Big Three would hit a few shots and get the crowd into it.
While there were definitely some ugly aspects to this game–poor interior defense and errant Steph Curry passes–there was some beautiful basketball also being played. The Warriors showed a little more of why they're the league's most deadly team. They are building and they added some more today.
The Warriors countered the Suns' fight with their own effort. There were a few times where they could have given up an easy layup, but they hustled on defense and came away with a stop. One sequence in particular saw Golden State turn a Durant chasedown block into a 30 foot Curry three-pointer. It was beautiful and wild.
Golden State got contributions from a lot of different places, despite the Big Three's scoring barrage. Patrick McCaw put up 6 points, 2 blocks, and 1 steal in a little under 18 minutes. Kevon Looney grabbed 2 rebounds, dished out 1 assist, and scored 2 points in a little over 7 minutes.
Steve Kerr has said that he's still experimenting so the minutes distribution is going to change from game to game. JaVale McGee, who had a great game in Denver, played 3 minutes early in the first quarter and didn't come back in. Andre Iguodala played 24 minutes, but he didn't play down the stretch with the Core Four. Instead, Shaun Livingston got crunch time minutes.
It was a serious shootout and, ultimately, the Warriors have too much firepower for the Suns to compete with. They have a lot of things that they're going to want to clean up as they go on a tough road trip. Slowly, but surely Golden State is getting there. They're getting better every game.
Once they really put it together, it'll be over.
This article originally appeared on