Warriors find the secret formula to beating Boston in blow out win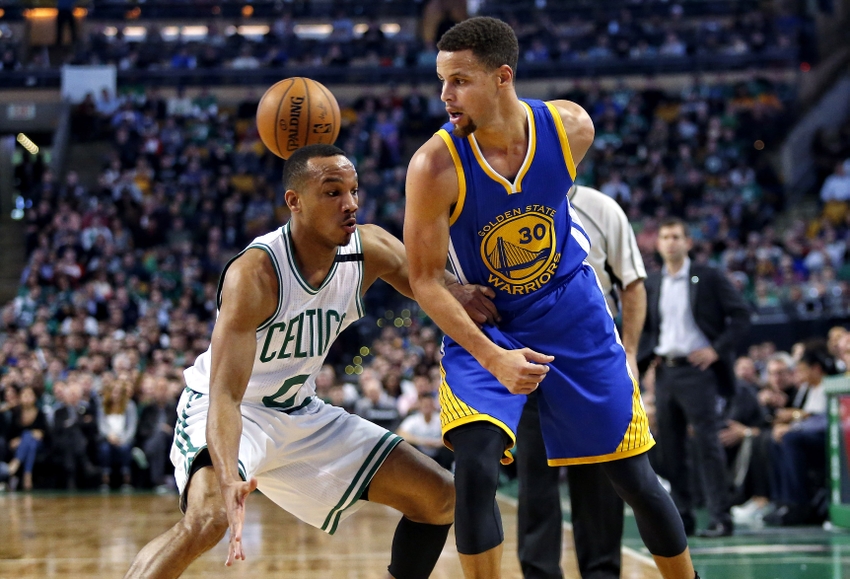 The Golden State Warriors used a big run in the third quarter to put away the Boston Celtics on the road.
The Warriors found the secret formula to success in Boston and beat the Celtics in Beantown by a final score of 104-88.
Kevin Durant and Klay Thompson got going early and carried the Warriors throughout the game. Avery Bradley, the Celtics pesky guard drew the assignment of Durant, which the Warriors recognized and got him going early with post-ups on the wing and at the elbow.
It was a competitive first quarter with the Warriors leading 29-27 after it and had a seven-point lead at halftime. Durant and Thompson combined for 32 in the first half, but the rest of the team only had 23 points on 0-of-7 from beyond the arc.
The third quarter is when the Warriors imposed their will on Boston. They made threes, with Draymond Green making a couple in the first few minutes of action after halftime. Thompson and Durant were making their threes as well. The only guy who was having a real off-night was Stephen Curry, the two-time reigning MVP. Curry only had 16 points on 7-of-20 shooting, including 2-of-10 from three, but his other two stars more than made up for his off-shooting night.
Durant almost notched a triple-double with 23 points, 10 rebounds and seven assists. Thompson also was one of the main catalysts for the Warriors all night long scoring 28 points on 12-of-21 from the field with five rebounds and three assists, including a nice whip pass to Durant for a layup.
It was the defense with deflections and steals from all sorts of players in the third quarter that led to the outburst of 31 points in the frame, especially a Durant deflection leading to Curry picking up the ball and lobbing it for a thunderous jam for KD. Green picked up several deflections and contested many shots that led to easy scores for the Dubs.
The fourth quarter was a little cosmetic and the Warriors let the Celtics cut the 29 point lead all the way down to 11, which has to be a concern for Steve Kerr moving forward, in terms of the lack of urgency and a bit of a letdown.
Nonetheless, it's a win in Beantown for the Warriors and it's off to the land of cheese next.
This article originally appeared on