Warriors fall in 2OT to the Rockets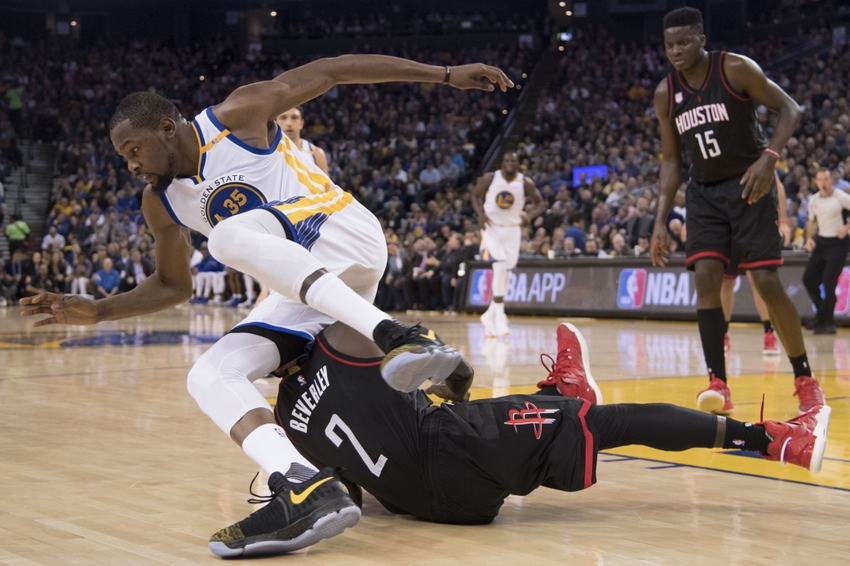 The Golden State Warriors fell in double overtime to the offensively magnificent Houston Rockets who snapped the Dubs' 12 game winning streak.
The Warriors' dominance over the Houston Rockets finally took a much-needed break as they fell in double overtime 132-127. It was an exciting Thursday night game on TNT that showcased some of the league's best talent. Unfortunately for the Dubs, they couldn't leave with a win.
This game had everything a fan could ask from an NBA game. There was star power, there was physicality, and there was shooting. There was drama, breathtaking individual play, and clutch shots. There were technical and flagrant fouls.
The game was one of runs. Both the Warriors and the Rockets have high-powered offenses that can put up points in a hurry. Each team had two quarters where they scored over 30 points.
Kevin Durant led the way for Golden State, dropping in a season-high 39 points while grabbing 13 rebounds. The offense became stagnant late in the overtime periods and Durant had to force up some bad shots. He was 3-11 from beyond the arc.
The Splash Brothers struggled in this one. Klay Thompson was consistently poor, scoring just 15 points on 4-20 shooting, including making just three of his 13 attempts from deep. Stephen Curry, who fouled out in OT on a questionable charge call, dropped 28 points while hitting only four of his 13 attempts from three. He went on several runs, scoring seven straight at one point and the first six for the Dubs in OT. His foul trouble kept him from getting into an early rhythm.
Draymond Green was fantastic in this one. He had 20 points, 15 rebounds, and 9 assists. He also added 2 steals and 1 block to that line. He made countless plays on both ends that didn't make it into the box score. Green tipped the ball away from Eric Gordon at the end of regulation and forced James Harden into a jump ball after timing his play on the ball beautifully.
The Rockets, ultimately, made more plays down the stretch. Harden was magnificent, controlling the pace whenever he got the ball in his hands. He had a triple-double with 29 points, 15 rebounds, and 13 assists. If he wasn't getting to the free throw line at a crucial moment, he was hitting a clutch three or dropping a perfect dime to a teammate.
While both teams had stars play well, the role players determined this game and Houston's were significantly better. Ryan Anderson, a constant thorn in the Warriors' side, had 29 points and hit 5 huge threes. Gordon poured in 23 points and dished out 5 assists from the bench.
There was some controversy in this one and things got heated as they usually do when these two teams meet. Green picked up a technical foul in the first half after complaining about a call. Shortly after, Steve Kerr picked one up as well as he wasn't happy with the officiating either.
Perhaps one of the most important moments in the whole game came in the second overtime period when Green was assessed a flagrant foul. He went up for a layup and drew the contact, but the officials wanted to take a look at it. He got Harden with his foot and the referees felt it was enough to give him the flagrant.
The two teams set the record for most three-point attempts in an NBA game. It was an exciting game that went back and fourth during the late moments until the Rockets prevailed. Who knew that "girly basketball" could be so much fun?
The Warriors' 12 game winning streak was snapped and they now fall to 16-3, with two losses at home on national television. Their 17 turnovers and important free throw misses down the stretch didn't help them at all. They also scored just one field goal in double overtime, failing to get into any kind of offensive rhythm once Curry fouled out.
Golden State will look to bounce back on Saturday against the Phoenix Suns.
This article originally appeared on