Warriors face off with familiar foes against Mavericks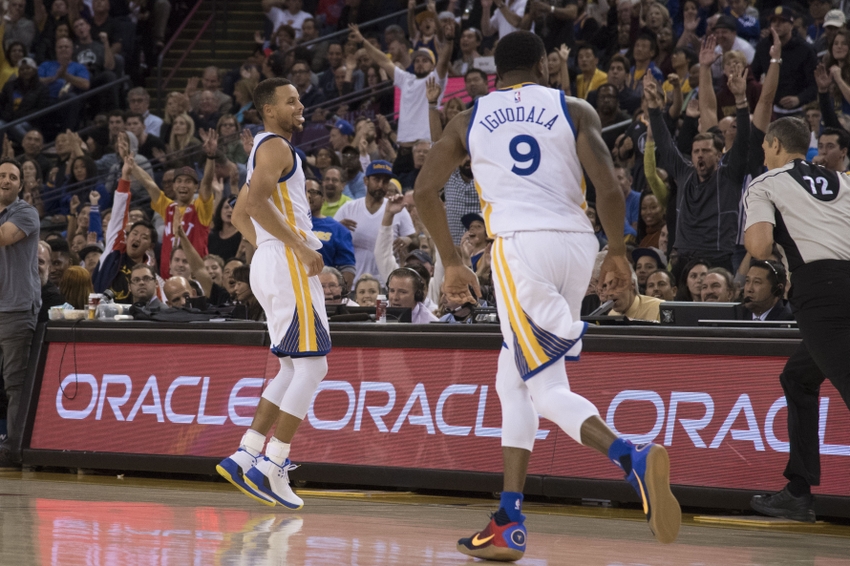 The Golden State Warriors will face some familiar faces on Wednesday night.
The Golden State Warriors will be facing off against a Dallas Mavericks team that has managed to fire off two wins in a row behind the emergence of Harrison Barnes as a well-balanced first option for their offense.
Dallas also acquired former Warriors' center, Andrew Bogut, through a salary dump trade made this off-season. This will be an interesting match-up for the new look Golden State Warriors. Some questions will be answered about how these teams really fared in the off-season. There are also some great match-ups that will be worth watching for the previous reason stated and others.
Andrew Bogut and Zaza Pachulia will clash for the first time in this NBA regular season
If you have followed the Dubs this off-season, you know this will be the match-up that is the most telling of the new look Warriors' team. One of the many shrewd moves the team made was dumping the salary of elite rim protector and passer, Andrew Bogut.
If the newly acquired starting center is to prove that he can be a formidable replacement for the former mentioned, he (Pachulia) must play a productive game tonight against the him (Bogut). It would be crazy to expect Zaza to match the rim protecting prowess of Bogut but, what he does have that his match-up doesn't is a good mid-range jumper that he really should shoot more often.
Tonight would be a good time to showcase it. This match up in retro-respect will show the marginal difference in impact between the two players what each one brings to the table. This will be Zaza's real test as to how far he has come and needs to get in order to be a key contributor in the Warriors' system on both ends. This is Bogut's chance to make the Warriors' regret ever dumping his salary for Kevin Durant.
Harrison Barnes and Kevin Durant will face off with the biggest of stakes
Harrison Barnes was one of the first Warriors' to be sacrificed in the Kevin Durant sweepstakes. The young versatile wing was key to the 2014-2015 Championship run. He defended multiple positions, was a great positional rebounder, and hit open shots.
After his cold streak in the last NBA Finals series he was heavily excoriated by the Dubs fans. When Kevin Durant came up on the free agent market it was a no brainer for a Golden State team looking to tie any loose ends for a championship run. KD is obviously better right now, however this will still be a telling match-up.
The four time scoring champion has proven to be a great addition to the Dubs' offense and will continue that trend. For Barnes, now being the man in Dallas and showing it with his last two emphatic performances where he has shown the ability to put up points and hit big shots, this is a chance for him to show the Golden State Warriors what he can do when you give him the offensive responsibility. Barnes will be matched up with Durant.
For the 2011 MVP it is almost mandatory that he dominates this match-up because the guy he is up against is the guy Golden State sacrificed to get him. If Barnes dominates or outplays Durant, the Warriors will have a huge shoehorn in their mouths (figuratively speaking). Durant must show up for this game especially. And the same goes double for Barnes as this could be a huge statement game for him.
The Curry brothers will meet again!
Both Stephen Curry and Seth Curry have definitely been doing their thing. Steph is a champion, two time MVP, and the greatest shooter to ever play. Seth is finally in a stable franchise that is willing to let him showcase his talents as an elite shooter and improving player.
The Curry brothers in their own respects are both amazing players that love the game and are only getting better. We all know who is better at this point so there is no grudge match or anything revealing here. What is there is two deadly shooters who are both going to see the floor tonight. Stephen is obviously the alpha dog on his team and will do what he does.
Seth won't see as many minutes but, when he plays you won't blink because he can make plays and shoot the rock. If you don't like this brotherly match-up, you don't like basketball (obviously kidding here). To make a long story shorter, we are hoping to see some brother on brother magic and I think we might get it.
My prediction here is a Golden State Warriors victory by the margin of 14 points. The Mavericks are still a rebuilding team at this point. The Warriors will have the fire power to edge this one out on the road, but it will be super entertaining and the match-ups here are too juicy to ignore.
More from Blue Man Hoop
This article originally appeared on