Warriors are mocking and learning from Donald Trump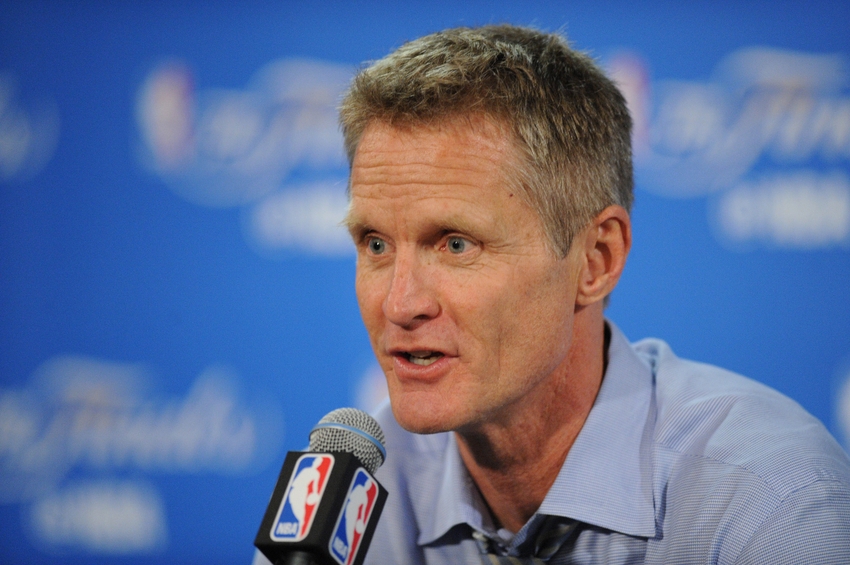 The Golden State Warriors, a very high-quality organization, are using Donald Trump's comments in their film sessions, both for fun and to stay informed.
The Golden State Warriors pride themselves in being more than just a basketball team. What they've built goes beyond a collection of very talented athletes. They want to create a culture of intelligent individuals–men and women–of all races, orientations, creeds, and identities that are aware of what's going on in the word.
The players are all very smart guys. Every single guy seems to have a grip on reality an a grasp of current events. The Warriors' organization, from Joe Lacob to Steve Kerr, want to ensure that they are not falling these men neither on the basketball court nor off it.
With the Presidential race entering the home stretch, it's extremely important for everyone to stay informed. It's necessary for them to understand what's at stake. It's their responsibility as Americans to stay updated.
It seems as if the team is using Donald Trump's words, both as comedic relief and a warning. Head Coach Steve Kerr spoke to media last Sunday and Trump came up. When asked about some of their video sessions and who puts them together, Kerr responded (via Anthony Slater of the San Jose Mercury News):
"We all do, really. Usually Nick U'Ren and I will convene before practice. (Donald) Trump is offering us lots of opportunities to have fun with our video sessions and we've been taking advantage of that. We had famous presidential quotes yesterday. You can figure out where it went from there."
He was then asked if there were specific quotes, to which he responded yes. He didn't want to get into specifics as to what quotes they were using exactly, but he said that "you could certainly figure it out." He added that it was quite recent.
He told the media that, after they watched it, he reminded everyone to register to vote. Kerr, who's no stranger to what the dangers of political unrest can do, wants to make sure his players are educated and active. Just last night, Kerr tweeted out a link about Trump and his taxes. He understands how important this election is.
Kerr is probably referencing the recent recording that surfaced in which Trump boasts about sexual assault. It seems as if the Warriors have used his comments on multiple occasions. The 2015-16 Coach of the Year said they have fun with it, but the Warriors know when and how to have fun and when and how to be serious.
The team has probably had fun with some of Trump's other ridiculous comments. These latest ones are not a laughing matter though. Sexual assault is very serious and Kerr probably showed it for educational reasons, in order to keep them informed.
The organization is full of brilliant people from top to bottom and you can bet that they'll be casting a vote in November and it won't be for that guy.
More from Blue Man Hoop
This article originally appeared on