Warriors (8-2) at Raptors (7-3): Preview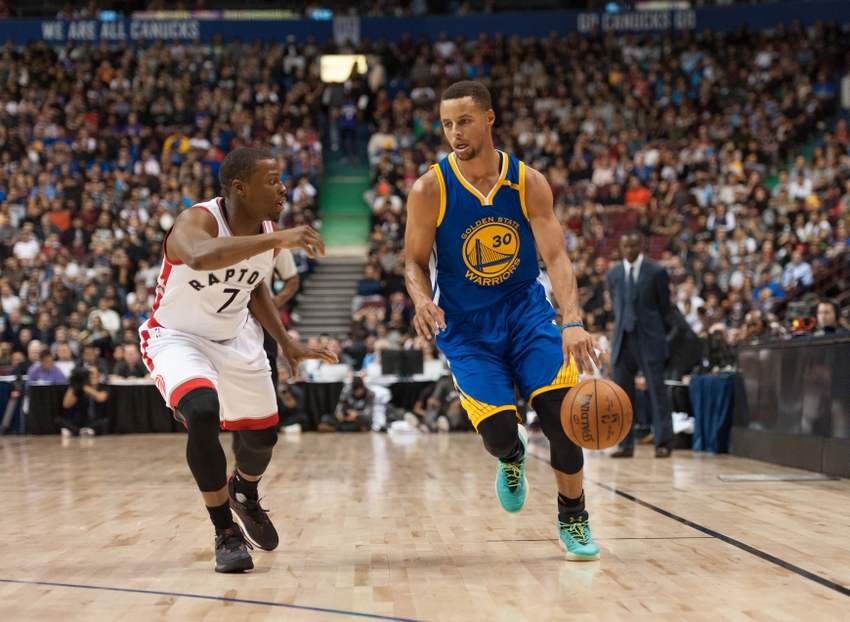 The other half of the back to back nightmare tips off tonight, as the Raptors try to regroup against the Golden State Warriors.
The Toronto Raptors return from a disappointing night in Cleveland to face another beastly team. While Golden State isn't off to the insane start they enjoyed last season (24 straight wins before dropping a game to the Bucks!), they can't help but be better. Kevin Durant is in their house.
The Warriors lead the NBA in team scoring with an average of 116.4 points per game [PPG]. Durant is their leading scorer at 27.7 PPG, with a skinny point guard named Stephen Curry a half-point behind. Klay Thompson is having difficulty finding the bottom of the basket so far, shooting 31.9% from deep. Yet he's averaging 18.8 PPG…rough life, being a Warrior.
They allow an average of 108.2 opposition points, which is tied for 24th. Clearly, coach Steve Kerr is content playing frequent "last basket wins" shootouts.
The Warriors' positionless alignment is best exemplified by their sort-of forward (he played center last year), Draymond Green, who leads the team in rebounds – and assists.
3 Keys to Victory for Toronto
Keep pounding the ball down low. Zaza Pachulia is a nasty and competent defender, but he can't handle a steady diet of Jonas Valanciunas. The backup is Javale McGee, who's seen better days.
Accept that the Raptors need 3-point shooting. I've always suspected that Dwane Casey, like Greg Popovich, wishes the 3-point line would go away. Too bad, it's not, and there's no chance of beating the Dubs with a diet of 2-point field goals. Here's DeMar DeRozan's chance to pad his assists line with a bunch of drive-and-kick plays. Powell, TRoss, 2-Pat – be ready.
Unleash DeMarre Carroll. I don't know what the game is between Casey and Carroll, but it's got to end. Carroll is needed to get in the grill of Durant or Thompson. His period of "rest" (yes, that's what been reported) is over.
3 lesser Warriors
Shaun Livingston. A veteran reserve guard who rebuilt his career after a dreadful knee injury, Livingston plays within himself and is an excellent facilitator.
Andre Iguodala. Another vet, he's the Warriors' most versatile member of the second unit. He could start on half the teams in the league.
Kevon Looney. The second-year forward was a teammate of Norman Powell at UCLA. I think he's going to be useful one day, and GS can afford to be patient.
Conclusion & Final Score
Last night's result in Cleveland was the worst of all possible worlds for the Raptors. They lost a close game, which meant our big guns played a ton of minutes. The Warriors practiced in Toronto. I wonder who's more ready?
Golden State 107 – Toronto 101
More from Raptors Rapture
This article originally appeared on