Wade Baldwin IV assigned to Iowa Energy: Pros and Cons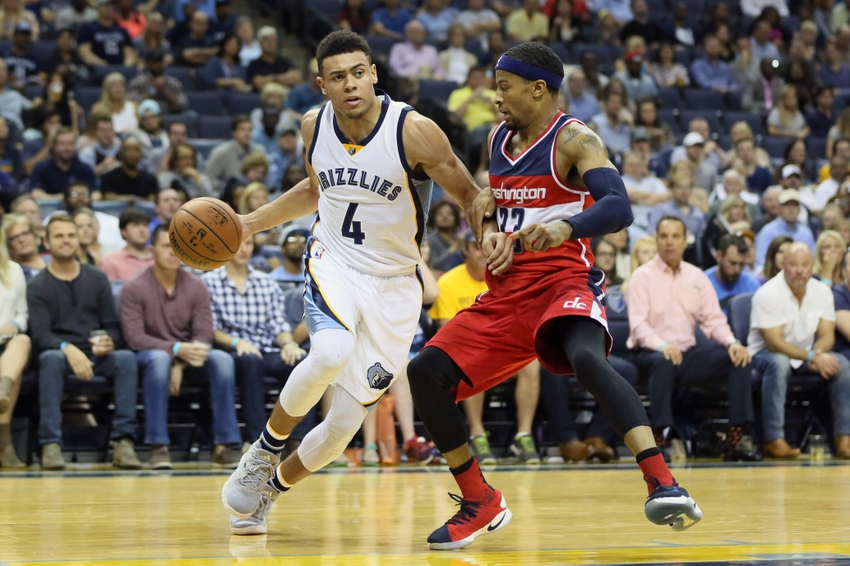 The Memphis Grizzlies assigned their first-round pick, Wade Baldwin to the D-League. This move should pay off, but the Grizz shouldn't leave him there.
It's been a rollercoaster season for Wade Baldwin, thus far. In his preseason debut, he dropped 15 points on 5-for-5 shooting, looking like a more than capable backup point guard. He made the most of his official NBA debut. Wade Baldwin scored 7 points, grabbed 5 rebounds, dished out 6 dimes and had 3 steals and blocks, becoming the 1st player since 1983-84 to have a 5×3 in his NBA debut.
After that, he hasn't been able to string together more solid performances. Wade Baldwin's aggressiveness has led to poor defense and bone-head turnovers. Now that Andrew Harrison is leading the backup point guard race, Wade Baldwin will spend some time with the Iowa Energy in the D-League.
Many Grizz fans will look at this move in annoyance, seeing yet another first-round pick sent to the D-League. However, it may be the right move for Wade Baldwin's development.
Pros
More from Beale Street Bears
It will be a humbling experience. One thing that fans and coaches have noticed is Wade Baldwin's fearlessness on the court. Confidence is great and all, however, it doesn't matter if he isn't playing well. In Iowa, Baldwin could learn to harness his energy and aggression into execution and production on the court.
Wade Baldwin will get playing time. Right now, Andrew Harrison is winning the backup point guard role. In addition, Vince Carter and Tony Allen are playing excellent defense at the shooting guard position. Game-time experience is important for player development, whether it's in the NBA or the D-Leauge.
D-League doesn't, necessarily, kill careers. Players have made trips to the D-League and have experienced NBA success. Look at Hassan Whiteside, Jeremy Lin, C.J. McCollum or Danny Green. Don't let this stint fool you. Wade Baldwin has the tools to be an excellent two-way player in this league.
Cons
We don't know how he will take it. From what we've learned from players and coaches, Wade Baldwin is a work-horse. However, it's a hard reality for first-round picks to be sent to the D-League. Baldwin should relish the opportunity, but then again, I can't read his mind.
Wade Baldwin needs court action with Deyonta Davis. For right now, Davis is proving that he is capable of regular minutes. These two are your future point guard and center. While there may be growing pains, developing their chemistry right now will pay off a few years from now.
The Grizzlies can't comfortably leave him there. Yes, he's your first-round pick. You want him to reach into his full potential. However, he still needs NBA game-time in his rookie season. If the Grizzlies keep him in the D-League too long, people will start to wonder if the front office is truly invested in him.
Final Remarks
Sending Wade Baldwin to the D-League is the right move. It will be interesting to see whether he relishes the opportunity or loses confidence.
This article originally appeared on