Voice of the Phoenix Suns, Al McCoy, In His Own Words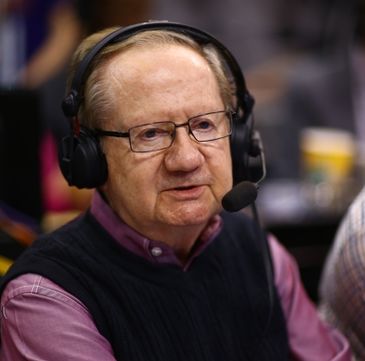 Witness a historic interview of Phoenix Suns broadcasting legend Al McCoy by Glendale, Arizona Vice Mayor Ian Hugh. Special thanks to the fine staff of Glendale 11 for the production of this interview.
In a special conversation between two Glendale, Arizona icons, sit alongside longtime friend and two-time Vice Mayor of Glendale, Ian Hugh, as he takes a trip down memory lane with Phoenix Suns broadcasting legend Al McCoy.
Ian Hugh and Al McCoy discuss many topics over this full interview, from Al's childhood growing up in small town Iowa, to the development of his most famous Phoenix Suns catchphrases, like "Shazam!" and "Heartbreak Hotel!"
Al also shares stories about his days as a traveling jazz and big band pianist in the Midwest, to his early career in broadcasting as one of Phoenix's "Good Guys" on local KRUX.
McCoy also describes how he searched for many years to land a job like the one he holds with the Phoenix Suns, and shares fond memories of those players he has most enjoyed watching over his career.
Al McCoy: Early Broadcast Career:
Al McCoy: Phoenix Suns Announcer:
Al McCoy: the Origin of SHAZAM!
One of the most famous Phoenix Suns' ever, McCoy offers fans his life story in this very unique and exclusive interview.
Rarely is Al McCoy the one answering the questions, so do not pass up on this once-in-a-lifetime opportunity to witness Glendale Vice Mayor Ian Hugh's celebration of the "Voice of the Suns" just before the start of Al's 45th season on the job.
Shazam!
More from Valley of the Suns
This article originally appeared on