Views from OKC: Thunder Move to 4-0, Face Golden State Tonight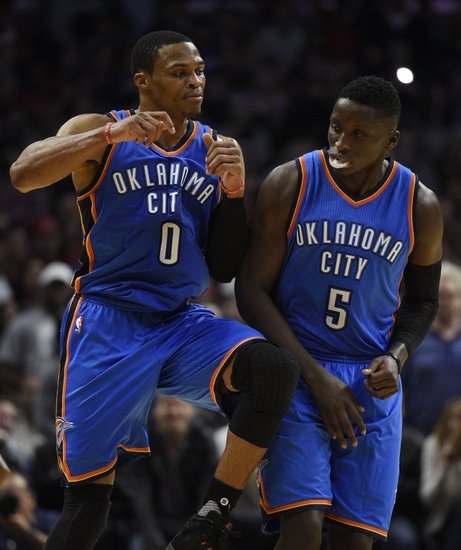 Welcome to Views from OKC, Thunderous Intentions daily roundup of the best Thunder stories across the web.
Welcome to Views from OKC! Glad to have you hear, and I hope you'll make this a daily destination. Well, let's get started!
"In the Thunder's 85-83 win against the Clippers, Westbrook decided no more turnovers, no more 3-point shots, and with Golden State looming on Thursday, no more talk (again) about Kevin Durant."
There is nothing better than listening to Russell Westbrook speak after games. Especially when he's not happy. You would think Russ would be ecstatic after beating the Clippers; although he had a great stat line he did not play up to his standards. 10 turnovers and 0-7 from behind the arc tells me he was forcing too much tonight, and he knows that. But a win is a win is a win is a win.
"Will the emotions be the same as any other game? Absolutely not," the forward said during his weekly appearance on The Draymond Green Report on 95.7 The Game. "If your emotions are the same as any other game, then you're just emotionless and I'd rather not be around you at all. So, [Durant's] emotions will definitely be different."
HAHA. Treating this game like it's different from any game is exactly what Oklahoma City wants Golden State to do. When you bring emotions into basketball, players tend to force things. Luckily for OKC, their leader is an emotionless pit who is only focused winning the game in front of him. Draymond speaking out on the subject only helps the Thunder. While he is bringing attention to the obvious with his teammates, Russ is preparing his teammates for just another battle.
Russell Westbrook has no regard for human life
The best part about Westbrook dunks aren't the actual dunks. It's the facial expressions that he gives to opposing fans that I enjoy the most. His target after this masterpiece? Steve Ballmer. Who knows what grudge Russ has on Ballmer. Frankly I don't really care. As long as Russ is doing his thing and OKC is winning ball games, I say we let this man scream at whoever tf he wants.
More from Thunderous Intentions
This article originally appeared on